To achieve and maintain beautiful tresses, one needs to follow the proper hair care routine. Shampooing your hair helps to remove the dirt, grease and excessive oil from your scalp. However, your hair needs further nourishment to replenish the moisture content, to smooth them and reduce the frizz without weighing them down.
Pantene has been one of the favorite and common brands in hair care regime for its shampoos, conditioners and leave-in treatments.
Check out the top-7 Pantene conditioners
1. Pro-V Smooth and Silky Conditioner:
This oantene hair conditioner claims to fight all signs of damaged hair like split ends, roughness, dullness and tame tangles. It covers every hair strand with conditioning particles which forms a protective layer on the hair, thus making it smoother and shinier. Its rich pro-vitamin formula targets the dry and damaged hair to nourish them from within. With the regular use along with the shampoo, you will achieve healthier, balanced and nourished hair.
2. Pro-V Anti Dandruff Conditioner:
Do you suffer from itchy and dry scalp and always fear the appearance of dandruff? Then you should try the Pantene's anti-dandruff conditioner which fights flakes, itching and irritation effectively.  With many active ingredients like zinc pyrithion, it also prevents the reoccurrence of the flakes and other problems like itchiness and dry scalp associated with dandruff.  Regular usage reduces the appearance of dandruff effectively. This pantene shampoo and conditioner together is one of the best anti-dandruff treatments you can find.
[ Read: Conditioners For Dry And Frizzy Hair ]
3. Nature Fusion Fullness and Care Conditioner:
Pantene has launched their new range of shampoos and conditioners under the 'nature fusion' range. This range blends the nature and science perfectly to create the nature fusion to pamper and care for your hair. This fabulous conditioner contains pro-vitamin and many natural ingredients which transforms the hair and provides it a healthy shine.
4. Nature Fusion Smoothness and Life Conditioner:
Another conditioner from the new 'nature fusion' range, this conditioner is completely parabens-free. It contains cassia flower-derived essence, aloe vera calendula and ginger essence. Heavy conditioning often weighs down the hair making it feel flat and heavy. But this conditioner will cleanse, hydrate and soften your hair without weighing it down. It makes your hair light and free flowing.
[ Read: Homemade Conditioners For Damaged Hair ]
5. Pro-V Curly Hair Series Dry to Moisturized Conditioner:
If you feel that maintaining curly/wavy hair is quite a challenge for you or most of the time if you have bad hair day, then this conditioner could be your savior. It claims to regulate the moisture balance of your dry and curly hair and also protects it from further damage. It also provides a long lasting definition to your curls and reduces the frizz to a greater extent. This conditioner is gentle on your colour-treated hair.
6. Pro-V total Damage Care Conditioner:
Damaged hair is every girl's biggest woe. Harsh sunlight, pollution, chlorinated water, hair styling products etc leave your hair extremely dry, brittle and damaged. This conditioner is specially developed to replenish the damaged hair by moisturizing and nourishing the cuticles. It also protects the hair from the day-to-day damage. With regular use, your hair feels soft and nourished from within.
[ Read: Effortless Everyday Makeup ]
7. Pro-V Hair-fall Control Conditioner:
When your hair is damaged internally and is weakened by the roots, it leads to excessive hair fall. The advanced hair control formula of this conditioner nourishes and strengthens the hair from the root to tip to fortify it and prevent it from further breakage due to dehydration of the moisture content in the hair strands. It reinforces the hair strands from within to give you visible results with regular usage.
Hope you liked the article. Please leave us a comment.

The following two tabs change content below.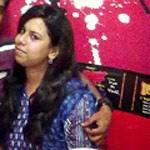 Latest posts by Ankita Biswas (see all)