Hair colouring is an age-old concept and people have been practicing it since eons with the help of plants and minerals. This practice is highly prevalent even today albeit the hair colouring products have undergone a sea change. It is an emerging trend and people are experimenting with a lot of different shades like red, plum, blue, brown, pink -to name a few. Some color their hair for covering grey hairs but the majority of people prefer hair coloring to make a fashion statement and get a trendy appearance. Pink is an unusual color that gives a person a young and funky look. Which is why the permanent pink hair colour has caught on so much!There are a lot of brands that sell pink hair color. This article is all about ten such pink hair colour products that are readily available in India and a short description of each of them is written below.
Brands For Pink Hair Colour India
1. Pure Naturals Natural Hair Color:
This hair color product is easily available in India in pink as well as burgundy colors. It is made from herbal and natural extracts, and is relatively safe to use. Girls are naturally fond of the color pink and application of this color gives them a youthful and vibrant look.
2. Garnier Color Naturals Hair Color:
This product has a variety of options like pink, brown, burgundy, natural black and so on, and is one of the well-known brands in India. This hair color product is organic in nature; hence, it has relatively negligible side effects.
[Read:Best Plum Hair Colours]
3. Wella Kolestint Color Medium:
This branded product is excellent for coloring the hair a beautiful shade of pink without causing a lot of damage and it conditions the hair at the same time. It is also known to be permanent and very effective. There are many other colors available too.
4. Urban Hair Chalk Festival Pink 4.0 g:
This temporary hair color product comes in the form of chalk that is easy to use and apply, and gets washed out easily as well. It gives an instant effect and the appropriate pink color. One can design their look and get a vibrant hairstyle accordingly.
5. Manic Panic Semi-Permanent Hair Color Cream Hot Hot Pink:
Manic Panic is a hair color cream that is ready to use and excellent for highlighting dark hair. It has an eclectic pink that looks electrifying and funky. As it is semi-permanent, it gradually fades away after every hair wash.
[Read:Streax Hair Colours In India]
6. Jerome Russell B Wild Color Spray:
2855 Lynx Pink is the shade of pink that can be found in the Jerome Russell B Wild Temporary Hair Color Spray. This product is a temporary spray that has a special formula to color the hair or even highlight it. It is chemical-based. It is easily available in India though it has to be imported.
7. Herbal Essences Touchably Smooth Anti-Frizz Creme Pink Lily:
Another imported product that is available in India is Herbal Essences. It is long lasting and gives a smooth look. It has a special formula that keeps the humidity away and gives a smooth look after the color application.
8. L'Oreal Paris Colour Rays:

L'Oreal also provides a funky pink hair color that is available at any store. It is an excellent product. It also gives good shine to dark hair.
[Read:Best Hair Colour Sprays]
9. Splat Rebellious Colors Complete Hair Color Kit Pink Fetish:
This imported product is readily available online in India. It is a rebellious and temporary hair color gel that is excellent for styling as it gives a shocking pink color. It can be easily washed out.
10. Wicked Crown Dare Me Vibrant Hair Color Power Pink:
Dare Me is an amazing product to convert normal hair into an ultimate fashion accessory. It can be applied on the hair after washing and drying it completely for best results.
Pink hair colors, belonging to international brands, are available in India. They not only impart vibrant color but also protect the hair from damage. This hair color is increasingly becoming a style craze; hence, a lot of companies and brands have started keeping this shade in their kitty.
Would you think of trying pink as a hair color? Do leave us a comment below.

The following two tabs change content below.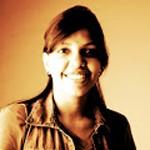 Latest posts by Shruti Goenka (see all)