Best Shatter/Crackle Nail Polishes – Our Top 10
Crackle polishes took the nail polish world by storm when they were first introduced. Who had imagined wearing polish with cracks showing another colour could be fashionable? But that is exactly what has happened. Some basic shades of crackles and a great deal of imagination is all that you need to come up with tonnes of looks. But first, you need to keep a few basic points in mind about them.
Crackles need a base polish for them to work. Most of them will only crackle on regular polishes, so glitters are a no-no. A thin coat of polish will give you lots of fine cracks while a medium thick one will result in a few wide cracks. Too thick a layer will not crack at all. Lastly, a single coat is all you need to get the effect. This might sound complicated but a little practice will help you create nail art in a minute. Check out a few cool shatter or crackle nail polishes that you will love for sure.
Best Crackle Nail Polishes
1. OPI Black Shatter:
If you want to experiment with shatters, the best colour to get is black. Black can be combined with almost any colour, however light shades would be preferable. What is best about this Black Shatter is that it even works on glitter polishes. Now what more do you want?
2. China Glaze Platinum Pieces:
I am in love with this one. Platinum Pieces is a metallic shimmer crackle with loads of silver shimmer. The combination of silver over black is simply outstanding. Another point to be noted is its opacity. It totally covers the black.
3. BK Brown Crackle:
This one is a crackle with a difference. Brown Crackle is a chocolate brown crackle. Notice how the cracks are not your regular vertical ones but sort of curvy and quite delicate. An ideal polish if you do not want the crackle effect to be in your face.
4. OPI White Shatter:
If black crackle is a must – have, can white be far behind? White Shatter is a nice opaque crackle that would look best paired with light metallic or glitter polishes. Too dark a colour will be seen through the white.
5. China Glaze Haute Metal:
This beauty comes from China Glaze's Cracked Metals Collection. Haute Metal is a light metallic pink crackle with lots of fine silvery – pink shimmers. I LOVE how it looks over black. You will have to pair it with similar dark shades to get the full effect of the polish.
6. Barry M Burgundy Croc Effects:
Since crackles were all the rage, Barry M decided to bank on the craze and came up with a cool variation. Burgundy Croc Effects is a dark metallic red crackle that gives you an effect similar to crocodile skin. And yes, it does look like one !! The crackling is quite fine in this one too. Wear it with a metallic gold or silver polish.
7. China Glaze Tarnished Gold:
Tarnished Gold is a pretty metallic dull gold crackle with fine silver shimmers. The gold is quite opaque an will complement both black and dark browns.
8. OPI Red Shatter:
Another basic colour to add to your collection. Red Shatter is a true red shade. You can wear this over almost any colour. However, if you are daring enough, skip the regular reds and wear this one over a metallic gold polish for festive occasions. Get ready to turn heads.
9. OPI Spotted:
OPI knows how to take a simple crackle to the next level. Spotted has to be applied just like your regular crackles, but instead of cracks, it leaves pretty spots on your nails! The multi-coloured background will give you a better understanding of the concept. This looks multiple times better than crackles. If only I could get my hands on this one….
10. China Glaze Gleam Me Up:
We all love a bit of bling in our polishes and now they have come in crackles too. Gleam Me Up is a sky blue glitter crackle. The polish is very, very sparkly and eye catching. I feel it would look much better over lighter shades as the effect is somewhat lost in the black base.
image source: 1 , 2 , 3 , 4 , 5 , 6 , 7 , 8
Recommended Articles:

The following two tabs change content below.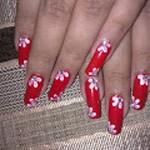 Latest posts by Neha Mane (see all)