A healthy skin is achievable only when you clean your skin using the right product. Though the markets are filled with innumerable products, you must choose the right product for your skin. If you have a dry skin, it is very important that you go for the right soap, as using the wrong soap can ruin the delicate balance of your skin. Dry skin is mostly characterized by the lack of sufficient sebum production which makes it hard for your skin to protect itself at times. Further disturbing that damage will only cause more problems.
What should you look for while selecting the right soap for dry skin?
This skin type hardly secretes natural oils, which ends up making your skin feeling dry and stretched. In this case, soaps that contain aloe vera, vegetable oils, avocado or cocoa butter work best for your skin. Also, certain soaps with vitamin E and jojoba oil are good for preventing dry skin related diseases like eczema and psoriasis.
Best Soap for Dry Skin – Top 6
Here are the best 6 soaps for dry skin picked up for you. They can make the best choices.
1. Cetaphil Bar:
This is a widely recommended product for adults and children. Cetaphil bar soap is extremely mild, and has a great moisturising property that helps hydrate the driest of skins and displays quick results. This is why this is considered among the best dry skin soaps ever.
2. Dove Cream Bar:
Dove Cream Bar, as the name suggests, is an extremely creamy bathing/cleaning bar that moisturises the skin and provides overall hydration to dry skin. The bar has a strong scent attached to it that lingers long after use, thus, you don't need additional fragrance substance.
[ Read: Dry skin ]
3. The Body Shop Shea Butter:
The soap from 'The Body Shop' is a vegetable-based soap that is perfect for dry skin. The Shea butter ingredient adds extra smoothness and softness, providing enough moisture to your skin. Also, the soap comes with a fresh, creamy scent that is not overpowering but pleasant.
[ Read: Handmade Soaps ]
4. The Bombay Store Cinnamon Soap:
The Bombay Store's Cinnamon Soap is a good buy, as it naturally soothes, moisturises and removes traces of dryness. The soap has a woody fragrance and is warm and soothing. It also contains natural antiseptic properties with other main ingredients like jojoba oil, olive oil, coconut oil, vitamin E, cinnamon essential oil and others, which are all good for treating dry skin.
[ Read: Homemade Face Packs For Dry Skin ]
5. Olay White Bar Ultra moisture with Shea Butter:
Olay has always been great for issues pertaining to dry skin. The Ultra moisture bar with Shea butter is good for dry skin, as it is a major ingredient in fighting dryness. This dry skin soap moisturizes well and does not leave behind any greasy texture.
[ Read: Pears Soap in India ]
6. Lush Porridge Soap:
Lush is one of those renowned brands that most people swear by. Out of all their amazing products, their soaps are some of the best that the company offers.The Lush Porridge Soap has a delicious, sweet and citrusy scent, with a tiny hint of orange juice. The lather is extremely milky, soft and luxurious; also, it offers moisturising on dry skin.
Let us know which ones you use to protect your skin in the comments below.
Recommended Articles:

The following two tabs change content below.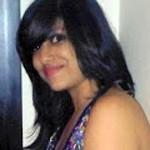 Latest posts by Debolina Raja Gupta (see all)