Best Soaps For Sensitive Skin – Our Top 10
Sensitive skin needs a lot of care and gentleness. The tiniest of things can lead to skin irritation. And unless you happen to have sensitive skin, you will never ever truly understand the pain! This can occur due to various minuscule reasons like fragrance, parabens and harsh chemicals present in the soap. One wrong ingredient and you pay the price!
And that is why people should always opt for gentle cleansing soap that contains moisturizers with no add on's, which can soothe the sensitive skin. But which is the best soap for sensitive skin? We give you 10 of the best options to pick from!
Here Are The Top 10 Soap For Sensitive Skin:
1. Dove Cream Beauty Bathing Bar:
This is the most trusted sensitive skin beauty bar. The dove soap for sensitive skin is trusted by millions of people to soothe their skin problems. This bathing bar from Dove can be used in daily routine for skin cleansing and is unisex. This nourishes skin with its unique enrichment of glycerin. This gives healthy, soft and supple looking skin. It has a lingering subtle aroma that you will fall in love with. This also gives protection to your skin from pollution and moistures the skin. It lathers well to make it easy for application.
Price: Rs.168 for Pack of 3, 100 gm each
2. Kappus Buttermilk Soap:

Kappus Buttermilk Soap is proven to be the best cleansing bar for kids and sensitive skin people. This is very mild and gentle, since it is made of 100% natural products. This is enriched with pro-biotic, buttermilk that has high content of lactic acid. This acts as an astringent to cure age spots, sunburn, skin tightening and freckles. It also nourishes and softens the skin for the healthy glow.
Price: Rs. 125
[Read: Right Soap For Dry Skin]
3. Lush Sea Vegetable Soap:
Lush Sea Vegetable Soap is a very refreshing sensitive skin bathing bar. This contains sea vegetable from seaweed, sea salt that proves to be the best scrub for body. It has citrus lemony, lavender and seaweed refreshing smell. This is suitable for all household members, with its perfect unisex aroma. This soap color is green-blue with the black top surface. This is effective in treatment of skin allergies, eczema, acne, etc. this bar doesn't lathers much, though has good cleansing action.
Price: Rs. 285 for 100 grams.
4. Soulflower Jasmine Soap:
This has mesmerizing aroma of Jasmine flower that lingers for long time. It is unisex and best suitable for dry and sensitive skin. This contains jasmine essential oil, fresh jasmine flowers, vitamin E, saponified oils of olive, coconut, palm, palm kernel and castor for healthy looking skin. Soulflower Jasmine Soap helps to relax your body muscles and soothes pain, stiffness and sprains. This also acts as an anti-depressant that will give you relief from stress, anxiety and tension during common cold, cough and headache problems. This soap claims to remove blotches and stretch marks and improve the elasticity of your skin. This makes your skin look more smooth and shiny
Price: Rs. 200
5. Soulflower Milk Cocobar Veg Organic Soap:
This is moisturizing soap from Soulflower is best suitable for sensitive skin. This is very gentle on skin and contains natural herbs, essential oils and vegetable oils. This has a creamy texture that makes your skin look soft and bright. This can cure problems such as psoriasis and eczema with its daily use. This soap comprises of goodness of fresh milk, cocoa butter, palm kernel oil and coconut that makes it even suitable for toddlers.
Price: Rs. 200
[Read: Soap For Oily Skin]
6. Kappus Wheat Germ Soap:
Kappus Wheat Germ Soap is a vegetable based bathing bar for sensitive skin that prevents and heals many skin condition like scars and stretch marks. This also contains protein and vitamin E to reduce injury or stretch marks and treat cracked, flaky and dry skin. This also acts as an anti-aging, prevents wrinkles, reduces sun damage, stimulates new cell growth, and fights free radical damage.
Price: Rs. 70
7. Johnsons Baby Milk Soap:
(75 g)
This is the best trusted soaps for kids and toddler due to its gentle properties. Johnson's Baby Milk Soap is just perfect for sensitive baby skin, as they contain natural milk extract with vitamin A & E. Hence, makes your skin feel soft and supple.
Price: Rs. 37
8. Pears Pure & Gentle Soap:
Pears Pure & Gentle Soap is the favorite bar among the kids and sensitive skin people. This was the first see-through bar in India that became very popular. This is suitable for every household member and is very gentle on your skin. The soap is non-comodogenic and made of natural elements for healthy skin.
Price: Rs. 128
[Read: Top 10 Best Ayurvedic Soaps]
9. Vaadi Royal Indian Khus Soap With Olive & Soyabean Oil:
This is an Herbal soap that is very gentle and provides nutrition to the skin. This Vaadi Royal Indian Khus Soap contains olive & soyabean oil that can be used daily to maintain natural skin oil balance. This adds glow to your beautiful skin and promotes the regrowth of skin cells. This makes your skin look younger, gorgeous, healthy, supple, spots free and hydrated.
Price: RS.175 for PACK OF 5 (75 G)
10. Pigeon Baby Transparent Soap:
This Bathing Soap is best suitable for sensitive girls and boys. This is transparent bar that moisturizes, soothes and cleanses the skin very gently.
Price: Rs. 250

The following two tabs change content below.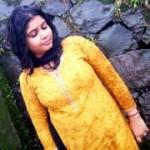 Latest posts by Jayshree Bhagat (see all)