We don't hold it against you if you haven't been able to get yourself a spa manicure lately. Demanding jobs, kids, domestic routines, costs and so many other reasons can effectively keep you away from a much needed manicure. However, all the above are not reasons enough for poorly maintained nails and hands, so to solve your dilemma we have come up with a list of products and all the know how for you to be able to enjoy a spa manicure at home itself. Read further if you just haven't found the time to visit your nearest spa for a manicure and know little or nothing about doing it yourself.
Any good spa manicure kit should include 5 basic products. A good nail buffer or file, nail clippers, cuticle remover, massage lotion and nail varnish. Here's a look at the top five manicure products ideal for doing your own manicures at home.
Top 5 Spa Manicure Products
1. Colorbar Quickfix Four Way Nail Buffer:
As this manicure products name suggests, The Colorbar Quickfix Four Way Nail Buffer is the perfect product to get your nails shaped and filed real quick. This bright pink nail buffer block with each side numbered comes with directions for proper use. Start with the gritty shaping file and end with the smooth polish finish.
Price: Rs 175
Rating: 4/5
2. Scholl Nail Clippers:
This pair of stainless steel nail clippers from the Scholl brand is perfect for taking that first step at doing your own spa manicure at home. You are ensured longevity from this product as Scholl is known internationally for its high quality shoes and has come out with its own nail clipping product so that your feet match your high quality and pricy shoes just fine.
Price: Rs 125
Rating: 4/5
3. Oriflame Cuticle Remover Gel:
To be able to achieve that perfect spa manicure at home it is essential to take care of stray cuticles and the Oriflame Cuticle Remover Gel is just right for this purpose.  Enriched with the nourishing goodness of cucumber and tomato juice along with sweet almond and olive oils, this product is ideal for softening and pushing back stray cuticles. Apply it on you cuticles, wait for 3 minutes and then gently push back using applicator, this product is perfect for a job well done and done quickly.
Price: Rs 170
Rating: 4.5/5
4. Colorbar Nail Varnish:
After cleaning out your nails with nail polish remover or wipes, apply Colorbar Nail polish available in nineteen beautiful shades. As the name suggests Colorbar offer you a wide range of Nail varnish shades that stay on longer and don't easily chip off. Go gothic and experiment with the midnight black color varnish or stick to feminine and go for the scarlet red. The Colorbar Nail polish series offers a shade for every mood.
Price: Rs 110
Rating: 4/5
[ Read: French Manicures At home ]
5. Biotique Bio Nyctanthes Hand Cream:
Perfect for putting the finishing touches to your personal manicure routine, the Bioteque Bio Nyctanthes Hand Cream uses ayurvedic and biotechnology to come up with the perfect hand care product. This antibacterial formula effectively keeps the hand free of germs. Enriched with goodness of natural herbs such as nyctanthes, Indian madder, margosa bark, sunflower oil and red sandalwood, this potent lotion energizes the skin, evens skin tone, removes blemishes and freckles, keeps the skin free of unwanted infections, soothes and beautifies your hands.
Ideal not only for after manicure but also daily use, this Bioteque product will keep your hands hydrated and looking young. Apply an adequate amount of hand cream from Biotique and massage it into your skin till it is fully absorbed and your manicure at home is successfully completed.
Price: Rs 180
Rating: 5/

The following two tabs change content below.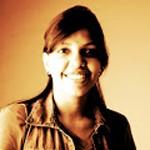 Latest posts by Shruti Goenka (see all)