Ladies! Are you sick and tired of the same old, chemically-laden shampoo? Are you unhappy with the false promises – "get strong and healthy hair in no time", "use our brand for long and lustrous hair" – Well, don't you worry. Here's the article that talks about a list of best shampoos without sulphate and other harsh chemicals.
You would have benefit from a sulphate free shampoo, if your scalp was sensitive or dry. Various cleaning and cosmetics products contain sulphate as a foaming agent in different forms. A few of such forms can be irritants and can cause dermitits, eczema or allergies. Try using a sulphate-free shampoo and notice the difference for yourself.
Here are the top 7 sulphate-free shampoos in India:
1. Dr. Organic's Rose Otto Shampoo – Volumizing Hair Therapy:
Dr. Organic is a UK based beauty brand, which makes skin and hair care products. The Rose Otto Shampoo is a clear gel that is gentle on the hair and scalp. It has a lingering rose fragrance; it's bioactive, natural and contains organic ingredients. It is free from parabens, SLS (Sodium Lauryl Sulfate), harsh chemicals, strong fragrances, artificial colours and harsh preservatives. It is an excellent hair and scalp cleanser that smoothens hair.
Price: 8-10 pounds for 265 ml.
[ Read: Revlon Hair Shampoo ]
2. L'Oreal – EverSleek Intense Smoothing Shampoo:
EverSleek Intense Smoothing Shampoo helps to improve the hair texture and leaves beautiful yet manageable hair. This sulphate free  shampoo smmothens the unruly and frizzy hair. For added results, the shampoo treatment can be followed by any of the EverSleek advanced treatments.
Price: Rs.437
3. Schwarzkopf Bonacure Hair Therapy Amino Cell Rebuild Hair Growth Shampoo:
Use this shampoo is for daily hair care regime and thinning of hair to give you that long-lasting effects. It will make your hair healthy, shiny and strong. The shampoo comes in a white coloured opaque bottle with a clear gel consistency. This has a very mild fragrance that lingers on for a long time.
Price: 600 INR for 250 ml
4. Finesse Clean + Simple Hypoallergenic Shampoo for Dry/ Color Treated Hair:
This shampoo is used to treat wavy, dry and colour-treated hair. It is hypoallergenic and suitable for sensitive skin. Dermatologist tested, it is free of allergens, dyes, sulphates, parabens and gluten. This shampoo will leave your hair, clean, beautiful and shiny.
Price: Rs 295
[ Read: Baby Shampoo for Dry Hair ]
5. Organix Hydrating Macadamia Oil Shampoo:
This shampoo from Organix helps you cure severe hair fall and dryness. This contains Macadamia oil that is excellent for dry hair, thin hair and colour hair. Organix Hydrating Macadamia Oil Shampoo comes in an attractive bottle which is sulfate free.
Price: Rs. 625
6. Organix Healing Mandarin Olive Oil Shampoo:
This shampoo from Organix is  sulfate free. It contains less harsh chemicals as it is infused with natural ingredients. It is best for rebonded and colour hair. Organix Healing Mandarin Olive Oil Shampoo contains mandarin orange extracts and organic olive oil to heal, strengthen and improve elasticity of the hair. It cleans and refreshes your hair and scalp with its seductive and luxurious scent. Olive oil in the shampoo strengthens hair, cleanses impurities, adds shine and is a defrizzant that repairs damaged hair.
Price: Rs. 525 for 385 ml
7. Giovanni Root 66 Max Volume Shampoo:
This is an 'Eco Chic Hair Care' 100 % organic product from Giovanni. This adds life to limp, dull and lifeless hair. It is SLS, parabens, lauryl and laureth sulfate free. It strengthens thin, fragile hair and protects it from damage. This contains horsetail extract, which is rich in nutrients and silica for strong hair. It is 100% vegetarian and not tested on any animals.
Price: Rs. 495
[ Read: Revlon Hair Shampoo ]
Have you tried any of these sulfate-free shampoo brands? If no, then go ahead and buy one right now. Don't forget to leave us your comments below. Stay gorgeous!
The following two tabs change content below.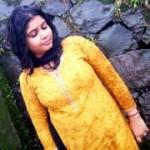 Latest posts by Jayshree Bhagat (see all)