Zoya is a leading international nail polish brand with more than 300 shades on offer. It has been awarded as the longest wearing nail polish by an independent panel by Women's Health magazine. All their polishes are for free, that is toluene, formaldehyde, DBP and camphor free. Apart from the wonderful colors, textures and types of polishes, each of them come with unique names and many of you might even be able to find a polish by your name! Here's a list of my favorite Zoya nail polish swatches and shades.
Top 10 Zoya Nail Polish Shades
1. Zoya Cassi:
Cassi is a totally pretty peach – pink polish with some fine silver shimmer included. The shimmer is not so loud, so this is very appropriate to wear to work. Require three coats.
2. Zoya Gilda:
Pinks are my favorite when it comes to polishes, especially fuchsias. And Gilda fits the bill perfectly. Gilda is a bright, bright fuchsia color which is quite glittery. Perfect for summers. Requires three coats for even coverage, but you could also get away with two.
3. Zoya Jacy:
Here's a really gorgeous color. Jacy is a bright reddish berry purple with magenta and purple metallic shimmer. The fine shimmer really adds to the look of this polish. Requires two coats.
4. Zoya Happi:
My most favourite of all Zoya polishes, Happi is a coral – pink color with lots of gold shimmer to it. Pink looks fabulous all on its own and when you have gold in it, what more do you want? I am definitely getting this beauty. Requires two coats.
[ Read: Nail Polishes For Dark Skin ]
5. Zoya Edyta:
Black is my go to polish when I am in doubt over what to wear. But this polish offers more than that. Edyta is a gorgeous metallic black polish with gold shimmer that sometimes shifts to green and bronze. It is quite difficult to find a metallic black, so this one is a must have. Requires two coats.
6. Zoya Apple:
Summers call for bright and bold colors and Apple is perfect for that. As the name suggests, Apple is an apple green color with gold shimmer in it. I am normally not a fan of greens, but this one is really pretty. Requires two coats.
7. Zoya Jules:
Another beauty for those of you who do not prefer too much color on your nails. Jules is a pretty taupe color with gold shimmer in it. Perfect if you want a bit of sparkle on your nails without looking over the top. Requires two coats.
[ Read: Nail Polish For Different Skin Tones ]
8. Zoya Adina:
Here is another beauty which is hot on my wish list. Adina is a purple polish with green shimmer. The duochrome in this polish is the best, I feel. I love how the polish changes colors when hit by light. If you want to add a duochrome to your collection, this should be the one. Requires two coats.
9. Zoya Isla:
If dark colors appeal to you, Isla is a good choice. It is a dark red polish with a metallic finish to it. Perfect to wear for a night out. I love how the polish looks red with a bit of a darker shade at the edges. Requires two coats.
10. Zoya Savita:
Mattes are my favorites and it would be unfair not to include them in this list. Zoya matte nail polish called "Savita" is a dark purple with red and gold shimmer and a matte finish. I love how they have combined shimmer and matte together. Plus, the frosted bottle looks amazing. Requires two coats.
[ Read: Best Nail Polish Removers ]
So which one did you fall in love with? What all Zoya nail polish colors are you going to pick up? You can also try amazing nail arts with these beautiful nail polish swatches. There is a free nail art for all android app you can download and get the ideas.

The following two tabs change content below.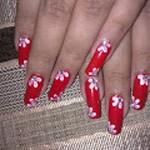 Latest posts by Neha Mane (see all)