How To Use Bhringraj Oil For Hair Growth ?
Bhringaraj, or Eclipta Alba is popular for its multiple health benefits. The herb is best known for its miraculous benefits as an all-round hair tonic. Bhringaraj has so many benefits on the scalp and hair that it makes it one of the most natural oil for regular use.
Bhringaraj oil is made from a powder and base resembling coconut or sesame oil. Dermatologists often prescribe using this oil as it easily penetrates into the follicles and scalp. This helps towards easy and faster hair growth. Bhringaraj is a medicinal herb that grows in most parts of the world.
You can use this oil for treating premature graying of hair and to promote natural hair growth. Regular use of this oil helps restore the natural texture of your hair and adds luster, volume and color. It also benefits those who suffer from dandruff, premature balding and dryness of the scalp. It nourishes the scalp generously and prevents split ends.
How to Use Bhringaraj for Hair Growth
Bhringaraj can be used in various ways for treating hair problems. Here are some common applications.
1. Bhringaraj oil:
Bhringaraj oil is the most common treatment that is preferred for regular use. Many compound products of Bhringaraj oil are easily available at most local stores. Alternatively, you can also prepare a combination of Bhringaraj oil at home.
To make Bhringaraj oil with Bhringaraj powder for hair growth at home:
Add Bhringaraj powder and sesame oil together
Mix these well.
This mixture is safe for prolonged use.
2. Bhringaraj leaves:
Bhringaraj leaves are equally beneficial for the scalp and hair.
Smash the leaves to make a paste
Apply this paste directly on the scalp for best results.
Bhringaraj leaves help stimulate hair growth faster than any other product or ingredient.
[ Read: Vegetables That Boost Hair Growth ]
3. Bhringaraj tonic:
Taking Bhringaraj tonic orally is equally beneficial for reducing hair fall and fostering new hair growth.
Top Uses of Bhringaraj Oil 
Bhringaraj has manifold benefits for your hair. It is therefore considered as a comprehensive tonic for hair problems. Here are some of the most effective uses of this natural oil for treating different types of hair problems.
1. Natural Hair Dye for Premature Hair Greying:
Premature hair greying is a common hair problem experienced by most people these days. Environmental pollution, improper diet, irregular lifestyle, and overuse of hair styling products often lead to hair damage. This in turn causes premature greying of hair. Persistent use of Bhringaraj oil improves the hair condition to a significant extent. In addition, it helps nourish and rejuvenate hair follicles and prevents discoloration of hair.
2. A Natural Antidote for Hair Loss:
Bhringaraj hair oil is a kind of ayurvedic oil that helps cure acute hair loss. One can use Bhringaraj herb directly on the scalp. Its herbal formula helps foster hair follicles. The natural ingredients present in this oil help nourish the scalp generously. It is a natural therapy for preventing hair loss. This natural herb contains essential nutrients that fulfill the deficiency of minerals that lead to uncontrollable hair loss.
3. Bhringaraj Oil For Hair Growth, an Ancient Ayurvedic Oil for Hair Treatment:
Bhringaraj oil is an important part of the ancient Ayurvedic treatment. This natural hair loss treatment is well proven for its benefits. It is especially ideal for those who want a natural and time tested solution that can improve their hair conditions. Application of Bhringaraj oil is safe, as it does not contain any harsh chemicals or other superficial agents. You can use it for a long time without any side effects.
[ Read: Spinach For Hair Growth ]
With so many advantages and benefits, you should definitely try this natural herb and see the results. Bhringaraj is not only an herbal cure for baldness, hair loss and premature greying, but is an all-round product for anyone who wants beautiful, healthy hair. Do let us know how this herb helped you.

The following two tabs change content below.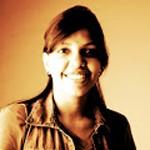 Latest posts by Shruti Goenka (see all)