Top 10 Braun Hair Straighteners Available In India
Frizzy, dull hair always dampens your spirits as it doesn't project a groomed look. The choices are many in the market, but are you sure the one which you select complements your face and hair? Poker straight hair is the 'in thing' currently and this style suits all hair textures and face structures. Worry not, if you have a round, square, heart or oval face shape; straight hair suits everyone, every length and adds to the texture making you look million dollar bucks!
Top 10 Braun Hair Straighteners:
A hair straightener is used to alter the texture and structure of the hair with the help of heat. It is a provisional form of styling and the best products to ensure safety are below,
1. Braun ESS Hair Straightener:
A tool with the latest ceramic functioning and a proper coating incorporated, helps in perfecting that flattened and sleek look in a span of few minutes. Once the temperature reaches the level of trigger, the auto shut-off function helps in reducing the chances of hair being burnt. A proper segregation of warmth ensures an even absorption of heat.
2. Braun ES3 Hair Straightener:
A specific iron mainly made for colored hair since the incorporated technology enhances the color of the hair and saves the color from fading. A feature of cool touch point saves the hands from getting burnt and the inbuilt memory can help in saving the settings for future use. A proper structuring of heat is attained in this equipment.


[Read:Hair Straightening]
3. Braun ES2 Hair Straightener:
Due to its petty size and sleekness, it is portable. It neatly fits into your travel bag without taking too much space. The ceramic functioning feature incorporated within the system has ensured that this product is quality retainer equipment. The proper movement of the ceramic molecules prevents the hair from frizz.
4. Braun ES1 Hair Straightener:
You can get a professional and a trendy look right at your home without spending a chunk of money in saloons. The plates installed within the equipment ensure proper functioning with the latest technology. Proper patented floating plates are incorporated due to which an even segregation and faster heating process is seen.


[Read:Hair Straightening Tips with Flat Iron]
5. Braun ZF-6022 Hair Straightener:
Handling this equipment and achieving a professional style is very convenient with this model. A digital control and regulation of temperature helps in enhancing the quality of hair. It never sticks to the hair and the overheating causes no harm rather helps in minimizing the damage.
6. Braun Ceramic Tourmaline Hair Straightener:
This equipment has the latest technology of the ceramic functioning. It provides us with specific information regarding the power and voltage. A spontaneous control and a regulation of temperature lead to proper handling. It is very tiny and light weight. It helps in the prevention of excess absorption of heat by the mane.
[Read:Hair Smoothing VS Hair Straightening]
7. Braun Satin Hair Color Straightener:
This tool is especially tailor made to cater the requirements of colored hair. Through the heat controller, the amount of heat can be regulated according to the texture of the hair. It helps an individual attain a lustrous, poker straight hair. The dryness and roughness can be taken care during the styling process.


8. Braun 2 in 1 Hair Straightener and Curling Iron:
It is a two in one iron which provides various benefits. It gives out infrared radiations for smooth and subtle styling. Since it provides a proper and an ample space for holding the iron, it prevents the hands from getting scorched. A replenishment of heat is seen due to the auto control function features.
[Read:Permanent Hair Straightening]
9. Braun 2 in 1 Hair Curler and Straightener:
It provides double benefits of curling and straightening. It provides an even distribution of warmth around the hair and has panels made of aluminum alloy. It is moisture proof and a heat proof iron which helps an individual retain the shine in the hair.
10. Braun Type 6011 Hair Straightener:
Very popular in use and suits every texture of hair due to the regulation and control of heat.
*Subject to Availability
These are a few best braun straighteners available in the market. Sport a sleek high ponytail and mark your presence. Style is noticed, no matter how hard you try. So go ahead and make the world a stylish place! 
Recommended Articles

The following two tabs change content below.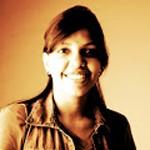 Latest posts by Shruti Goenka (see all)