Wedding season is approaching and all the brides to be are busy deciding on their attire and jewellery. However, a bridal look remains incomplete without mehendi. Brides nowadays want designs that have a modern touch to it, and Arabic mehendi will be ideal for them. In Arabic Mehendi the designs have distinctive floral art work and a free flowing structure; the floral designs are repeated in a geometric pattern covering entire hands and foot. Arabic mehendi will accentuate the beauty of the bride and make her look ravishing!
As the name suggests Arabic Mehendi originated in Arabian countries and it gradually gained popularity in Asia, especially in India and Pakistan. Often Indian motifs are combined along with Arabic mehendi, resulting in mixed patterns. Arabic mehendi is more bold and prominent because it is created using dark brown and black mehendi instead of red mehendi. The outline or borders of the designs are created using black mehendi that makes it look bold and beautiful. It is easier to create Arabic mehendi design and it is suitable for any occasion. Even if you are not an expert at creating mehendi, you can still create your own mehendi at home or try it on your friends.
Watch a How to Make Mehendi Designs video from our StyleCrazeTv
Amazing Arabian Style Mehndi Design Tutorial
Beautiful Arabic Mehndi Designs:
Here are some simple Arabic mehndi designs for hands and feet that is beautiful and can be easily created at home anytime.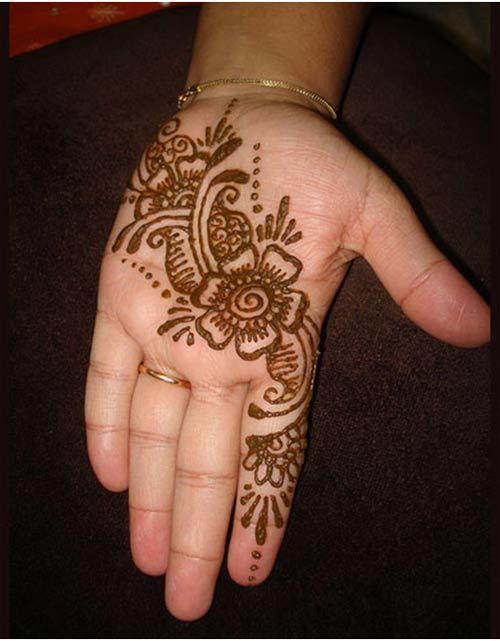 1. This design is simple, elegant and not messy. Those who shy away from full hand designs can try this mehendi design. The motifs are not complicated and the floral patterns are very feminine. This design is suitable for any occasion and can be done by anyone. Even if you are not an expert at creating mehendis you can still make this design.
[ Read: Bridal Mehandi Designs ]
2. This mehendi design will look very beautiful on top or back of your hands. This design covers the top of the hands, fingers and the wrist. The design is a combination of paisley and floral motifs and on the wrist there is a bangle like design which makes it unique.This mehendi design is neither too full nor too less. Yet, this designmakes the hands look filled up and beautiful without having too much detail and intricate designs. This is aneasy and perfect way to decorate the top or back of the hands for your wedding or for any other occasion.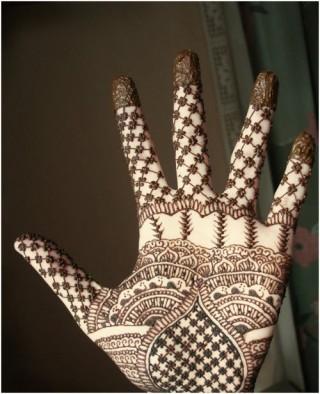 3. Want to try some out of the box Arabic mehendi design for your hands? Then you can definitely try this one. The inverted heart pattern and the net like patterns with tiny flowers make this mehendi design very different from the usual ones. This Arabic mehendi design is very intricate due to the minute details, may be a little complicated to create. However, this design will look stunning on the hands of the bride.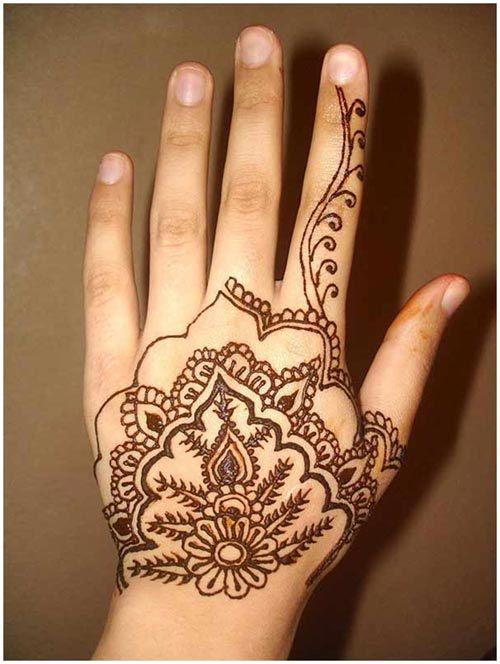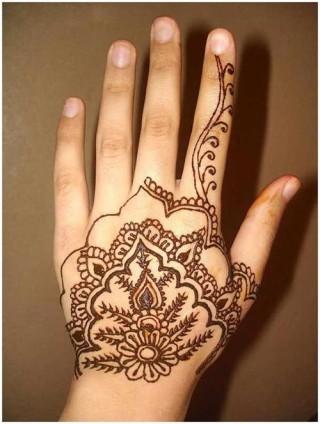 4. Another simple yet beautiful design for the back or top of the hands. This design is a combination of flowerand an arch like motif makes it ideal for Eid and weddings. Eid calls for a great feast and celebration, and how can a celebration be complete without mehendi! Moreover, Arabic Mehendi design is a reflection of Islamic religion and culture, so this pretty and simple design is suitable for Eid and other similar celebrations in the Muslim community.
[ Read: Best Back Hand Mehndi Designs ]
5. This Arabic mehendi design for the wrist is quite unique. You may use this design by itself keeping the palm free of any colour or you can also include it into any other design you like.You can even use this design as a mehendi tattoo. It is the simplicity of the design that gives it a modern look, it will be a great hit among teenagers and college goers.
The following two tabs change content below.