Whether you have super straight hair or naturally wavy locks, if it is medium in length, you have no dearth of choices out there. There are literally numerous casual and fun hairstyles for medium-length tresses and you can wear them anytime anywhere without any hassle. Wondering how to do casual updos for medium length hair?
Here, we have compiled a list of 50 such casual hairstyles for medium length hair. Check it out:
1. Twisted High Bun With Embellishments:
Add extra volume to your hair by applying mousse and twist it up into a simple messy high bun right at your crown. Decorating the hair underneath the bun with a few crystal pins will give the style a whole new dimension.
2. Side-Parted Waves With Curly Ends:
Add a dash of soft curls to the ends of your waves. Start with applying mousse for an added volume to the roots and part the waves to one side. Then, make use of your curling iron and look awesome.
3. Thin Dense Textured Curls With Center Part:
The ageless appeal of dense curls can never be ignored. To get this look, you need to apply mousse to your hair, middle-part it, curl it up intensely in very thin sections and texturize with hairspray.
4. Middle-Parted Beachy Waves With Pointy Ends:
Nothing can be better than relaxed beachy waves for a casual yet super sexy look. Here, wispy points and a messy textured finish have enhanced the middle-parted hairstyle even more.
5. Middle-Parted Waves With Nice Headband:
This hairstyle can be your secret for a glamorous blonde girl look. Just part your wavy locks to the center, clip both sides together at the back and let the remaining hair cascade your shoulders. A nice headband can also be used to jazz up the style.
6. Soft Outward Curls With Puffy Crown and Side-Swept Bangs:
Section the side-swept bangs off the crown and tease up the later one nicely. Now, add outward curls to your layers by using a large barrel curling iron and set with hairspray. Here is the glamorous you!
7. Rolled Back Waves With Curly Ends and Added Texture:
This hairstyle can easily transform you into a smart and casual chic. Apply mousse all over your wavy hair and roll it back gently. The ends should be curled up and a hairspray can be spritzed for texture.
8. Spiral-Ended Side-Swept Waves Covering Face Partially:
Sport this mysterious look, if you truly believe that you can pull it off the right way. Deep side-part your textured highlighted waves, side sweep dramatically to hide one part of your face and finally, curl them up halfway down.
9. Messy Wavy Low Ponytail With Twisted Sides:
Volumize your crown a bit and create a low messy ponytail by securing all your wavy hair at the nape of your neck. Now, twist up both sides and wrap the twists around the elastic band of the pony. So simple!
10. Messy Braided Ponytail With Puffy Crown and Side Sweep:
When it comes to looking casual in the most stylish way, this semi-high braided pony with a subtle messy finish can be a good choice. Add a zing to it with a puffy crown, a hair wrap and a long wide side-swept bang.
11. Beautiful Boho Waves With Braided Head Chain:
If you want to look casual, look Boho. Create an off-center part and leave your thick gentle waves loose over your shoulders. Now, braid up a section of hair at the front and wrap it around your head like a head chain.
12. Layered Bob With Fringes and Inward-Outward Feathers:
A medium-length layered bob is not at all boring. All you need to do is get your layers feathered in inward direction at one side and outward direction at the other. Also, don't miss the thick random fringes.
13. Low Side Ponytail With Textured Waves, Bangs and Hair Wrap:
You will love to flaunt this hairstyle for a pretty 'girl-next-door' look. Side-part your wavy layered locks after applying mousse and make a loose low pony at one side. Wrap it with another section of hair and let a thick curly bang embrace your face.
14. Sleek Smooth Layered Ponytail:
Give your straight layered hair a silky and shiny effect by applying lots of serum. Now, pull it back at the center of your head and come up with a simple semi-high ponytail. Casual and chic!
15. Half-n-Half Braided Wavy Ponytail With Bangs:
This is a beautiful hairstyle with a braided upper half and a wavy lower ponytail. Section your long layered side bang off your crown, add a little volume and wear this nice hairdo for cute casual look.
16. Dramatic Curls With Pouf and Pinned Sides:
Luscious curls are the secret to this princess-like look. Apply a palmful of mousse to add extra shine and volume to your waves. Now, create a pouf, pin both sides at the back with bobby pins and curl up the ends of the locks intensely.
17. Tousled Side Braid With Bang and Side Sweep:
Messy is not only casual, but it is also quite elegant. Check out this tousled side braided hairstyle for instance. Long side sweep, sexy side bang, twisted strand attached with the braid and an attractive hair brooch have made the entire style a sure hit.
18. Romantic Curls With Puffy Crown and Wavy Side Sweep:
Be it your first date or the exciting prom night party, this romantic curls are enough to make you the attention-grabber. Side-part your waves and add volume to the crown. Now, curl the ends of your locks spirally and wave up the side sweep subtly. A fresh flower can spice up the look even more.
19. Side Slicked Low Ponytail With Hair Wrap:
Part your hair to one side and make a low side ponytail at the other. Wrap it with a section of hair and curl up its ends slightly. At last, apply a good wax or pomade to give the entire style a wet, side slicked look.
20. High Thick and Widened Fishtail Braid With Semi-Circular Top:
A mesmerizing fishtail braid can make you look like an ultimate fashionista from all aspects. Create a high ponytail on your mousse-applied hair first. Then, turn it into a thick fishtail braid with a semi-circular flower-like top. Widen the braid a little by pulling gently and you are done.
21. Hair-Wrapped Side Ponytail With Tight Curls and Layered Fringes:
Here is another casual version of a low side pony that can give you an edgy look easily. Separate the deep layered fringes from rest of your hair and let it rest on your forehead. Pull all your side-parted hair to one side and create a low hair-wrapped ponytail. Curl it up intensely to complete the look.
22. Twisted and Pinned Smooth High Hairdo:
Give a boost to your feminine charm just by wearing this twisted high hairdo. Smoothen up your hair by applying serum and twist it up in two sections. Then, fold and pin the twists nicely at your crown. Voila!
23. Middle-Parted Wavy Layers With Braided Headband:
Look differently beautiful in this jet black loose hairdo. Part your layered waves in the center and curl up the ends a little. After that, braid up a thick section of hair and secure it from ear to ear like a natural headband.
24. Retro Textured Waves With Thick Side Sweep:
Retro waves can be a great choice for a medium-length casual hairstyle. Keep your side-parted hair loose, add a nice side sweep and create ripping waves on it. Spritz hairspray to add texture to the whole style and maintain it perfectly.
25. Wispy Wavy Layers With Twisted Front:
Look super cool and extremely casual in this simple hairdo, while giving your style factor a significant boost. Just let your wispy wavy layers flow down your shoulders, twist up the front hair along your hairline and secure it at the back with bobby pins.
26. Messy Soft Curls With Random Fringes:
Create soft curls all over your hair and enhance the look to a great extent by adding thin random fringes to it. A slight messy finish will also go excellent with this hairstyle.
27. Hair-Wrapped Low Ponytail With Twisted Top:
This unique hairdo is just ideal for a casual party or get together. Twist up the textured upper section of your hair intensely. Also, make a simple low ponytail with the lower section of hair with highlighted bottom. Now, attach both sections together and wrap with another section of hair.
28. Simple Low Twisted Bun With Slicked Back Finish:
Slick your smooth hair back by using a good hair wax. Now, twist it up and make a small precise tight bun right at the nape of your neck. Casual yet quite classy!
29. Side-Parted Waves With Side Hairline Twist:
When there is no time for a fussy hairdo, give this easy and relaxed one a try. Just part your natural waves to one side, twist up the front hair along the hairline and secure it at the back with bobby pin. You are all set to go.
30. Messy Low Side Fishtail Braid With Textured Top:
Add volume to your top hair by applying mousse and set it with a hairspray. Now, create a messy but tight fishtail braid at the base of your neck and place it over one of your shoulders. A few loose strands will perk up the look considerably.
31. Precise Side Fishtail Braid With Volumized Top:
Here is another fishtail braid hairstyle in which the top hair is volumized by applying mousse and rolled back to one side loosely. Create a tight fishtail braid with rest of the hair and you are good to go.
32. Huge High Twisted Bun With Puffy Top and Hair Wrap:
This massive high bun is just awesome for a cool casual look. Create a pouf on your textured wavy locks, twist as well as fold then into a gigantic bun at your crown area and wrap up its base with a thin section of hair. Simple, isn't it?
33. Messy Low Twisted Bun With Textured Top and Side Bang:
As you can see, this hairstyle basically features a low twisted bun with a little messy flair. But the highly textured top and side bang are what make it so special. Do give it a shot.
34. Semi-High Spiral Bun With Slightly Messy Finish:
Stand out from the crowd with this simple bun hairstyle, where a spiral effect is created by twisting the hair up into a bun and wrapping it partially with its own end part. Pretty innovative, no!
35. Upside Down Braid With Spiral Bun at End:
This is a stunning combination of a regular braid and a spiral bun. Create an upside down braid up to your crown and turn it into a unique bun by twisting its ends spirally. You truly can't help but love it.
36. Low Side-Swept Rolled Updo With Texture:
Texturize your wavy hair nicely and sweep it to one side of your head at the back. Now, start rolling it up carefully starting from the nape of your neck and secure with bobby pins after reaching a certain height. Application of hairspray will keep the updo intact for a long time.
37. Hair-Wrapped High Bun With Twisted Front and Puffy Crown:
Tease your crown area and create a high casual bun by pulling all your hair back at it together. Now, wrap it up with another section of hair. Also, twist up the textured front hair and secure it into the bun.
38. Classic French Twist With Volumized Top:
This is a modified version of the typical French twist hairdo that we often get to see. Here, the top section is volumized as well as textured in order to create an illusion of a Mohawk style, which has made it look quite casual.
39. Smooth Layered Hair With Inward Curls:
If you have thick smooth layered hair, this will be the best relaxed hairstyle for you. Just create an off-center part and curl up the ends of your layers in an inward direction.
40. High Textured and Twisted Flower Hairdo With Headband:
To start with, smoothen up and texturize your hair and part it to one side. Now, divide it into a humber sections, twist them up separately and pinned them one by one at your crown to create a massive high flower hairdo. Put on a ribbon headband for a more glamorous look.
41. Side-Swept Layers With Multiple Twisted Strands:
Create a deep side part and sweep all your smooth layered hair to the side of the larger section. Divide the smaller section into three parts, twist them up separately and secure at the back with bobby pins. Easy, comfy and super relaxed – we must say.
42. Simple Twisted Topknot Bun:
A twisted topknot bun can always give you that desired casual look in no time. All you need to do is pull your hair at the top of your head tightly, twist it up and turn it into a comparatively flatter topknot.
43. Elegant Bouffant Bun With Deep Side-Swept Bang:
Do I really need to say anything about this outstanding casual hairstyle for medium hair? A gorgeous bouffant bun, a sexy deep side-swept bang and rich auburn color have made it into a grand choice for medium length hair.
44. Vintage Textured Curls With Side Part:
Add extreme texture to your medium length inward curls and rock this vintage hairstyle totally. A neat side part and additional shine will take it to a new level.
45. Upside Down French Braid With Puffy Crown and Bang:
This is an upside down French braid, which is created very much carefully and jazzed up with a puffy crown. A relaxed side bang and messy textured flair will make it look even more casual.
46. Side Angular Loop Hairdo With Bows:
This angular loop hairdo is not only good for a cool casual look, but it will also save your time for styling to a large extent. You can always turn it into a little more formal just by adding the ribbon bows to it.
47. Low Flowery Bun With Puffy Crown and Wavy Bang:
Though it is a bit time-consuming, this beautiful flowery bun positioned at the nape of your neck is worth trying. A loose puffy crown and a romantic curly bang will make you even prettier.
48. High Top Ponytail on Kinky Coily Hair:
If you are blessed with kinky coily hair, then definitely this is one of the best casual hairstyles for medium hair. Just pull all your tight curls at the top of your head and secure them into a high ponytail. Choose a nice hair accessory for a better look.
49. Beautiful Beehive Bun With Headband:
Tease your medium-length hair extensively and come up with a super awesome beehive bun. Give it a polished look and adorn it with a stunning metal headband.
50. Messy Waves With Side-Swept Bang:
Leaving your medium-length natural waves loose itself is a wonderful style. Just part it to off-center and get a small side-swept bang to complete the look.
Hope you liked all these easy casual hairstyles for medium length hair! Have you found your favorite? Do let us know by leaving a comment below.
Recommended Articles:
The following two tabs change content below.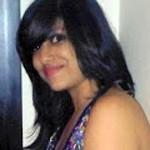 Latest posts by Debolina Raja Gupta (see all)