In case you are not aware yet, bob is back in the spotlight. A perfect go-to style for the women of all ages, the hairstyle is a reinvention in itself. Whether you've got short or long, straight or curly, here are some perfect bob hairstyles rocked by stunning dark skin celebrities to inspire you.
Read ahead to discover the best bob hairstyles for Black women!
1. Short Wavy Bob
Beyonce's hairstyle at the Topshop Topman New York City flagship dinner was pretty much the look we'd love to rock every day: it's simple, chic, a bit undone but flattering and the right amount of girly.
A great hairdo for every occasion, to mimic Beyonce's wavy bob, start by applying hair volumizing spray. Next, curl your hair at the bottom. Now to get that texturized look, apply a hairspray and scrunch your hair before twisting the bottom of your hair again.
2. Shabby, Curly Bob
Waris Dirie's short, curly bob has got us seriously considering a trip to a salon. With long curly bangs, elegant outward flick and carefree undone locks, this, easy-to-maintain and simple to style is one of our favourite hairstyles at the moment. To duplicate Waris' look, use a volumizing gel for an incredible volume, and then take a curling tong and randomly curl your bob. Once done, mist with texturing spray and scrunch the curls lightly.
[ Read: Braided Updo Hairstyles For Black Women ]
3. Angled Bob
Model Sessilee Lopez's layered, angled bob reveals a simple way of achieving a serious hotness look at home. First, use an anti-frizz serum to make sure your hair is free of frizz and is poker straight. Then, take a flat iron and straighten your hair. Once done, finish this look with a good covering of hairspray to tame flyaway hairs.
4. Permed Bob
Never underestimate the power of long, permed bob. For the American fashion model, these voluminous curls are one of the trendiest, flattering and funky beauty looks – a dab of orange lip gloss on her lips, bronze makeup to even out her skin tone, and a feline flick to enhance her doe shaped eyes.
5. Bowl-Cut
Supermodel Naomi Campbell demonstrated how this classic bowl-cut is still very much in fashion. Begin duplicating this hairstyle by flat ironing your short hair. The American model makes this often casual hairstyle perfect for the red carpet event, and her face-framing bangs add a modern edge.
6. Voluminous, Shaggy Bob
Oh, boy! Look at supermodel Tyra Banks voluminous, shaggy bob – every inch of the look that is perfectly cut and teased. To maintain the hairstyle, apply a good amount of volumizing spray and blow dry your hair. Next give your hair a lot of texture by spritzing a good texturizing spray. Once done, scrunch your voluminous bob for a shaggy look.
7. Asymmetric Bob
The master of funky hairstyles – pop star Rihanna is looking stunning with her asymmetric bob with a side-swept, face-framing fringe. An easy look to recreate, the edgy hairstyle needs good pomade to style your layered hair smoothly. Now, with the help of a flat iron, straighten your hair. Once done, with the help of a hairspray, add the perfect texture, ensuring it doesn't look limp. Funky and carefree – We love it!
8. Short Curly Bob
Actress Kerry Washington demonstrates just how much fun it can be to go short and curly with your bob. The jet-black hairstyle suits her classy and contemporary look, and the glossy root curls add a touch of glamour. To copy this chic hairstyle, create an off-centre side part and use a curling wand to create root curls. Finish off the look by scrunching the roots slightly.
9. Short Sleek Bob
Tika Sumpter's short, sleek bob is all sorts of wild and exotic. The American actress and television host looks amazing, thanks to the jet black short locks, which complements her skin tone and brown eyes beautifully. Paired with metallic eyeshadow, red lips and flawless makeup – the classy hair is sleek, edgy and gorgeous.
[ Read: Messy Short Bob Hairstyles ]
10. Bob With Full Bangs
Wow. Just look at those blunt bangs. We are totally in love.
Literally everyone is talking and duplicating this long bob with full bangs and needless to add, they love it. This sexy bob hairstyle for black women is fun and funky which makes the hair seem healthier and more alive. Perfect for women with straight, thick hair, you can recreate this look with the help of heat styling products and flat iron, no matter what kind of hair you have!
So there you have it – our favourite celebrity-inspired bob hairstyles for black women that are classy, flattering, and just plain simple. Do let us know about your favourite hairdo in the comments section below!
Recommended Articles
The following two tabs change content below.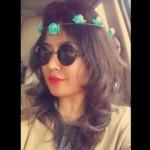 Latest posts by Anisha Pradhan (see all)