Nicki Minaj's original name is Onika Tanya Maraj. She is a Trinidadian-born American rapper, singer-songwriter, voice actress, and television personality. But that is not the only reason we know her! We may not like rap music but when she steps out in public, we definitely love her fashion sense. And her nail art designs are simply stunning always!
Nicki Minaj Nails:
Design 1: Pink and studded in Swarovski
Nicki Minaj hosted her New Year eve's party at Las Vegas. She looks stunning in her golden metallic dress and she paired it with metallic pink nails with lot of glitter and Swarovski crystal as an accent. This new year the Nicki Minaj nail polish colors rocked!
She was spotted with the same manicure when Nicki Minaj has attended  American  idol premiere on 8th January 2013. Her manicure choices prove that this year glittery manicures are still in….thank god as even I love the glittery nail design!
You can get this look by painting your nails metallic pink and top it with lots of glitter and add few Swarovski crystals here and there. Well here I am inspired by her dress too for creating amazing color block nails…J
Design 2: Pastel madness
This pastel look of Nicki Minaj is so eye catchy. She tweeted this picture and along with this she tweeted "Da kid did her OWN hand design. Who wants theirs done next?!!?!"  …wow she is so talented! She creates her own easy designs of nail art and can sing as well!
Design 3: Pretty and pink
Nicki Minaj's simple bubble gum pink pointed nails looks so chick as well as elegant with the oh so beautiful bow ring.
Design 4: Summary and simple yellow
Nicki Minaj attends the Samsung Infuse 4G launch event and there she spotted sporting bright yellow nails.
Design 5: Neon bright pink
Nicki Minaj helps Casio launch the Tryx Out camera in New York and here she painted her nails bright (neon) pink and shaped them square.
Design 6: Pink yet lavender!
In this nail art Nicki Minaj was again spotted with pink nails (powder pink) but here exception is the accented light lavender ring finger nail on her left hand.
Design 7: Pink, pastel and purple at the same time
To add the soft and feminine touch to her badass look Nicki Minaj kept her nails pink and pastel with the hint of purple silver white. The technique here used is water color technique.
Design 8: Golden minx love
Nicki Minaj was wearing golden minx nails to match her bold gold Jewelry. She kept her nail art for short nails. And oh so very chic!
Design 9: Ombre and grey
Nicki Minaj had also partnered OPI and launched nail polish set last January to promote her album "Pink Friday: Roman Reloaded" and this set includes six colors namely a bright aqua is "Fly," metallic silver is "Metal 4 Life," purple crackle is "Super Bass Shatter," silver  is "Save Me," the shocking pink is "Pink Friday" and the different green is "Did It On 'Em". She wore grey and white ombre nails for the promotion pictures.
Which of the Nicki Minaj nails will you copy? Do you ever wear shocking pink nails like her or you prefer her powdery pink nails?
How to do Nicki minaj nails
Tutorial Difficulty: Moderate
Things you will need:
Big and small rhinestones
Base coat, I prefer Claire's Clear Base Coat Nail Polish
Top coat, for a long lasting wear, opt for  Guerlain's Le Top Coat Gel which absorbs damaging rays and gives a high gloss finish
Stepwise Tutorial:
Step 1:
To start with the nail art, begin by preparing your nails by moisturizing and buffing them and then apply a base coat, like Claire's Clear Base Coat Nail Polish. After your base coat dries completely, paint your nails with Faces' Metallic Pink Color.
Step 2:
Wait for them all to dry and once it is done, apply good double coats of gold glitter. I have usedColorBar's Glitterati Top Coat.
Step 3:
Now coat the sides of ring finger and thumb with the help of glue, and place few transparent rhinestones towards your cuticle as shown in the picture below. You can use a toothpick or cuticle pusher to stick it. It is very important that the rhinestones are small in size and of good quality also ensure you do not add more than four; else you will not be able to seal it with the top coat.
Once done, use a cotton swab dipped in acetone to clean the color off your fingers. I have used ULTA Maximum Strength 100% Pure Acetone Nail Polish
Final Look:
Finish the manicure with a couple of applications of a very thick clear top coat until the rhinestones are sealed and the nail is smooth to the touch. I have used long lasting wear Guerlain's Le Top Coat Gelas it has a UV filter too and gives a high glossy finish – perfect for my nails while I'm going out for a party.
With a trendy nail art that easy, we'll be donning Anaconda singer, Nicki Minaj's stunning Glitterati nail art for days to come. And if you wish to see more prints or any other designs on your nails, leave us your comments below and we will cater to your requests. Also, if you are planning to try this nail designs do share your pictures with us. Hope you like this spun sugar nail art look. Do share your comments below.
Do share your views in the comments below.
The following two tabs change content below.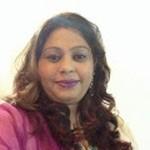 Latest posts by puja malhotra (see all)