Winter is the time for hot chocolate, warm sweaters, and really cool nail art. And what could be more wintry than snow? This holiday season, flaunt your love for winter with nail art featuring snowflakes. We present two easy-to-do designs that shall brighten up your day for sure.
Before you begin, there are a few pointers you need to keep in mind:
Always begin with clean nails. Make sure you remove all traces of any old nail polish that might be present.
Pay heed to the appearance of your nails. If the edges of your nails are uneven, use a nail clipper and a nail file to trim and shape them.
Soak your nails in warm water for a minute or two, and using a cuticle stick, push back your cuticles. This will help you get a more even finish.
Apply a base coat of clear nail polish. This will help in getting a smooth finish, and make your nail polish last longer. It can also prevent your nails from getting stained by the nail color you are using.
Now let us know about 2 simple but beautiful snowflake nail design tutorials with pictures.
Snowflake Nail Art Tutorials
1. Red and White Christmas Nail Art Tutorial
Festivities and snow are the two quintessential things associated with Christmas. Dive into the fun and frolic with nails to match! A simple design with a red background, snowflakes, and polka dots is more than perfect for the holiday season.
Required Products
Red nail polish
White nail polish
Toothpick
Liner nail art brush
How To Apply Red and White Christmas Nail Art?
Following are 3 important steps involved in Red and White Christmas nail art design.
Step 1: Apply Red Nail Polish
Apply two coats of the red nail paint on your nails. Wait for the first layer to dry before you go for the next one, else it can get messy.
Step 2: Put White Dots
After it's completely dry, you can proceed to the next step. Using the white nail polish and the toothpick, start dotting your nails. You can use the pointed side for smaller dots, and the head for bigger ones. Put lesser dots on the index finger, and leave the ring finger more or less bare because that's where the snowflakes go.
Step 3: Draw Snowflake Design
Use a liner nail art brush, to draw a snowflake on your ring finger. Dip the brush in the polish and draw four intersecting lines so that it forms a star-like shape. Draw smaller lines on them to make a snowflake.
Wait for the nail polish to dry, and apply a layer of top coat. Although this is optional, using a top coat will reduce chipping and make your nail polish last longer.
2. Snowy Night Nail Art Tutorial
A snowy night can be one of the most breathtaking sights ever. Now, you can recreate the magic with your nails as the canvas by just following a few simple steps.
Required Products
Metallic finish blue nail polish
Silver glitter nail polish
White nail polish
Liner nail art brush
How To Apply Snowy Night Nail Art?
Step 1: Apply Blue and Silver Nail Polishes
After applying the base coat and letting it dry, paint your thumb, middle, and ring fingers with the blue nail polish. Use the silver glitter nail polish on your index and little fingers. Wait for the coat to dry before applying another layer of polish.
Step 2: Draw Snowflakes on Middle and Ring Fingers
Using the liner brush, draw snowflakes on your middle and ring fingers. Begin by drawing four intersecting lines at the center of your nail. Add smaller diagonal lines to the bigger ones, and your snowflake is all done.
Step 3: Apply Top Coat
After the polish dries, apply a layer of top coat to preserve your nail art and prevent chipping.
Snowflake nail art is amazing to look at and super easy to recreate. So try these designs out, or add your own twist to them. And, as always, ideas and suggestions are always welcome!
Recommended Articles:
The following two tabs change content below.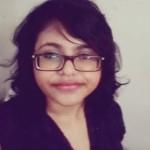 Latest posts by Bhavna Panda (see all)