There might not be a shortcut to success, but there are plenty of shortcuts to look beautiful in a jiffy. Whether you're running late or feeling plain lazy, these beauty hacks will save the day!
1. Use Petroleum Jelly To Define Your Brows:
Unkempt brows can really ruin your look. If you don't have the time to go about your eyebrow routine, just comb through your brows and make them look thicker and more defined by swiping some petroleum jelly across them.
2. Hairspray To Keep Brows In Place:
You don't need to get a dedicated brow gel to keep your eyebrows in place. Hairspray can do the job just fine. Just spray some on an eyebrow brush or a clean mascara wand and set your brows for the day.
3. Mascara As Eyeliner:
Running out of liner is not the end of the world, although it might seem as such. To diffuse the potential apocalyptic situation, use your waterproof mascara as your liner, with the help of an angled brush.
4. Instant Gel-Liner:
Photo Credit: Instagram
Your pencil liner not intense enough? Place your liner over a lighter flame to get a darker, more intense line.
5. Use Liquid Liner Like A Pro:
Perfecting the liquid liner is a milestone in any makeup enthusiast's life. If you cannot seem to master the flick, then there is a simple hack to line your eyes like a pro. Place a clear tape diagonally, in line with your bottom lash line, to trace the shape you want to create. Line your eyes and remove the tape – and get set to take on the day!
6. Easy Smokey Eye:
To take your look from day to night, try this simple trick. Using a pencil liner, draw a slanted hashtag on the ends of your eyelids. Blend using a smudge brush for an instant smokey eye.
7. Curl Stubborn Lashes:
For a long lasting curl, use a blow drier on your eyelash curler. The heat makes curling easier and makes it stay longer.
8. Curl Lashes Without A Curler:
Can't seem to find your curler? In situations of emergencies, you can substitute a spoon for an eyelash curler. Just place the spoon on your lid and gently press your lashes against the curve of the spoon.
9. Line Your Eyes As You Curl:
This one is a real time-saver. Line the edge of your eyelash curler with a gel liner and place it as close to the lash line as possible. Curl your lashes as usual and end up with lined eyes in the process.
10. Make Eye Lashes Instantly Thicker:
Not all of us are blessed with naturally lush lashes. Good thing that it can be easily faked. To make your lashes look instantly thicker, line the inner rim of your upper eyelids.
11. Look More Awake Instantly:
To make your eyes look wider, use a nude eyeliner on your lower rim. This trick makes your eyes look bigger and brighter, and more awake.
12. Make Your Pencil Liner Smudge-Free:
It could be the terrible liner or it could be your oily skin, but somehow you always end up with raccoon eyes. To make your liner smudge-free, swipe an eye shadow of the same color over it. You may also use translucent power as it soaks up all the emollients present and stops your liner from smudging.
13. Plumper Pout Without Collagen:
To flaunt a fuller pout, you don't need collagen injections or expensive lip plumpers. Peppermint and even cinnamon oil can give you the same effect. You can add them to your lip balm or lip gloss or apply directly to your lips to make them feel fuller.
14. Glossy To Matte In An Instant:
You can turn any of your glossy lipsticks matte by using this simple trick. Swipe on your lipstick and take a single ply tissue and place it over your lips. Gently dust translucent powder for an instant matte effect.
15. The All-Purpose Lipstick:
If you don't have the time to go about your makeup routine, just grab your lipstick. Swipe across your eyelids and blend some across the apples of your cheeks to add color to your face.
16. Fake Fuller Lips:
For a poutier pout, use your gloss only at the center of your lips. This makes your lips look fuller in an instant.
17. DIY Gloss:
Now turn any mineral powder into a gloss by mixing it with petroleum jelly. This is a great way to make use of unused blushes and eye shadows and there is so much scope for experimentation.
18. Keep Your Lipstick Off Your Teeth:
It can be disheartening to smile at your reflection in the mirror and notice lipstick all over your teeth. To prevent this from happening, pop a finger into your mouth and pull out. All the extra lipstick now rests on your finger rather than your teeth.
19. Thicker, Longer Lashes:
To get thicker and longer lashes, pat baby powder into your lashes in between coats of mascara.
20. A Little Shimmer To Shine:
Looking a little dull? Use a highlighter along your cheekbones, the bridge of your nose and your forehead to make your skin look brighter.
21. Easy Contouring:
Here is a super-easy way to contour. Draw a reverse 3 starting at your temple, curving in beneath your cheekbones and ending at your chin. Blend away for a defined look.
22. Baby Powder = Dry Shampoo:
Baby powder does have quite a few uses. If you don't have time for a wash-condition-blow dry routine, you can apply baby powder to your roots to soak up the extra grease.
23. Instant Glossy Hair:
Ran out of serum? You can make your own by adding one part of your favorite conditioner to three parts water. Place in a spray bottle and make sure that you store it in the refrigerator.
24. Heat-Free Waves:
To get luscious waves, you don't need any styling tools. Just twist your damp hair into a bun. After it's dry, take down your hair and run your fingers through it and enjoy your wavy hair.
25. Using Wrong Foundation The Right Way:
Bought a wrong shade of foundation? That does not mean you cannot put it to use. Whether it's too dark or too light, you can always mix it up with a moisturizer or a bronzer to make a BB cream. You can also use a foundation that is too light for highlighting and a darker shade for contouring.
26. Coffee Scrub:
A cheap, yet effective scrub that guarantees results. Add coffee grounds to your body wash to make an exfoliating scrub. The grounds are abrasive enough to remove dead cells and leave you with smoother skin and the caffeine helps tighten your skin and reduce the appearance of cellulite.
27. The Lazy Girl's Makeup Removal Routine:
After a long day, it can be difficult to work up the energy to go through a CTM routine. The shortcut? Wash your face with olive oil. It removes all traces of dirt, oil and grime and leaves your skin moisturized.
A famous quote goes, "Always be prepared." But if you aren't, arm yourself with these beauty hacks and be ready to take on the world.
The following two tabs change content below.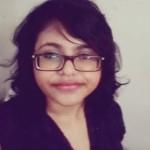 Latest posts by Bhavna Panda (see all)