DIY: Glitter Polishes And Stripping Tapes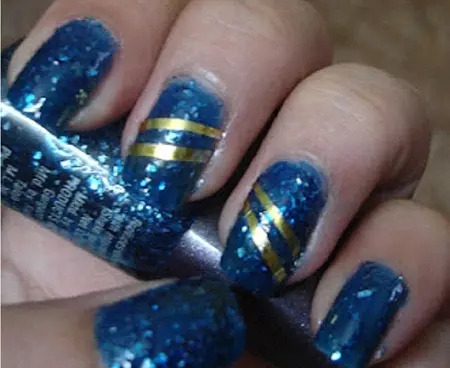 You all love glitter polishes, don't you? It's damn easy to make one at home! Let's go straight into preparation.
Blue Glitter polish:
Things you need:
Clear Transparent Polish
Blue glitters (finest quality the finer the better, you can also use loose eye shadow glitters)
A funnel made of paper and sides held together with a cello tape.
Preparation:
One point I'd like to mention is, if you are just willing to give it an experimental try, then in a clean polish bottle pour a portion (probably half fill the bottle) with transparent polish and then do this, otherwise if you don't like it, then your whole transparent polish will be wasted, but as far as I am concerned, I LOVED IT.
Just place the funnel at the mouth of the bottle, slowly pour in the glitters and close the mouth with your finger , shake it well and that's it , close the bottle with the top cap of the bottle .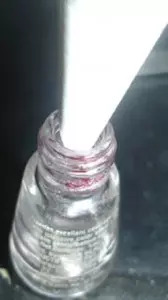 This is the best party wear blue glitter polish to me
When you wear this polish, the texture won't be very good if they are not extremely fine, quite rubble some to feel, but anyhow …. Do use a transparent top coat after 2 coats of this glitter polish.
Golden Stripping tapes:
Things needed:
Golden Wrapping paper (this is a plastic type of wrapping paper , those which has design on it and these designs give a sort of hologram impression , reflects rainbow color ,you can easily find it in a gift shop )
Scissors.
Preparation:
carefully take a small piece of paper and cut with fine small scissors uniform (as much as possible) length wise pieces. The best part, you can cut them thin or thick depending on your taste.
Now accordingly cut into small pieces and use.
You can immediately use it after using your nail polish (any polish) while still wet or after applying top coat. I'd say that it's better to directly use on polish rather than letting the polish dry and then sticking it with top coat as this may sometimes let the color of the wrapping paper come off on to the nails . Finish with a top coat to seal in the tapes more firmly.
Just look at this wow blue Party glitter polish with golden stripping tape Nail art !
Take a look at this (hazy picture though :p) wonderful golden glitter polish that I made and it's perfect to go with an "I have a wedding to attend " outfit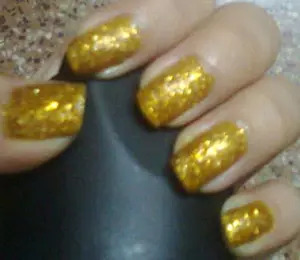 No need of complicated tools, or lots of nail art materials, enjoy!
Like this post, then :
I love makeup,dance,dressing up,singing,writing ,acting (stage drama),eating and nail arts. I live life to the fullest and enjoy every moment as it comes.