Babies can be victims of dry skin as well, just like adults. In fact, they are even more susceptible to dry skin than adults because their skin is much more vulnerable. Understanding the causes which lead to the dry skin in babies is the first step to caring for the problem. Here are some of the best baby dry skin care tips, with regards to dry skin.
Baby Dry Skin Care Tips
1. Bath Time:
Cutting down on the baby's bath time is the first step to treating dry skin. Instead of the regular 30 minutes, ensure that your little one splashes around for about 10 minutes. Though babies love their bath time, this is something you have to do keeping in mind the health of your child. Bathing takes away the natural oils from the skin, leaving it dry.
2. Role of Water & Soap:
What you apply in the curtailed bath will also determine how your child's skin reacts. Thus, it is best to use lukewarm water instead of hot water for your child. Instead of using soap, it is better to use a fragrance-free and soap-free cleanser. This will ensure that your kid is spared the harsh chemicals which are contained in soap.
3. Cutting on Bubble Baths:
Bubble baths are a lot of fun no doubt. However, you have to ensure that your child has completed his share of splashing in the water before you introduce the soap. This will ensure that your kid is not sitting in a bath full of soapy water which will eventually make the skin dry and dull.
4. Emollient Application:
Emollients are useful in curing dry skin but they are very greasy and slippery; this may pose a bit of a problem with children. They tend to be wobbly and you don't want to add to their chances of slipping and falling. Thus, it is best to avoid emollients in the bath itself and apply them once the baby is safely placed in his or her cot.
[ Read: Baby creams and lotions ]
5. Moisturizer Role:
Chlorine water and saline water are both harmful for the skin. So, if you are planning to take your baby out to the ocean, make sure you are carrying a moisturizer which you can apply immediately after the child is out of the water.
[ Read: Baby Product  Available In India ]
6. Timing of Moisturizer Application:
The timing of application of the moisturizer plays an important role as far as dry skin is concerned. Make sure that you apply the lotion immediately after taking the baby out of the bath water and patting him dry. This will seal the water already present on the baby's skin and keep it hydrated for a longer period of time.
7. Placing Humidifier:
In case you live in a place that is very cold, or if the air in your house is very dry, ensure that you place a humidifier in the room. This helps in adding moisture to the air and keeps your baby's skin healthy.
[Read:Organic Skin Care Tips]
8. Gloves & Mittens:
Ensure that your baby is given gloves or mittens to protect his/her hands and fingers from being chapped. This will keep the hands and fingers warm as well as protect them from the elements.
9. Oiling:
Oiling your baby before placing him/her in a bath is also very important. This will protect the baby from the harmful effects of chemicals contained even in baby soaps.
10. Crawling:
Ensure that your child does not spend too much time crawling on a cold floor.
All of these factors affect the skin of a child. These simple tips are enough to ensure that your baby's skin remains soft and supple, and feels gentle. They help in treating baby dry skin effectively. The baby's skin needs to be protected and these are some of the ways to do so.
The following two tabs change content below.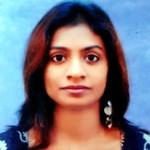 Latest posts by Maanasi Radhakrishnan (see all)