5 Easy Steps To Do A French Pedicure At Home
Pampering our feet is one way of indulging ourselves in the ultimate luxury, yet very few of us make time for it. Unkempt feet can really bring your style quotient down by several notches. Hence, it is important to pamper your feet with regular pedicures.
When it comes to pedicures, French pedicures are one of the most popular ones. They are elegant and look stylish. But who wants to visit salon frequently and spend several bucks to get a taste of French pedicure? How about doing it at home itself? Here's how you can do it.
Steps To The French Pedicure
You Will Need
Water basin/plastic tub
Warm water
Nail polish remover
Cotton balls
Toenail clipper
Nail filer
Toe separators
Foot scrub
Cuticle cream
Cuticle pusher
Foot cream/moisturizer (preferably with Vitamin E)
Nail scrubber
Pumice stone
A soft towel
Simply follow the below instructions to get a salon-style French pedicure at home.
1. Prep Your Nails
Start by removing the old nail polish on your nails. If you're wearing a glittery nail polish and finding it difficult to remove, then you can use the foil method to remove it.
Cut the cotton balls into four segments and dab some remover on them. Now place the cotton balls on your nails and cover the nails with a small piece of aluminium foil. Scrunch it at the end so that it stays on for some time. After five minutes, open the foil and remove the leftover nail polish with the same cotton pads that you placed over your nails. The nail polish will come off more easily. Once you're done, wash your feet.
Dry your nails and start filing them. File in only one direction and not back and forth, until your nail tips become smooth and even. While doing a French pedicure, your nails must be a bit long so that you can create a white tip over them.
Now, using a buffer, smoothen the surface of your nails. Make sure you don't do this too often as your nails might become too thin.
Finally, clean your nails and make sure that there is no residue left.
2. Soak Your Feet
Soaking your feet in lukewarm water is one of the best ways to relax and re-energize your feet. Fill a large water basin or a plastic tub with lukewarm water. Add Epsom salt to the water and let it dissolve completely. The salt foot soak is a quick and sure way to invigorate tired feet and soothe all inflammations and aches. Adding salt to the water makes the solution hypertonic. As a result, all the excess water that is logged in your skin cells will flow out and remove all the dirt and swelling, if any. You can also add three or four drops of shampoo, one teaspoon lemon juice, and a drop or two of essential oils. It will give you a spa-like foot treatment at home.
Now soak your feet in Epsom salt water, relax for at least half an hour, and enjoy the healing powers of the warm solution.
3. Scrub Your Feet
After half an hour, take a pumice stone and scrub the various sections of your feet. Don't be too harsh while scrubbing as your skin becomes soft after soaking your feet and harsh scrubbing might hurt. Once you're done, dry your feet using a clean towel.
While your nails and skin are soft, apply some cuticle cream over your nails and massage gently for some time. Once it is done, wipe off the cuticle cream and push back the cuticles using an angled cuticle stick. Gently push down the skin growing over the base of your nails. Make sure you don't hurt yourself while doing this.
Once you're done with the scrubbing and cuticle removal process, quickly wash your feet with water and dry them using a towel.
4. Moisturize
Massage plays one of the major roles in French pedicure. Apply a little moisturizing lotion and start rubbing on the feet. Massage with a soft touch to alleviate stress. Continue massaging the feet in circular motions with your thumb for 10 minutes.
5. Sport French Tips
Apply a white nail polish on the tips of your nails. Allow it to dry for a couple of minutes and then apply the second coat. This will make the white color appear less splotchy and more attractive.
If you are a beginner, you are bound to mess up things. Don't worry, as you can fix it anytime. Just take a concealer brush, dip it in acetone, and you can clear away the mess to make your nail art look neat and elegant.
Let the white coat dry for some time. Then, apply a single coat of clear nail polish on your nails. Try to keep your stroke as smooth and even as possible. And voila! Your feet are as fresh as dew!
For quick drying, you can gently dip your feet in cold water. This will also help your nail polish last longer.
Let your French pedicure dry completely. Now, you're ready to show off your beautiful feet. Just put on your favorite sandals and flaunt your adorable toes. Try this pedicure and let me know how it turned out in the comments section below.
Recommended Articles:

The following two tabs change content below.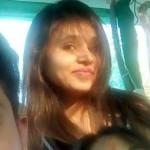 Latest posts by Jyotsana Rao (see all)