Little girls in their adorable outfits are the only people in the weddings that seem to get more attention than even the bride. So even though your little girl is not the one getting married, you want her to look elegant and adorable for a relative or a friend's wedding.  A perfect outfit is incomplete without the perfect hairstyle but deciding a wedding hairstyle for little girls is not as easy as it seems.
Wedding Hairstyles For Little Girls
So here are some cute wedding hairstyles for little girls which are easy yet would make your daughter look even more like the little princess she is! Read below to update yourself on cute hairstyles for girls:
Simple wedding hairstyles for girls 1: Half up do
Things needed:
Rat tailed comb
Bobby pins/ band
Method:
This is one of easiest bridal hairstyles for girls that look great on any type of hair as well as hair length.
Divide your daughter's hair into two sections horizontally.
Brush the top section and tie it into a ponytail using a band or bobby pins. Since it's a little one, a band maybe preferable here.
Here is a video to take you through it!
This ponytail can also be twisted into a soft bun while the hair below can be styled by using a curling iron or rollers creating soft curls.
The bun or the ponytail can be accessorised using beads or sparkly bobby pins or barrettes.
Simple wedding hairstyles for little girls 2: Flipped Ponytail
Things needed:
Method:
It is a pretty and easy hairstyles for kids as it does not require any kind of hair pins or hair tools.
Tie your daughter's hair in a low and loose ponytail.
Using your fingers, divide the hair just above the hair tie to make an opening.
Take the ponytail and flip it over into the hair opening from the top into the bottom.
Use flowers to beautify this simple hairstyle or accessorize it with hair accessories like floral or butterfly hair comb.
Here is a video to help you out
[ Read: Hairstyles for Kids with Short Hair ]
Simple baby hairstyles for girls 3: Braided Hairband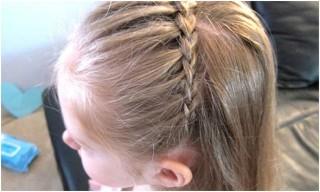 This is a very elegant hairstyle that looks great on long hair.
Comb your daughter's hair backwards and take a small section of hair from below the ears, plait it and secure the ends with hair bands
Pull at the plaits to loosen and flatten it.
At the end of this step, you should have two plaits starting right behind each ear. Take the left plait from the left side to right side and secure it with a pin.
Follow the same for the right plait.
Once you have secured the plaits with bobby pins you get a hairband out of the plaits.
The plaited hairband can be accessorised using beads and small sparkling studs.
A video to help you out
If the hair isn't long enough to take it around so many times, don't worry. It just means you will have thinner and sleeker hair band!
Simple hairstyles for baby girls 4: Diamond Hairstyle
This hairstyle looks great on flower girls in a Christian wedding but can also be easily modified to be worn with ethnic outfits as well.

The hairstyle looks great on curly hair but if your daughter has straight hair, curl it with the help of rollers or a hair curler.
Once you have the hair curled, the next step is to start with the center front, gather a small amount of hair and secure it with the help of a small jaw clip or hair tie.
Dividing the hair from the first hair clip in half, now add hair from the sides to each half and secure them with a clip or hair tie a few inches away from the center clip.
 Continue following the same step of dividing the hair into half and combining them with hair from the sides till you get a diamond shape.

The hair can also be accessorized using glittered beads.

 
Simple wedding hairstyles for girls 5: Little girl bow Hairstyle with side part
Most toddler girls don't have very long or thick hair so instead of just leaving their hair open, you can simply side part the hair and gather a section of hair from the top layer and tie it into a small pony tail using a hair tie matching the colour of the hair or secure the top layer by just using a clip.
Add a bow made out of ribbons or a small beautiful clip that matches her outfit on the top of the hair tie or the clip and you have a hairstyle that is easy but looks brilliant also keeps the hair out of your little girl's face.
Kids in a wedding are the center of attention so their look definitely requires special attention. Though there are many little girl wedding hairstyles that can be chosen for kids, it is very important that the kids look like kids and thus their hairstyle must be soft enough to make them look like their age.
Image Source : 1
If You Enjoyed This Post, Sign Up For Newsletter
(And get your daily dose of Beauty & Wellness tips straight to your inbox)
The following two tabs change content below.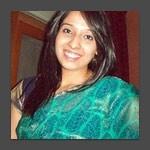 Latest posts by Aparajita Chattopadhyay (see all)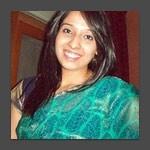 Hey I am aparajitha. A Delhi based bong. The face behind the blog Colors Of My Life. I am a Research analyst by profession and now a blogger by passion. I love writing about make and beauty.