10 Essential Beauty Products For Pregnant Women for 2018
Expecting a child is beautiful experience, having said that only a pregnant woman knows what changes she is going through physically, mentally and internally. Not just hormones gushing and playing a big role, but also how one appears totally changes. However, just to help you expectant mothers, here's a good read about 10 beauty products for pregnant women.
Best Beauty Products for Pregnant Women:
1. Relaxing Bath Oil:
A nice bath oil, preferably organic, makes start your day by relieving the muscle tensions and getting you ready up for a long day ahead. Morning or evening, whichever suits you the best, indulge in wide variety of bath oils for soft skin.
[ Read: Beauty Tips For Pregnant Women ]
2. Must Have Massage Oil:
Doesn't matter if you're calling a masseuse at home or going to a spa, getting your body the much needed relaxation is vital during these nine months. We all know pregnancy comes along with body aches and cramps, what best way to get it all released through a nice oil body massage. So a massage oil is among the essential beauty products for pregnant women.
3. Belly Butter For Stretch Marks:
Stretch marks are a nuisance and unfortunately we cannot do anything about it. Though there are thousands of creams that claim to give you a clean stomach, be prepared to have a few. Nevertheless, try out belly butter that helps to moisturize your skin, because too much dryness causes the skin to stretch and hence those ugly marks.
4. Pop In Omega-3 Capsules:
Beauty lies within. For that, you need to take in regular doses of omega-3 capsules. Not only do they keep you fit, but they also aid in the development of the fetus.
5. Massage Lotion For Stretch Marks:
You'd be flooded with stretch mark lotions in pregnancy counter at a store. These creams surely do help to avoid dryness and keep it hydrated. They have useful ingredients that promise to keep stretch marks at bay.
6. Wear A Support Belt:
Once you start showing the baby bump, the increasing weight puts a lot of pressure on your spine and legs. Therefore, it is advisable that you wear a belt that supports the belly and improves posture.
7. Product For Morning Sickness:
Most women complain of morning sickness. It is something that you have to live with till you finally deliver. You get nice smelling pocket sticks, smelling them relieves nausea and makes you feel better. It's one of the best pregnancy beauty product veer made and is very useful.
8. Balm To Relieve Headaches And Allergies:
Developing allergies and headaches is a common feature during pregnancy. It is always better to keep a pocket balm handy. You'd find many types to select from but the one that is natural pollen barrier is the most impressive.
[ Read: Pregnant Celebrities ]
9. Regular Face Cleaning And Facial Products:
It is not always feasible to sit in the parlour for hours. The best way is to buy face cleaning scrubs and creams and apply it yourself whenever you want to. Getting regular massage and clean up helps you to get a clean and healthy skin. Don't forget, you wouldn't have time later to do this at all.
10. Laser Treatment For Stretch Marks:
Not all mothers can digest stretch marks on their belly and buttocks. For them, there are laser treatments which could be opted for after you've delivered the baby.

The following two tabs change content below.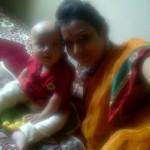 Latest posts by Khushboo Mehta (see all)