Most Indian women are blessed with Big eyes. Make up for such eyes is great fun as experimenting with them becomes a part of the game.You can choose from an array of colour options and you can never go wrong with the palette. More surface area on the eye lids allows you to mix and match 2-3 colours at the same time. Here are a few tips if you love experimenting.
[ Read: Formal Eye Makeup Ideas ]
When you have big eyes, you don't really have to worry about wearing Smokey or dark shades on the eyes. In fact Smokey eyes look even better than on big eyes as you have a lot of space to blend the colour around and on the lid.
[ Read: Smokey Eye Makeup For All Eyes ]
The darker the eye shades, the better. Avoid pale and nude colours. Darker shades give a shadow effect to the eyes. Brush up complementary darker colours into the crease contours to dramatise eyes.
The Make up looks great when you use darkest of shades for rim lining, be it upper or lower. Lining should be moderately thick to medium for upper lash line. Thin line will make the look more natural. Thick lining will make your eyes look more ravishing.
You can experiment and have fun if you dare to wear those lustrous false lashes. They look even more dramatic on big eyes.
[ Read: How To Apply False Eye Lashes ]
These 3 simple tips are sure to make you Eyes the center of attraction at any event.
If You Enjoyed This Post, Sign Up For Newsletter
(And get your daily dose of Beauty & Wellness tips straight to your inbox)
The following two tabs change content below.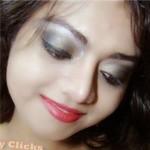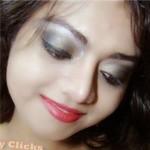 I love makeup,dance,dressing up,singing,writing ,acting (stage drama),eating and nail arts. I live life to the fullest and enjoy every moment as it comes.