Are you looking out for ways to emphasize your small eyes? You are at the right place! From colorful eyeliner, defined eyebrows, to a swipe or two of mascara, eye make-up can enhance your features within no time.
Eye Makeup For Small Eyes:
With our quick and simple tricks learn how to do eye makeup for small eyes and make them appear larger!
1. Groomed Eyebrows:
Grooming your eyebrows is the crucial makeup step to make your eyes look larger. That means, you must pluck any stray hair from between or around the brows, brush them, and neatly trim your unwanted hair to look tidy. Once you are done tidying them, shape your brows by using an eyebrow pencil and set them with clear brow mascara (try Great Lash Clear Mascara) or a tiny dab of Vaseline.
2. Prep Your Eyelids:
To moisturize, soften, fill lines and keep your makeup looking smooth, add a small amount of Bobbi Brown's Long-Wear Eye Base or MAC Prep + Prime Lash into the entire lid, right before applying your shadow. Yes, applying an eye shadow primer works wonders with keeping the fine lines around your eyes at bay!
3. Brighten Dark Circles:
This may not necessarily help your eyes look bigger, but dark circles or any blemishes near your eyes can lessen the youthful look from even the biggest, most beautiful eyes. Make sure you use an illuminating concealer, like the smooth and long-lasting Maybelline Dream Lumi Touch Concealer and creamy, versatile Lancome Teint Miracle Concealer, a great cover-up that hides all imperfections.
4. Eyelid Contouring:
Not restricted to sculpting cheekbones and slimming nose; contouring your eyelids can actually help you give them definition and create the illusion of a natural crease. Make sure you don't contour the entire crease. Just start from the inner corner and stop at the sides of your nose to avoid closing off your eyes. The Result? Perfect big eyes.
[ Read: Makeup Tips For Big Eyes ]
5. Consider Coloured Eye Shadow:
A basic rule in makeup is that dark colours recede while light colours emphasize and sharpen your facial features. And it only takes a few minutes, but makes a huge impact! What more can we ask? So, for that perfect visual eyelift, opt for a light shade liner in your waterline instead of a black. No matter your preference – shimmery or matte – if it is a light shade, it doesn't matter. Our favourites are Urban Decay's Naked PaletteandBare –Minerals
6. Colourful Hues:
To frame your peepers, apply a strip of black liquid liner on your eyelids. Take a risk and opt for colourful eyeliner over faking a "boring black" crease, for a full-on definition look. So, draw on a straight winged-eye instead of a typical one that sweeps up at the ends. Now drag your deep red or any coloured liquid liner (Urban Decay 24 7 Liquid Liner Woodstock)along the base of your upper lashes, and extend the line out to the end of your brow bones.
Tip: Ensure you do not neglect lining the upper eyelid. Doing so can cause your eyes look saggy and tired.
7. Curl, Curl, Curl:
Perfect curling is one of the most important eye makeup tips for small eyes. An eyelash curler is inevitably the most essential makeup tool for a woman, especially for the ones who have small or monolid eyes. A curler helps the lashes separate while adding fold to the ends; so for those big, impressive eyes ensure to fully cup the lashes in the curler closer to the roots. We recommend Shiseido Eyelash Curlerand Shu Uemura Eyelash Curler – which gives your lashes a perfect 'U' shape instead of a 'V'. 
8. Lash Mania:
To make your small eyes look bigger and rounder, apply a single coat on the lashes. But for the second coat, focus on the middle of the lid to make your small eyes appear thicker and larger. Use a thin wand, lengthening mascara like Sonia Kashuk Lashify MascaraorMaybelline Define-A-Lash Lengthening Mascara for that oomph factor and to avoid clumping.
Now that you know how to do eye makeup for small eyes, let us know if you'll give this a try. If you have any suggestions, please feel free to write to us by commenting below. We value your feedback.
Recommended Articles:
The following two tabs change content below.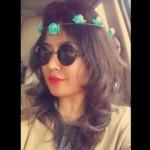 Latest posts by Anisha Pradhan (see all)