There are those who prefer to go crazy with Smokey eyes for a party. But I prefer sticking to a more neutral smouldering look. I also like to keep my party makeup the same usually as I don't like trying out new things before a big event. I like to use a satiny brown shade blended out with some nice neutral highlighter and closely lined upper and lower lash lines. I also love pairing this look with various coloured lenses to bring more focus to my face rather than my makeup. If I feel very daring, or just feel like a change, I add in a coloured liner on the bottom lash line in a shade that fits my outfit.
Without further ado, we move onto the party eye makeup tutorial.
Products Used:
Revlon Illumiance Creme Shadow In Pink Petal
Colorbar Spicy Brown Shadow
Random skin colored loose shadow
Lakme Instaliner in black
Lakme Black Satin Kajal
Maybelline Collosal Volum' Mascara
Lakme Glide On Eye Color in Plush Purple
Tutorial:
Below are the easy steps for party makeup for eyes:
Step 1:
Start off with a clean lid. Put on some powder if you have to
[ Read: Simple Gold Eye Makeup Tutorial ]
Step 2:
Apply the second shimmery rosy shade from the Revlon palette as a base. It will look and feel a little too shimmery, but this is our base and it's supposed to be a little sticky.
Step 3:
Take the Spicy brown shade using a flat brush and apply it all over the lid using a patting motion. Blend it out a little bit at the crease if it gets too sharp, it should look fluid, not "drawn on".
[ Read: Daily Eye Makeup Tutorial ]
Step 4:
Apply the slightly shimmery skin colour eye shadow under the eyebrow and over the brow bone slightly.
[ Read: Blue Eye Makeup Tutorial ]
Step 5:
Now using your liquid liner of choice (mine is Lakme Instaliner), apply thinly on the top lash line.
Step 6:
Then take your favourite kajal and apply it on the lower lash line and upper lash line (i.e., tight line). I used Lakme Black Satin Kajal.
Step 7:
Apply 2 coats of mascara on top and bottom lash line and you are done!!
If you want to make it more vibrant, add coloured eyeliner on the bottom lash line, I used Lakme Glide On Eye colour in Plush Purple.
[ Read: Formal Eye Makeup Tutorial ]
I hope you guys enjoyed my first eye makeup tutorial here on Stylecraze. Please drop some comments below if you have any special requests. There is nothing I enjoy doing more than giving my readers what they want.
I hope this article on 'how to do party eye makeup' helps you get down on the floor looking beautiful.
[ Read: Best Smokey Eye Makeup Tutorials ]
The following two tabs change content below.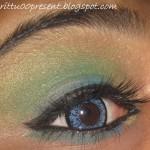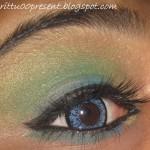 Latest posts by Fathima Abdul Kader (see all)