How Does Fenugreek Help Cure Dandruff?
Is dandruff ruining your life and putting you through embarrassing situations? Well, this snow fall isn't a good one for sure! At times dandruff can be a huge confidence slayer! But, you need not to worry much. Surprisingly, this pesky hair annoyance can be controlled easily with little effort and patience.
Skip the expensive shampoos and go the natural way with the easy remedies that lie right under your nose, around your house and bid dandruff a big goodbye..!
Who knew fenugreek could be your saviour from dandruff?? Well, it is a fact fenugreek for dandruff is a fantastic remedy for.
Fenugreek Seeds for Dandruff
The benefits of fenugreek seeds in solving dandruff problems have been effective from ancient times and regular application of these seeds will help gain long and shiny tresses. Fenugreek seeds contain protein and nicotinic which are extremely useful against hair fall, dandruff and help to treat variety of scalp issues like dryness of hair. It cures baldness and hair thinning and soothes the scalp. It contains large amounts of lecithin as well which hydrates the hair and provides strength to the roots making the hair shiny and full of lustre. Thus regular usage of fenugreek guarantees healthy hair leading to a healthy life.
[Read:Symptoms Of Dandruff]
Application process:
Fenugreek seeds should be soaked overnight in water in order to soften them. Once softened, these seeds should be grounded into a cream or paste and should be applied on the hair and scalp and left for at least half an hour before rinsing it off thoroughly. These seeds can also be crushed and mixed with warm olive or coconut oil to form a mixture, that when cooled, should be applied on the scalp and left for 2 hours and then washed and rinsed off completely. Fenugreek seeds combined with apple cider vinegar is also an effective anti dandruff remedy. These are cost effective and efficient remedies that can help resolve dandruff and dryness issues of the hair and scalp efficiently. These fenugreek seed remedies are deep moisturizing therapies which can relieve one of scalp irritation and itchiness, decrease the problem of hair fall and breakage, and promote healthy hair growth.
[Read:Use Onion Juice for Dandruff]
Benefits of Fenugreek Seeds:
Lecithin present in fenugreek seeds has natural emulsifying properties that help to moisturize and hydrate the dry and itchy scalp, nourish the hair strands from the roots and add lustre and shine to the hair. The mucilage of fenugreek seeds that is produced when these are soaked in water is a slippery substance that has conditioning and glazing effect on the hair.
These seeds nourish the scalp and restore moisture balance, decrease scalp build up, eliminate dandruff and scalp infections, reduces scaling and irritation of the skin cells, repair and rejuvenate the tresses effectively. These are responsible for promoting hair growth, maintaining and enhancing the quality and density of the hair and thus create smooth, radiant, strong, healthy and beautiful locks.
[Read:Ayurvedic Cures For Dandruff]
Fenugreek seeds are hailed for their anti fungal properties and are thus ideally effective in battling dandruff caused by fungal infection on the scalp. Dryness of the scalp leads to production of unwanted oil or sebum by the sebaceous glands in order to restore the moisture balance. However, this unwanted oil blocks the hair follicles to promote unwanted scalp build up and fungal attack of the Malassezia furfur fungusthat attaches itself to the hair strands and leads to dandruff. Being an anti fungal agent these seeds help to eliminate this fungal growth and treat the issue of dandruff efficiently to promote healthy hair growth and creation of shiny, silky and fuller tresses.
What more reasons do you want to use fenugreek seeds for dandruff treatment? Go and buy them. I am sure you will never regret once you experience the difference. Follow these tips and shoo away those flaky moments!
Recommended Articles:

The following two tabs change content below.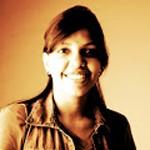 Latest posts by Shruti Goenka (see all)