Have you heard about the benefits of flax seeds in promoting hair growth? Flax seeds are often one of those less discussed ingredients that are beneficial for hair health. But they are surely one of the most natural and effective cure for restoring lost volume and shine to your hair. Flax seeds are also known as linseeds, which contain a nut like flavour and appearance. These are an ideal solution for several hair problems as they are easy to find and less expensive compared to other alternatives.
Why are flax seeds beneficial for hair?
Flax seeds are a rich source of vitamin E. Vitamin E has proven effects on growth of the capillaries.
It provides nourishment to the hair roots, shaft, and the scalp.
Flax seeds fulfil the required nutrition for hair and scalp in order to expedite hair growth.
They also help control hair breakage or split ends, and provide the required hydration for hair.
Vitamin E in the flax seeds helps prevent premature discoloration or graying of hair.
Flax seeds contain high amount of Omega-3 fatty acid. These help nourish hair follicles. This in turn helps make hair strong and healthy. Omega-3 fatty acid also improves the elasticity of hair and makes it less prone to breakage.
Regular use of flax seeds helps prevent acute hair loss, scalp eczema, and dandruff.
Flax seeds are a good source of high quality fibre.
These are an affluent source of both soluble and insoluble fibres. Edible fibres are excellent for proper functioning of the intestines. This helps create defence against a host of ailments, which might cause hair loss.
How to use flax seeds for hair growth:
Flax seeds can be used in different ways for treating various hair conditions.
Inclusion of flax seeds into regular food chart increases the nutrition value of the foods to a large extent.
To make it a part of your diet, grind the seeds to make a fine powder.
This powder can be added while preparing cookies or muffins.
On the other hand, ground flax seeds are good to add into smoothies and shakes.
A hint of flax seeds on stir-fried vegetables enhances the flavor of the dish.
Edible flax seed oil is also popularly used as a dressing while making salads.
Cottage cheese and yogurt gain flavour when mixed with flax seed powder.
Flax seeds can be used for making shakes of different flavours like raspberries, banana, honey, milk, and wheat germ.
Ground flax seed for hair growth
Ground flax seeds are popular for their crunchy and nutty flavour. One should be careful while storing ground flax seed, as it can spoil when kept in the open. Therefore, it is always safe to keep the mixture in an airtight container, and away from the sun. Ground flax seeds can be stored for three months at a stretch.
Flax seed hair gel for hair growth
Hair gels made of flax seeds are a popular cure for hair loss. For best results, apply the gel directly on the scalp.
It is quite easy to make flax seeds gel at home.
Take two cups filtered water, and 1/4th cup organic, brown flax seeds.
The seeds are to be added to boiled water, and the extract is to be filtered for use.
The remaining flax seeds can be dried up and stored away for further use.
While some households do have flaxseeds in their kitchen, its benefit for hair growth is mostly unknown. We hope the above tips will be of use. Do let us know.
Recommended Articles:
The following two tabs change content below.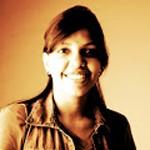 Latest posts by Shruti Goenka (see all)