Once you know the importance and benefits of floor exercises, you would never want to stop exercising!
Floor exercises shape your lower body and forestall all the problems related to the pelvic region. Floor exercises are done without the help of any equipment or machine. These are extremely good for overall training and toning of the body. Floor exercises help in improving the shape of the body and symmetry too.
Floor Exercises For Women
Read on to know more about top 10 floor exercises with their benefits.
1. Spinal rotations:
Spinal rotation is a floor exercise for women that largely helps to improve the flexibility of the spine. It simply helps in extension of your spine. The video link given here very clearly explains the procedure of this floor exercise. Spinal rotations are important for pregnant women as well. However, there are few modifications for them which are specially showed in the video.
2. Bridging:
This exercise focuses on building your pelvic floor muscles and core strength. It also targets your buttocks and hamstrings. The video link given here shows the exact way of doing this exercise.
3. Stretches with band:
Stretches with band is done with the help of a flex band. One can easily substitute the flex band with a scarf. This exercise helps in overall side stretching of your body, releasing a lot of tension.
4. Alternate Arm pulses:
This floor exercise promotes the core stability of your shoulders, core strength and the engagement of the pelvic floor. Again pregnant women can perform this exercise but with few modifications, as shown in the video. This wonderful video shows the proper way of doing this floor exercise.
5. Leg circles:
If your buttocks seem to give you a tough time, then this floor exercise would prove excellent in helping tone your hips apart from building your core stability and working on the pelvic floor muscles. A variation for pregnant moms is also shown beautifully.
6. Clams:
Clams are excellent floor exercises to tone that stubborn flab apart from building your core strength. This video guides the exact way of performing clams.
7. Spinal twists:
Your spine is always put through a lot of strain with bending forward and backwards. However, it needs lateral movement too. Spinal twists just meet that requirement. Excellent for the back and spine, spinal twists help build core strength as well. The video illustrates the exact way of executing this exercise both for pregnant women and other people.
[ Read: Kegel Exercises for Women Video ]
8. Push ups:
If you are targeting your shoulders, chest and abdomen together, push-ups are just meant for you. Watch this wonderful video which very clearly explains the exact way of doing push-ups. Following this form of the floor exercises for abs will surely result in a perfect torso.
9. Balancing:
If your improper posture concerns you, follow this video to not only build your core stability, but also improve your posture and be upright. Balancing exercise even helps in hip stabilizing and body alignment. A word of caution for pregnant ladies wanting to try this routine, please follow the instructions as shown in the video.
[ Read: Yoga Myth ]
10. Side stretch on ball:
Side stretches really help in the body alignment and rectify the posture as well. Since this exercise is performed on a ball, extra caution must be taken for the back by holding the pelvic floor tight. The video shows how easily the side stretches can be done with the help of a ball.
Hope you liked the article. Please leave us a comment.

The following two tabs change content below.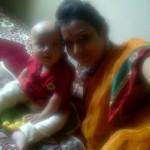 Latest posts by Khushboo Mehta (see all)