Top 12 Foods To Include In Your Acne Diet
Have you noticed pimples or zits, pustules and blackheads on your face? It's nothing but acne, that is a very common skin issue. You don't need to suffer in silence. It's time to slow down and pay attention. If you've ever experienced acne, you know just how daunting it can be.
When life gets crazy and deadlines are looming, one often tends to leave own health slide in the process. But, you still need to work on it. What to do if you have acne and want your skin to get clearer? How to zap those spots? Take a chill pill!! Learn about the diet you need to include to get rid of acne.
Food Diet For Acne – Top 12 Foods:
Read on to learn more on how you can get rid of acne by following this simple acne diet food list.
1. Dietary Fats:
Poor digestion with dietary fats can cause acne, clogged skin pores and other skin disorders. Hence, it is advised to take dietary supplements such as digestive enzymes, apple cider vinegar and whole grains to fight acne breakouts. Whole grains contains rich amount of antioxidants and they are high in fiber and low in sugar. Whole grain cereals contain the vital mineral selenium that helps to maintain the health of skin cells.
2. Fruits and Vegetables:
Fresh fruits and vegetables contain many essential compounds such as antioxidants that can give you a clear skin. Consume fruits and vegetables in your daily diet that contains vitamins a, c and e. These nutrients are also required to keep your complexion glowing and clear.
Raspberries are the rich source of antioxidants, vitamins, and fiber. They also have phytochemicals that makes a protective layer for your skin.
Apples have pectin that is a known enemy for the acne.
Green vegetables are filled with inflammation-fighting nutrients, antioxidants, fiber. This essential nutrient can lower the blood sugar after taking meal and avoid acne.
Purple and deep red foods contain anthocyanins, antioxidants that are useful to maintain the healthy blood flow to your skin. This is also vital to keep your pores clear. Some fruits in this category are pomegranates, purple carrots, black grapes, acai, and beets.
Carrots, cantaloupe, sweet potatoes and bell peppers are rich in beta-carotene that helps get more selenium's benefits your skin.
Fruits like apples, cherries, grapes, bananas, cranberries and raspberries, contain vitamin and phytochemicals that protect your skin cells from acne.
Vitamin B present in vegetables is required for skin, nail and hair cells formation.
Opt for dark green and leafy vegetables like broccoli, collard greens, arugula, kale, spinach, beans and peas.
3. Selenium:
Selenium is a powerful antioxidant that protects your cells from inflammatory damage and preserves the skin's elasticity to cure acne. Selenium works well with vitamins e and a, which can be found in Brazil nuts, walnuts, almonds and red bell peppers. Other foods that are a rich source of selenium are fish, poultry, onions, garlic, meats, and whole grains. Dietary selenium can be obtained from nuts, cereals that helps make your skin soft and smooth.
4. Omega-3 Fatty Acids:
Oysters, beans, poultry, salmon, flaxseed, sardines, and mackerel are rich source of zinc and omega-3 fatty acids. These foods help to cure breakouts and absorb vitamin A for healthy looking skin. Omega-3 fatty acid is useful to keep inflammation at bay and control acne. This is also useful to give you a blemish-free skin.
5. Green Tea:
Green tea has numerous health benefits and is also useful to fight against acne breakouts. They contain antioxidant Catechin EGCG that is an effective anti-inflammatory.
6. Antioxidants:
Oranges, melons and tomatoes are the rich source of vitamin C that strengthens the cell walls and protects your skin from blemishes. Bioflavonoids also acts as a natural anti-inflammatories that enhances the healing power of vitamin C. Foods like almonds, eggs, strawberries , leafy green vegetables are rich source of vitamin E. These antioxidants are useful to heal the skin damage and scars caused by acne.
7. Olive Oil:
Olive oil lotion gets easily absorbed into the skin. This oil doesn't clog skin pores and allows them to breathe. Thus, it is useful to prevent acne breakouts.
8. Lemon Juice:
Lemon juice plays vital role in eliminating acid waste and liver cleansing. It contains citric acid that builds up enzymes to flush off blood toxins. This also cleans your pores and makes the skin look bright.
9. Dairy Products:
Dairy products like low fat milk is very good for tissue building and it also contains Vitamin A. If your idea is not to gain weight, then choose milk products like cottage cheese and milk that are low in fat. Don't munch on too much of pizza though since it contains cheese, after all it's a fast food.
10. Cereals and Fibers:
Cereals are very important and especially the brown bread which contains a lot of fibers. Fibers and selenium content helps to protect the skin from getting damaged by marks and pores left out by pimples and rashes. It also protects the skin against sunburn.
11. Balanced Diet:
Healthy balanced diet is very important and it should consist of rice/roti/bread (fiber), vegetable protein like beans or sprouts or even one katori of plain dal , leafy veggies like spinach, presence of herbs like coriander or mint or even tulsi leaves in the food , green veggies like capsicum or anything you prefer, and also fish or meat like chicken protein and fiber, avoid red meat in all cases, and also include a salad mixed with olive oil (olive oil helps prevent acne and gets soaked into the skin ) and lastly followed by fruits . Avoid too much intake of sweet substances, since your acnes don't get dried easily as the healing time is extended.
12. Water:
Water is the most essential remedy to flush out the toxins from the body. Drink at least 8-10 glasses of water in a day and avoid drinking diet soda. Water helps to carry nutrition and oxygen to the internal body parts and thus, keeps your organ nourished and healthy to fight breakouts. Dehydration can make your skin look older and cause acne.
If you stick to this food diet for acne strictly, you will surely get a healthy skin free from acne. Feel free to share your comments below.
Recommended Articles:

The following two tabs change content below.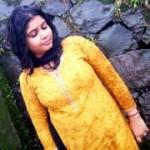 Latest posts by Jayshree Bhagat (see all)