10 Formal Updo Hairstyles For Long Hair
Ladies, bored of your 9 to 5 desk jobs? Well, we cannot help you with the job but certainly can encourage you to be creative with your hairstyles – that means playing around with your hair all the time.
Check out these ten non-fussy formal updos for long hair that are anything but boring!
1. Voluminous Ponytail:
The Problem singer, Ariana Grande wears her hair in a high, voluminous pony that sends it cascading over her shoulders. Her fringe is twisted into a small French braid, and her hair is pulled back away from her forehead. This style may be the easiest way to add some pizzazz to a boring pony.
2. Neat Half Updo:
For days when you don't have time for a blow out, steal actress Ashley Greene's half up, half down hairdo. She wears her hair in a slightly off-centre parting and sports long, face-framing sections of hair on either side. A classic working-girl look.
[ Read: Simple Office Hairstyles For Women ]
3. Side-Swept Pony:
If you're going for an ultra-polished look, do copy Lauren Conrad's side-swept ponytail. To get the shiny side-swept pony like Lauren's, blow out your hair for smoothness, add a deep side part and glossify. To get an ultra-sleek look and eliminate frizz, spritz hairspray and tame flyaway hair.
4. Loose Bun:
A centre part, a la Anne Hathaway, makes a basic bun feel classy enough for the weekly staff meeting. Simply create a loose, oval-shaped bun and secure it at the nape, and you're done!
5. Sleek Ponytail:
We love how Jessica Lowndes's fabulous straight hair has been pulled back into a shiny, sleek ponytail. To recreate Jessica's professional and polished look, blow dry the centre partitioned hair, then rub a little oil on the top and sides of the hair for shine. Gather it into a low, tight ponytail and secure with a hair elastic. Flat iron to finish off the big look.
6. Twisted Bun:
The Immigrant actress Marion Cotillard looks stunning with her dark brunette locks done up in a simple bun. Pull your hair back into a ponytail at about the middle of your head and secure it with hair elastic. Wrap the ponytail around your elastic and secure the ends with a couple of bobby pins to keep them in place. Take inspiration from Marion and wear your hair in a deep side parting for meetings, when you need to look super-professional.
[ Read: Simple Daily Hairstyles For Long Hair Beauties ]
7. Tight Topknot:
The epitome of business look, actress Hayden Panettiere looks chic and sexy with her dark blonde hair in a sleek topknot. An incredibly simple up'do, the look is a great option for those days when you're not sure what to do with your hair. To get yours as sleek and tidy as Hayden's, try working with your hair while it's still slightly damp, or spritz your comb with hairspray before grooming your hair into place.
8. Half Braid Ponytail:
Yes, you read it right; Braids are one of the best formal hairdos for long hair that you can wear to the office! To make them feel grown up, French braid your bangs carefully, tie your hair up in a crisp ponytail, secure the braid with a discreet hair pin, and wrap a section of hair around your hair with another miniature braid to conceal it. Voila – a perfect 'business on the left and party on the right' look.
9. Side-Swept Chignon:
Country music singer Taylor Swift looks phenomenal with her honey-blonde locks done up in a classy low bun. We absolutely love her big, sweeping side-fringe and the rounded ends that soften her facial features. This is the perfect chignon to wear to work — and out on the weekend.
[ Read: Formal Hairstyles For Really Long Hair ]
10. Updo With A Headband:
Actress Olivia Wilde's hairstyle holds best on unwashed hair. This twisted, tousled chignon is one of those rare styles that looks like you spent hours on your hair when you actually didn't. Just coil hair into a high bun, secure with five or six bobby pins and add an understated headband, for that perfect look for second-day hair.
So there you have it – ten Formal Updos for long hair! Whether you wear your hair in a neat bun, or a sleek ponytail, we're sure that you will look fabulous with these new formal updo hairstyles for long hair.
Let us know how you liked this post! Comment in the box below!
Recommended Articles:

The following two tabs change content below.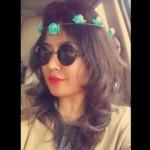 Latest posts by Anisha Pradhan (see all)