The holidays bring fun and frolic! While it is the time to look your best, it is also the perfect time to experiment and add some spunk to your clothes and makeup. Concentrate on accessorizing, or you could increase your cool quotient by working up some funky hairstyles. These five hairstyles are sure to spread some joy around this Christmas, leaving not just you but everyone around with a wide grin.
Here are five offbeat hairstyles you must try this holiday season. You will not be disappointed for sure!
1. The Red Nose Reindeer Updo
This one has been doing the rounds on Instagram for a while now, and rightfully so. Not only does it scream Christmas, but it is also sure to make people around you smile. And, isn't that what Christmas is all about? Spreading joy? It is so easy to do.
All you need is a medium-sized red pom-pom, a pair of googly eyes, and miniature reindeer horns that should be available quite easily, given the time of the year, at any fancy store around you. Don't forget to add a donut bun and a heap of bobby pins to that list.
All you need to do is tie your hair in a ponytail and fix up a low donut bun Once it is fixed and steady, fit the pom-pom using bobby pins. Make sure the pins are concealed. Then, stick in the reindeer horns and the eyes on the bun with pins. You will have to fix it so that it stays intact for a long time, and make sure it is well-placed. You could pair this hairstyle with formal as well as casual attire.
2. The Bow Tie Braid Bun
This is another really quick and easy hairstyle. The side buns are really in, and this one is just perfect for the winters. All you need to do is braid and twist, then insert that shiny bow, and you are sure to look as cute as a button. You could either make the bow yourself using some sequenced fabric, or buy one off the rack at your local accessory store. The bow marks the celebration in question and also adds a considerable amount of funk to your look.
I love how this girl has accessorized her outfit. It is Christmas galore! As for the hairstyle, once you try it, you will definitely add this to one of your style staples.
To learn how to do this quick and easy bun watch this video
3. The Wreath Braid
I could safely deem this as the Frozen hairstyle. And when you think of Frozen, you think of winters. So, quite naturally, this look is perfect for Christmas. The berry wreath just adds to the festivities. You might not even have to buy the wreath; you might probably have it amidst your decorations.
If you have luscious, long locks, this is the perfect hairstyle for you, and it will definitely make heads turn.
This is how you can do this braid
4. The Funky Headband
If you are the kind who is too impatient to style your strands, you might want to take the headband route. This one is super quirky. You could either make this headband yourself by adding these tiny trinkets to your simple plastic hairband, or try and find one ready in the markets near you.
I would say that Christmas is all about DIYs. And, after all, how long does it take to stick some ribbons, pom-poms, and tiny gift boxes to a hairband? Not only will it set the mood for the holidays, but you might also want to consider giving these out as gifts. I am sure they will be much appreciated!
5. The Trending Glitter Parting
Glitter is really trending this season. First, we saw the surprisingly cool glitter beards, and now, it is these fascinating glitter partings that are totally killing it. If you think you can carry bling, you have to try this. All you need to do is sprinkle some glitter on your most apparent parting, and you are good to go. You could style your hair in a bun, wear pigtails, a braid may be, or even just let it loose and add a few curls. This could really look chic and just take your Christmas celebrations a notch higher.
These hairstyles sure sound like fun, don't they? Try them now, before they go out of vogue. It's time to step up your Christmas celebrations!
The following two tabs change content below.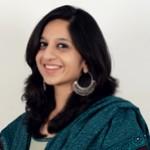 Latest posts by Shirin Mehdi (see all)