Do you love experimenting with your hairstyles? Then you would certainly love our hair-spiration, Keira Knightley! Never shy to take a risk when it comes to her hairstyles, Keira has always racked up her appearances. From long, short, bob, blonde or black, the 29-year-old beauty has tried every hairstyle that could stop the world.
10 Iconic Keira Knightley Hairstyles
1. Wavy Locks With Headband
The Bride and Prejudice actress has one of the most gorgeous heads of hair ever. With long, wavy tresses and a side-swept fringe, Keira looks smouldering hot.
To recreate this low in maintenance but sexy look, begin sectioning out your hair and blow-dry it carefully. Remember to use a heat protection serum when blow-drying, add some long layers, volume and texture to your waves. For a glamorous look, adorn your luscious locks with a sparkly headband.
2. Halo Braid
Keira demonstrates how to work a feminine up'do with hallo braids. The actress looks divine with her textured braid and a romantic up'do.
Before you begin with the braid, make sure to work some texturizing mousse through your strands for a strong hold. Now, use a three-strand braiding technique to braid four different sections. Then, tie the braids and gently pull the braids to flatten them up a bit. Take the left side braid and loop it around the right one. Secure it with bobby pins. Repeat the following step. Make sure you secure the up'do with a discreet pin. Spritz some hairspray and you're done!
3. Choppy Crop
We absolutely love this look on hottie Kiera Knightley, and we are sure you'll love it too! Not to forget the textured look she's given to the undone pixie. Keira has kept her choppy crop a bit long; however, it's swept to the side for the fringe to seem shorter. An add-on to the cut is her mix of highlights and lowlights, which bring warmth to her sharp features and make her hair look completely natural.
4. Side-Swept Chignon
If you're a fan of the side chignon, then you will love Keira's sleek hairstyle. This simple, yet classy hairdo lays flat for a sophisticated look that complements your flawless makeup and finest attire. Perfect for classy events, the fancy side-swept part adds a splash of femininity and glam that frames the face perfectly.
5. Tuck and Twist
Beautiful actress Keira looks retro and radiant with her short, textured hair delicately twisted and rolled. She wears her short golden blonde hair in a soft side parting, with the remaining section of hair rolled and twisted to the back of her head. Ideal for people with thick hair, the style requires a hair straightener, an anti-frizz serum and a light hairspray for the final product.
6. Messy Pixie With A Headband
Go messy or go home! Short, tousled, wavy, textured, and glam – Keira Knightley looks stunning with her messy up'do and a chic floral headband. Perfect for wavy or curly hair, the delicate headband tames flyaways and gives a simple hairdo a romantic and feminine look. Pair your tousled, flirty up'do with refined makeup – flawless skin, nude lips, soft eyes, glowy cheeks – for a gorgeous finishing touch.
7. Wavy Updo
Keira's wavy bun has now become synonymous with the bob. Sporting a centre part hair that flows beautifully to the sides of the face, the updo accentuates Keira's face beautifully.
And with the added simple curls at the bottom, sophistication with a splash of elegance comes into play. The hairstyle is further loosely pulled back into a low bun that works wonders for the whole look. The actress adds a dash of edginess by pairing it with smoky eyes. Score!
8. Asymmetrical Bob
A perfect mix of classic and modern, Keira's asymmetrical bob is everything we need when we are in a time crunch.
Straight and rounded at the edges, to recreate this glam hairstyle, begin spritzing a volumizing spray on damp hair. Next, carefully blow your hair dry with a medium-size round brush. Now, part your hair, and add pomade to your bob for that extra shine and volume. An ultra-flattering look that takes just a few minutes to style!
9. Sleek Updo
When sophistication is a must, then consider Keira's gorgeous middle part sleek bun. This classy hairstyle takes a lot more than just grabbing and pulling your hair into a bun. The updo needs a lot of hairspray. Mist the hairspray liberally so the final look appears tight, polished, and shiny and oozing with sex appeal. A perfect go-to bun for fancier occasions.
10. Tousled Pixie
If you want to change your look without being too drastic, this style is the perfect solution when going for a chop. Keira has swapped her natural hair colour for blonde, which really sets her look alight. It's stylish, it's unmissable, and the hairstyle has had people queuing up at the salon. What else do you want?
Giving us plenty of inspiration, we love Keira Knightley's varied hairstyles! Hopefully, you like them too. Do let us know how this post has helped you. There is a comment box below!
The following two tabs change content below.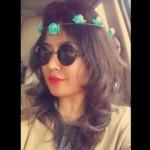 Latest posts by Anisha Pradhan (see all)