Gorgeous Natural Look Makeup – Step By Step Tutorial With Images
I must admit it, I'm a makeup junkie. I spend hours watching makeup tutorials and easy DIY's on YouTube, flipping through magazines, browsing makeup sites and blogs, and wandering through the beauty section at drug stores.
My aim for sharing this tutorial is just to let you girls know about a natural and subtle makeup look that fits in at any environment – whether it be your office or at your regular coffee shop! So, I'm sharing my personal routine – and trust me, it will really help you!
Here's an amazing beauty DIY to master you natural look.
What All You Need:
Moisturizer
Primer
Foundation
Concealer
Face Powder
Blush
Mascara
Brow pencil
Lipstick

Lip gloss
How To Create An Everyday Natural Look?
Step-1 Exfoliate And Moisturize:
The first and foremost step before applying your makeup is exfoliation and moisturization!
Exfoliation either makes or breaks how "natural" your makeup looks at the end. Either use an exfoliation product or just take a damp cloth and massage it over your face. Focus more on the areas that tend to get dry!
Once you're done with the exfoliation, apply your favourite moisturizer evenly over your entire face. Don't forget your neck! Meanwhile, apply Vaseline or a lip balm on your lips so that they don't dry out.
[ Video: Natural Makeup Tutorial ]
Step-2: Prime-Time:
Prep your skin with a primer. Primer helps to hold your makeup for a longer time. It also minimizes the visibility of the open pores. It's also good for oil control.
Step-3 Apply Foundation:
Next, take a foundation brush and put foundation right onto it. Dab the foundation on the center parts of your forehead, nose, cheeks and chin. You can also opt for a BB cream/CC/tinted moisturizer.
Gently blend the foundation so that it's even and no sharp edges are visible. Make sure you and hair line so that your face doesn't look a different shade than the rest of your body!
Step-4 Conceal It All!
Next, use a concealer on the areas where you need to highlight or cover the spots. (Either put the concealer before applying the foundation or after, depending on the intensity of coverage!)
Complete the base by applying a translucent or a transparent face powder to mattify areas. You can also use a powder foundation in case of more coverage or an even look.
Step-5 Add A Flush Of Color:
For a natural look, pick a matte finish blush. Start applying from the apple of your cheeks, and blend it upwards towards the temple. If you want a bit of glow on your cheeks, use a blush-cum-highlighter.
Quick TIP: Prep your eyes for the eye makeup by using an eye primer that makes your eye makeup last for a longer time and makes it crease-proof. Take an eye shadow of your choice and start applying it with a flat brush on your lid. Blend it out with a fluffy brush. Make sure that the edges are clean and soft.
Step-6 Apply Mascara:
Make sure you curl your lashes so that it gives an instant lift to your lashes and opens up your eyes. Start applying mascara by brushing the hair from the roots and wriggle your lashes to get instant volume. This technique will create the effect of an eye liner as well!
Step-7 Groom The Brows:
A makeup is never complete without filling the brows. Brows frame your face, so do not forget to fill your brows. You can use a brow pencil/gel or an eye shadow for the same.
Step-8 Apply Lipstick:
Now that you're done with your face and eye makeup, add some flush of color on your lips. You could use a lipstick or a lip gloss in fresh and natural colors like coral, light pink, nude, etc. to finish your look.
PRO TIP: Invest more on skin care products rather than on makeup products!
For a video tutorial, check out the link below:
I hope you enjoyed this tutorial! Is there any other look you wish to try? Share with us in the comments box below!

The following two tabs change content below.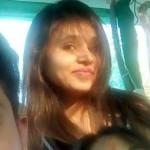 Latest posts by Jyotsana Rao (see all)