Wondering what happened to the fabulous old-school hairdos inspired by our mothers and grandmothers? Well, nothing much happened. We just got hopeless and lazy! And so, inspired by stylistas like Anna Faris, Megan Fox and Kelly Osbourne, we have decided to list the top ten vintage hairstyles that will make you consider ditching the new hairstyles for good.
Read how to give a sexy update to these Retro hairstyles now!
1. Page Boy Cut:
Anna Faris looks superb with her bold platinum page boy cut and thick, blunt, choppy bangs. The American actress pairs the look with her natural makeup for a fabulous summer look. This hairstyle is best suited for poker-straight tresses. And so, if you have very curly or wavy hair, avoid the cut or it would take a lot of time and effort to tame the locks.
2. Round Bob:
Rockstar Ashlee Simpson looks edgy and bold with a retro rounded bob that ends just below her chin, framing her face beautifully. This classic bob with thick side-swept bangs softens her features and is flattering for her face, while drawing attention to her blue-green eyes and the lower half of her face.
3. Retro Side-Fringe:
Glee actress and singer Dianna Agron looks smokin' hot with this retro-inspired curly bob. We love her coiffed, side-swept curls along with her warm honey blonde hair color – simply stunning.
To recreate Dianna's retro curls, use a good quality curling tongs on moderate heat and wrap sections of hair loosely to create soft, bouncy waves. Finish the look with misting hairspray to create long-lasting structured curls.
4. Boho Hair:
Beautiful and talented singer Vanessa Hudgens looks whimsical with her perfect bohemian hair. The High School actress wears her loose, curly hair with a flower crown and wears retro round sunnies to complete her boho look. Ask your stylist to feather the ends of your hair for an even natural, hippy and a more romantic outline.
5. Retro Updo With A Headband:
This classic vintage retro style always evolves with time and English-American actress Lily Collins makes it look even more striking with her playful up'do. The Mirror Mirror actress adorns a textured, voluminous up'do with a headband, our favorite winged eyeliner, and flawless nude lips that add to her retro chic style.
6. Vintage Curls:
Talk about mixing classic and modern. Singer Katy Perry here looks fabulous with her quirky hair'do and vivid pink hair color that is shockingly beautiful.
To recreate the look, get your stylist to create vintage curls and a coiffed updo for an enigmatic final touch. You can then pair your bold updo with smoky eye makeup and equally vibrant pink lips for a maximum sex appeal.
7. Retro Raven Curls:
American burlesque dancer Dita Von Teese keeps her look classy and sophisticated with her stylish retro raven curls. She keeps her medium-length wavy curls away from her head, to give that perfect retro style. To duplicate the look, use a thin barreled curling wand and create small, tight curls that sit on the shoulder. If you wish, you can even pin them close to your scalp to keep them in place. Mist some strong hairspray to secure the look.
8. Rolled Curls:
Ah, we love this '50s-era perfect rolled curls, don't we? To recreate the hairstyle, apply texturizing spray for a bit of beachy texture. Section off the top hair and spray a firm-hold hairspray to hold it in place. Next, grab your curling iron and create a slightly tighter curl than the bigger ones. Secure the curls into place with two rubber bands and carefully remove the bands and unroll the curls. Easy as a pie, isn't it?
9. Side Waves:
Transformers actress Megan Fox looks absolutely stunning with her dreamy, omber side waves. We will be kidding, if we say we aren't envious of the lustrous locks: the long, wispy waves, the layers, the shimmery omber hair color, and the flawless makeup – divine. Keep your locks bouncy by using light and non-greasy hair products.
10. Side Ponytail:
Talented singer Kelly Osbourne looks stunning with her lavender, super-long locks pulled up into a sexy side-swept ponytail. This shiny hairstyle is all about volume and texture – combine natural texture with texturizing spray and voluminous mousse for that puff. However, keep in mind that you don't want an ultra loose and messy topknot, just a textured one like the one you notice on Kelly.
Once you've styled your tresses, pull your hair up into a side pony tail, and secure it with a strong hair tie that won't cause damage.
Bring out your inner bombshell and try these Retro hairstyles yourself. Let us know your favorite hairstyle in the comments section below!
The following two tabs change content below.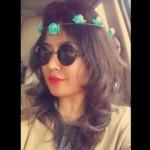 Latest posts by Anisha Pradhan (see all)