Dandruff is caused by the shedding of dead skin cells from the scalp. As these skin cells die, a certain amount of flaking in the form of white, snow-like particles is normal. However, in acute cases of dandruff, these symptoms can take on enormous proportions. Red, itchy skin on the scalp and lots of flaking are common symptoms of an acute dandruff problem. Unfortunately, the formation of dandruff is necessary as it is the shedding of dead skin cells. However, this can often be a reason for physical and psychological trauma for people suffering from severe cases of dandruff, caused by certain triggers.
Dandruff is a common cause for embarrassment as scratching your head in public, or the presence of dandruff on one's hair and clothing, is often misinterpreted as poor hygiene and lack of proper grooming. Fortunately, where there is a problem, there is a solution. Now the question is what the best solution is for you. There are a host of shampoos in the market promising dandruff control. However, these chemical-based products have negative effects on your hair in the long run. There are, however, certain natural oils that are effective in controlling dandruff. But which is the best hair oil for dandruff treatment? There isn't just one. So, it is only fair that you check out this list of essential oils for dandruff to know more.
[ Read: Henna Hair Packs To Cure Dandruff ]
Best Essential Oils for Dandruff
[ Read: Dandruff ]
1. Coconut Oil for Treating Dandruff:
100% pure coconut oil is often used as an effective home remedy to treat dandruff. Coconut oil has a deep moisturizing action on the scalp which prevents dry, flaky skin, a common trigger for dandruff. Hot coconut oil hair treatments can go a long way in treating dandruff and are best for coarse and brittle hair types. The anti-fungal properties of coconut oil also act as a potent remedy for dandruff.
[ Read: Ayurvedic Treatment For Dandruff ]
2. Olive Oil for Treating Dandruff:
Olive oil is not considered a treasure trove of health benefits for nothing. One of the widest uses of olive oil is for the treatment and control of acute dandruff. Due to its high moisturizing properties, olive oil has long been used to treat dandruff. It's best to massage your hair with warm olive oil at night before going to bed. Concentrate on your scalp as it is literally the root of the dandruff problem. Wash your hair with a mild shampoo before stepping out for work or other chores in the morning. Incorporate olive oil massages into your hair care routine and the long term benefit is sure to be the effective control of dandruff.
[Read:Treat Dandruff With Salt]
3. Tea Tree Oil for Treating Dandruff:
Tea tree oil, which comes from the Australian Tea Tree, is a common natural alternative for treating a host of hair and scalp problems such as a dry, itchy scalp, dull, brittle hair and even dandruff. Its anti-fungal, antibacterial and moisturizing properties have for long been put to good use for managing and controlling acute dandruff. The good news is that there are hosts of herbal and organic shampoos with the goodness of tea tree oil that can help you solve your dandruff problem. It is also advisable to incorporate tea tree oil massages into your hair care routine to maximize the impact against dandruff.
[Read:Ayurvedic Cures For Dandruff]
4. Jojoba Oil for Treating Dandruff:
Jojoba oil is closely identical to sebum secreted by the sebaceous glands of humans. Hence, it acts as a potent potion against dandruff. Dermatologists, cosmetologists and massage therapists are all known to use jojoba oil for treating hair and skin problems including dandruff. For acute dandruff, it's best to massage a few drops of jojoba oil onto the scalp before wrapping your hair in a warm towel for ten minutes. Include this in your hair care routine and you could go a long way in treating dandruff.
[Read:Use Onion Juice for Dandruff]
5. Rosemary Oil for Treating Dandruff:
Rosemary oil is yet another well-known essential oil for dandruff. There are a host of products in the market for dandruff treatment that promise the goodness of rosemary oil. You can also use rosemary oil by diluting it with your shampoo or water for cleansing your hair. It is imperative to keep in mind that essential oils such as rosemary are only to be used in their diluted forms.
[ Read: Vinegar For Dandruff ]
Did you find this information on essential oils for dandruff useful? Leave us your feedback.
[ Read: Hair ]
The following two tabs change content below.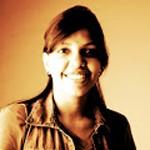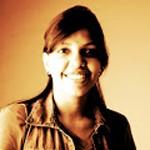 Latest posts by Shruti Goenka (see all)