Top 10 Hair Spa Products And Benefits
Maintaining beautiful and healthy hair is an arduous task in modern times. The increased levels of pollution and dirt that dominate the environment, coupled with our unhealthy lifestyles have damaging and disastrous effects on our hair. Although this calls for special efforts to be taken on our part to nourish and maintain the health of the hair regularly, the scarcity of time in our busy and fast-paced lives makes it practically impossible for most of us to do so, thereby leaving our tresses uncared and neglected.
However, with the revolution in the modern hair care industry, hair spa products have come to our rescue. These products are basically cream and hair mask treatments or therapies to treat unhealthy, undernourished and damaged hair, affordably and easily at our homes or salons.
The Best Hair Spa Products
1. Kerastase Elixir Ultime Beautifying Oil Masque:
Enriched with a high concentration of lipid compounds, essential oils and moisturizing serum, this exceptional hair care product is sure to make the hair luxuriously shiny, soft, nourished and conditioned. This product is ideal for all hair types.


2. Schwarzkopf Professional Seah Cashmere Masque for Stressed Hair:
This one is a deep penetrating formula and intensive care based hair treatment program from Schwarzkopf that helps to treat damaged, permed and bleached hair by nourishing, repairing, revitalizing and regenerating them to make them look strong, rejuvenated and healthy.


[Read:Best Loreal Hair Spas]
3. Wella Brilliance Treatment for Colored Hair:
Perfect color preserving treatment for fine to normal color treated hair, this creamy hair spa product based on triple care and liquid crystalline technology and packed with diamond dust, preserves the rich hair color to make the locks look shiny, supple and bouncy while maintaining healthy and brilliant hair.


4. L'occitane Repairing Shine Hair Mask for Dry & Damaged Hair:
This is basically a hair repair solution for colored and chemically treated hair which primarily aims at deep nourishment and conditioning of the hair, intensive restoration of the capillary fibers, protection against harmful environmental factors and revitalization, reconstruction and regeneration of the damaged hair to make the hair look stronger, fuller and vibrant.


5. The Body Shop Rainforest Radiance Hair Butter:
This silicone free, paraben free, colorant free intensive hair nourishing butter with its eco-friendly formula containing natural extracts like Aloe Barbadensis leaf juice, protects the hair against harmful environmental factors, moisturizes and conditions the hair and makes the locks look soft, radiant and shiny.


[Read:Home Hair spa]
6. Sunsilk Keratinology Advanced Reconstruction Program Hair Spa Mask:
This intense repair treatment with its advanced keratin micro technology is ideal for repairing damaged and dehydrated hair. This hair mask penetrates deep through the hair strands to repair the damage from within, while also sealing in moisture and reconstructing the cuticles to avoid loss of vital oils and nourishment from the hair, thereby making the hair look healthy, bouncy and beautiful.
7. Oriflame HairX Restore Therapy Hair Mask:
The perfect remedy for limp, rough, dry and damaged hair with split ends, this hair mask with its special repair actives and Shea butter extracts helps to moisturize, revitalize and reconstruct unhealthy hair and make them look voluminous, bouncy, shiny and soft.

8. L'Oreal Professional Hair Spa:
Ideal for dry hair, this affordable hair spa smoothening cream deep moisturizes, conditions and nourishes the hair from the root to the tip to create lustrous, detangled, smooth, soft and healthy hair. It provides vital nourishment to the hair to make it less frizzy and manageable while improving the surface texture of the locks.


[Read:Top Spa Products]
9. Matrix Hydra Creme Intense Moisture Masque:
This intense moisturizing formula from Matrix is enriched with the goodness of wheat germ oil, silk amino acids and botanical extracts of lemongrass and algae that help to condition and hydrate the hair while improving the strength and elasticity of the hair strands to prevent breakage. This is an apt therapy for normal to dry hair that helps make the hair smooth, manageable and radiant.


10. Himalaya Herbals Anti-Dandruff Hair Cream:
This creamy, tub packed tea tree oil, rosemary, basil extracts enriched, hair spa product is an ideal solution for treating an itchy and flaky scalp and dandruff problem. Apt for dry textured hair, this cream nourishes and hydrates the hair and scalp, and provides them with essential oils and conditioners to revitalize the tresses, strengthen their roots to avoid hair fall and makes them look dandruff free, shiny, healthy and nourished.


*Subject to Availability
Which of these would you like to try? Share with us below.

The following two tabs change content below.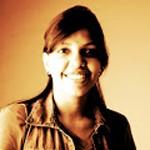 Latest posts by Shruti Goenka (see all)