5 Hairstyles For Brides With Round Faces
It's the wedding season ladies, and while everyone is busy planning the perfect dress and makeup, have you thought about the hair yet?
While you're getting ready to zero in on the hairstyles, here are some important factors that you need to keep in mind:
Hair texture
Face shape
Hair cut
What season you're getting married in
What you'll be wearing
Whether you are going to get the hair done by a professional or taking help from friends
In this post, I'll be helping you out with the hairstyles that look best on round faces and can be worn with a traditional as well as a modern outfit.
What's a Round Face?
You have a round face if:

The width of your face at the cheekbones is about the same as the length of your face
Your features are likely to be soft, non-angular
Chubby or non-thin cheeks
Hair styles to avoid:
Tightly pulled back hair
Flat bangs without any bounce
Frontal bangs
Centre parting
Keep volume around the crown instead of around the face
Loose waves will make your face look slimmer
Bridal Hairstyle For Round Face:
1. Bridal Updo:
Indian brides have been swearing by the buns for a long time for it helps hold that heavy pallu up during the wedding ceremonies! But doesn't mean that it has to be traditional high bun. Here is another variation for you.
Make sure hair is perfectly straight for this look – use a straightening iron
Apply an anti-frizz serum in case hair looks frizzy
Side part your hair, keeping it tight and non-messy
Pull hair back into a ponytail
Using the top strands of the ponytail, braid hair tightly and wind across to make a tight hold
Now take the remaining hair and roll into a bun
If you have thin hair, you can go for an artificial bun/braid
Pin in interesting accessories around the braid to create that beautiful bride effect
If your looking for a bridal hairstyle for round face, then this is certainly one way to go!
2. Half Up Half Down:
If your planning to walk down an isle, then hairstyle is elegant and contemporary at the same time!
Blow dry hair and remove any knots
You can use a serum that's going to help you get that wavy look
Take hair from the crown and pin into place at the back of head
Pin about two inches above ear and not too tight
Pin back the bangs lightly, not tight
You can use jewelled pins to hold back the hair and make a focus point
Curl the ends of the hair and lightly tousle
This is one of the simplest and most diverse of wedding hairstyles for round faces.
3. Messy Bun:
Have you got a cocktail party sneaking up on you? Perfect! Because this is an ideal occasion to ditch the traditional styles and show off the more fun side of you.
This one of the messy bun hairstyles will immediately take away the chubbiness or roundness from your face and give it a comfortable, laid-back look, while being quite stylish.
Leave hair a little wavy
If you have bangs in the front, make sure you comb them out slightly, instead of straightening
Part hair at the side
Take all of it to the back, making sure you leave the bangs free
Now pin it to a low bun, just above the nape
Leave the side and front bangs messy
Pin up the bun with interesting accessories to style it in accordance with your wedding outfit
This is quite an apt choice of the Indian bridal hairstyles for round face.
4. Low Bun:
Indian brides invariably have long hair. And if they tend to favour short hair they are expected to grow it for their wedding! Or you are expected to add extensions to them to make it possible for the bun hairstyle to be adopted. But just because you have to have a bun does not mean that it has to high and severe. Here is a simple low bun style that will suit your needs just perfectly.
Pull your hair back with out any partions
Give it a puff near the forehead
Pull the rest of the hair together on one side at the back of your head
Tie it into a loose bun
This is one of our favourite Indian bridal hairstyles for round faces as it allows for hair accessories to style in accordance with your wedding outfit!
5. Short Hairstyle:
If you have chosen to walk down the isle in your own skin and keep your hair short, do not listen to people who tell you that you do not have many styling options! If you love the messy look, then here is a perfect style for you.
Run a comb through hair quickly to remove all the tangles
Get yourself some good quality sea salt spray and use it on your roots
Ruffle your hair from the very roots using your fingers
Allow the hair to settle down for a few minutes
And your done!
Image source: 1 , 2 , 3 , 4 , 5, 6, 7

The following two tabs change content below.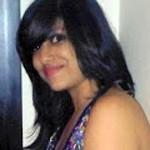 Latest posts by Debolina Raja Gupta (see all)