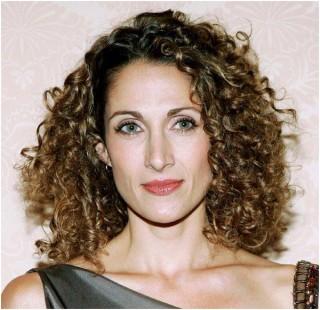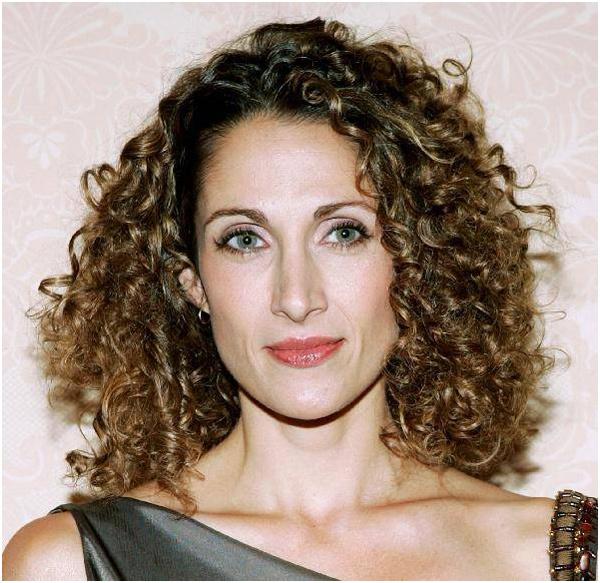 People envy girls with naturally curly hair, especially the girls with who have really thin, limp and straight hair!!!
Even though managing curly hair is tough, you can achieve it with some time and effort!!! You can also style it then with the ways you would want to!! It would be different from the rest!!!
Scroll down to more to know how you can take care of your lustrous locks and how you can style them:
Know your hair better to retain its strength and to maintain hairstyles for longer time. Here are a few curly hair care tips.
Avoid everyday straightening, because it will only damage your hair in the long run. It is okay to ditch the straighteners for a few days and enjoy the only curly hair days.
Keep the hair nourished and moisturised, especially for curly hair as it attracts frizz soon and conditioning makes a difference. A conditioning pack once a week shows good results.
Appropriate hair cut keeping your face cut in mind is essential.  Discuss your concerns with your hairdresser and choose the best alternative.
Women with curly hair must brush their hair regularly, as it improves the blood circulation on the scalp. Use a natural-bristle hairbrush for positive effects.
Use hair serum after hair wash to stay frizz free and retain its shine.
Use mousse (specially designed for curly hair) to keep the curls in good shape throughout the day.
Use a firm hold hair spray to keep the hairstyle firm the whole day.
Use a satin pillow cover, satin gives less friction and you hair remains less frizzy.
Here is a compilation of some popular and easy curly hairstyles for women.
1. Short Cropped:
If you want non-fussy and less maintenance look, get your hair cut up to the neck, and leave a few long strands around the face to frame the face accordingly. This look goes well with most outfits and is perfect for all occasions too.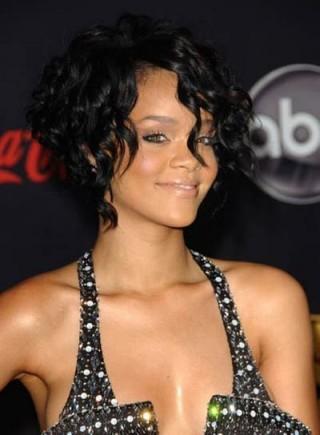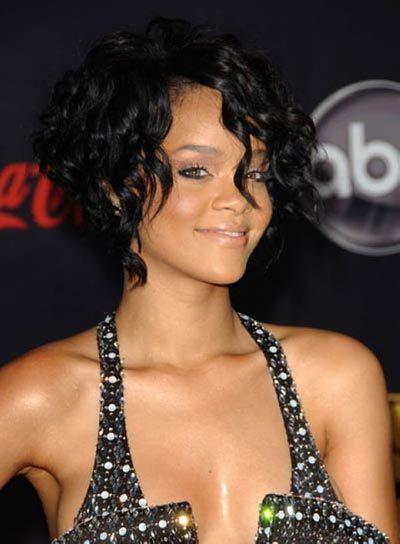 2. Little Girls' Curly Hairstyles:
want an adorable little girl curly hairstyle with minimum effort?  Make one or two ponytails (they look too cute on little girls with curly hair), or just let their hair loose,add some pretty hair accessories (just as much as needed) matching the outfit, and your
Princess is ready to impress everyone.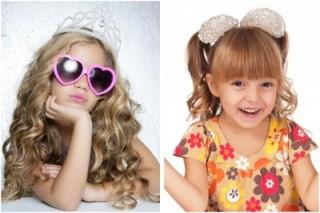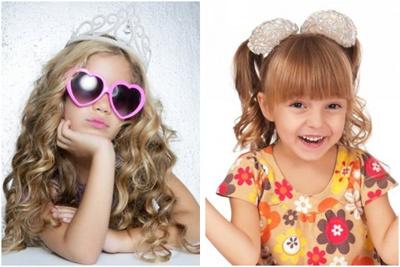 [ Read: Beautiful Hairstyles For Little Girls ]
3. Side-swept Hair:
If you have long curly hair, this can be one of the easiest and the most glamorous girls hairstyles, and can be worn during day or night events. Apply a good amount of hair mousse to the hair to define the curls and sweep the hair to one side, with a few bobby pins on the back. Glam it up with fancy accessories like fresh flowers, or ready-made jewelled accessories and you are ready with a fresh look.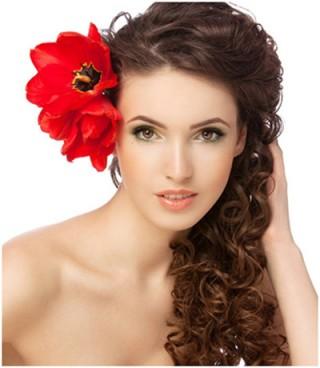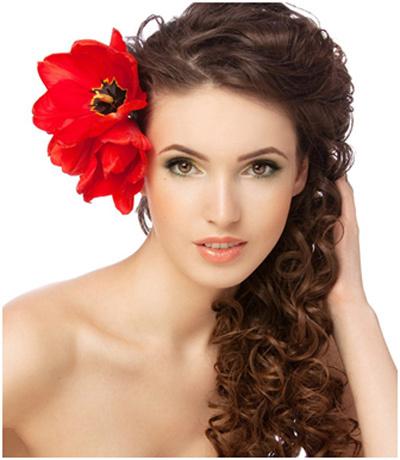 4. Curls with Fringe:
If you have curly hair and want a fringe, straighten the fringe/ bang with a straightening iron to keep the fringe/ bang in place, swept to one side. It gives the illusion it needs,adding a simple headband only makes it better.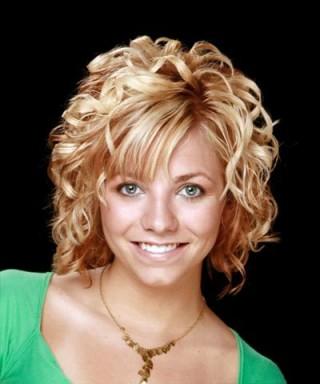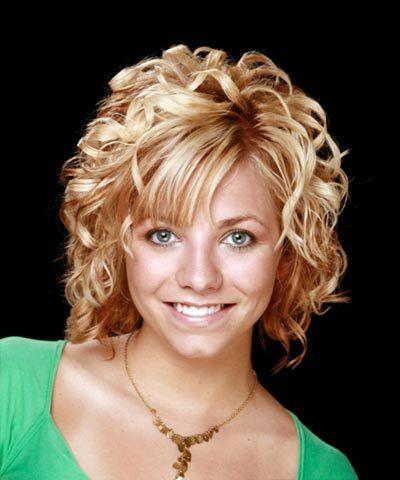 5. Party hair style: Curly pony:
this is definitely an evening hairstyle where the top of the head needs to be straightened. Grab all the curly hair like a pony,and fix in place with bobby pins until where the straightened hair is ending. Apply mousse to the curled hair, and set the style with a hair spray.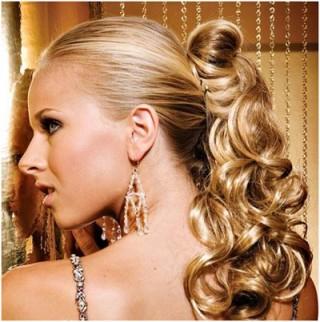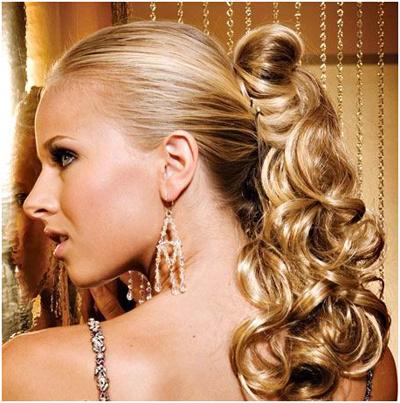 7. Curled Bun:
for this rocking evening hairstyle, you need to straighten the hair at the crown, and define the curled hair using curl-defining mousse.Make a ponytail using a thin elastic band and grab each curled section, twist it, and pin it to the base of the ponytail using bobby pins. Do this for all the sections and finish it off with a hair spray.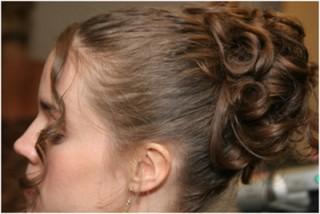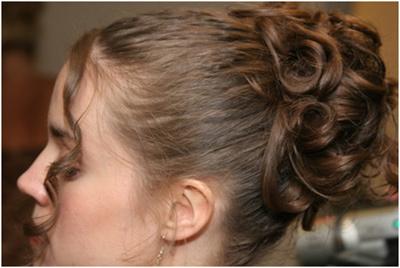 8. Half up-Half down:
This is a very simple, no-fuss hairstyle, just grab hair above the level of the ears from both the sides, and use bobby pins to secure the hair. Jazz up the hairstyle using pins with embellishments, instead of simple bobby pins.
[ Read: Bridal Hairstyles for Curly Hair ]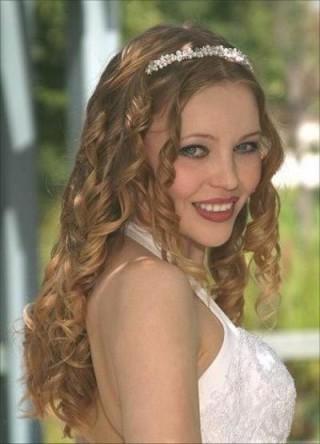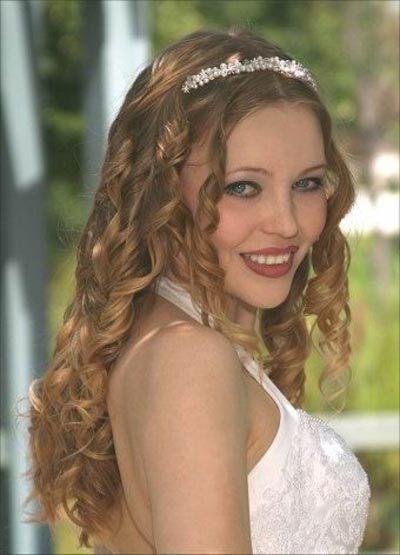 9. Bridesmaid hairstyle for Curly hair:
This hairstyle is similar to the half-up half-down hairstyle discussed above, here; the curls at the crown are defined too. Decorate the hair with small hair clips, and you're done.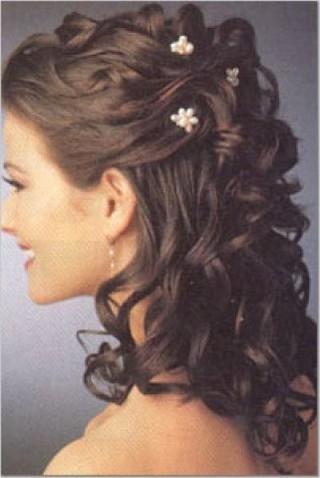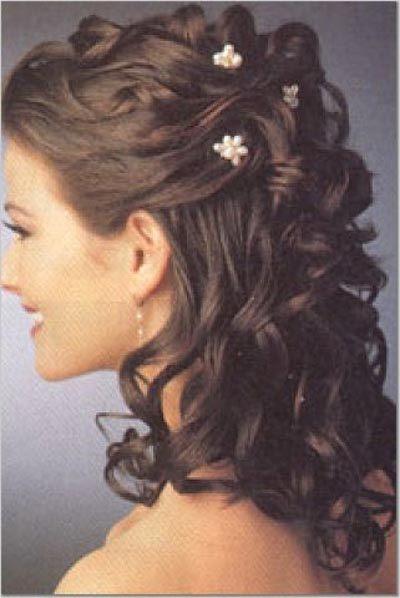 With a little time and effort, curly hair can be styled in many glamorous ways.
source:
1
,
2
, 
4
, 
5
,
6
,
7
,
8
,
9
If You Enjoyed This Post, Sign Up For Newsletter
(And get your daily dose of Beauty & Wellness tips straight to your inbox)
The following two tabs change content below.