Saree is an ethnic Indian wear worn by a majority of women in the country. The saree is usually worn for all occasions including formal meetings and celebrations.
We list out 50 popular hairstyles for saree that you should definitely try out:
1. Golden Top Knot:
The top knot bun would blend-in perfectly with the saree. The bun is easy to master.
2. Medium Base Bun:
The medium base blonde bun would complement your look greatly. The bun looks extremely stylish with a traditional wear.
3. Low Base Medium Bun:
This low base bun gives a very look. Sport this Indian hairstyle for saree and look clean and upbeat.
4. Loose Side Chignon:
The chignon is loose and looks effortless. The hairdo has a very casual style which would fit in perfectly in your routine
5. Golden Low Bun:
The golden bun gives a tousled feel to the hairdo.
6. Big High Bun:
The big high bun is tousled and extremely messy. The bun is just right for a semi-formal occasion that can be teamed up with ethnic wear.
7. Plaited Brunette Bun:
The plaited brunette bun is intricate and stylish. The hairdo looks regal. Team it up with a saree and you will not go unnoticed.
8. Loose Braided Side Chignon:
The side chignon is stylish and pretty with a very tousled flair. It's a pleasant change from the conventional bun. Make sure you embellish it with flowers.
9. Low Shiny Bun:
The low shiny bun is elegance personified hairstyle with saree. The style is bound to make you look smart. The shiny and flawless bun is tied without a single flyaway.
[ Read: Red Carpet Hairstyles ]
10. Front Bangs Chignon:
The chignon with thick front bangs gives a unique flavor to the styling. It is edgy and sensual.
11. Side Bangs & Low Loose Bun:
The side bangs, which are thin, contour the face beautifully. The remainder of the hair is done up in a loose bun.
12. Black Big High Bun:
The black big high bun is extremely chic and sassy hairstyle on saree. The stylish high lifted bun gives a voluminous detail to the hair. Team it with red lips for a style that looks elegant.
13. Twisted Chignon:
The style exudes a graceful elegance. This chignon sports a rounded look.
14. Dry Bouffant Bun:
The dry textured bouffant bun gives a very vintage look. If you like wearing buns this is the one to try. The hairdo would give a 60's effect when teamed with a saree.
15. Twin Bun With Puff:
The bun is made into two sections with one bigger and the other smaller. There is a subtle puff at the top.
16. Small Ombre Twisted Bun:
The twisted small ombre bun is chic and very smart. The style is trendy. Do the bun if you want to try a sleeker variation.
17. Chic Chignon:
This chignon is tied up with black lace. It is rolled, caved in and then tied. This is a new variant of the usual chignon.
The following two tabs change content below.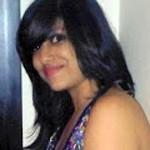 Latest posts by Debolina Raja Gupta (see all)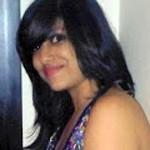 Hey I am Debolina. A complete nut-case and a wild-child if you may, I love keeping the child in me alive, and my daughter helps me do that all the time! A crazy working mom and also trying my hand at everything while I can, content-writing,designing, avid reader,book reviewer, fashionista, makeup blogger, avid blogger, photographer, wannabe guitarist, traveler.