Not all of us are blessed with slim and delicate faces. Some have round faces and chubby cheeks, and if you're one of those countless women with a chubby face, do not despair. Instead, you should consider yourself lucky enough to be blessed with symmetrical features and wider cheekbones. Chubby faces are more attractive than slim ones. While round faces can be considered as God's gift, styling your hair in a wrong way can make the roundness of your face prominent, thereby hiding your cuteness and making you look spherical.
If you happen to fall in the realm of circular face shapes, then this article is for you.
Take a look at the collection of hairstyles below and learn to embrace the face shape you were born with, and make the most out of it!
Hairstyles For Fat Faces
1. Boho Waves
This dramatic hairstyle is created with a side part and super bouncy waves. The longer layers help to elongate the face and create more volume near the neck.
2. A Straight, Divine Part
The key to straight hair is keeping it full. A deep, side-parted hairstyle is the perfect option for those with a round face and straight hair. The short length of your hair makes it easy to manage, and the deep part makes it look interesting.
Try this hairstyle on damp hair. Use a medium-sized brush to smoothen your hair and create volume at the roots. Apply a light hold finishing spray at the end.
[ Read: 10 Celebrity Hairstyles With Round Faces ]
3. The Pixie Cut
The pixie is the most popular low-maintenance haircut for chubby face. A pixie cut with side parting helps to recoup the broad jaw and chin line.
This cut looks very stylish and is definitely one of the most flattering hairstyles.
4. The Mohawk
The modern mohawk is another great styling option for those with a round face. The hairstyle adds height to your look, making your round face look more elongated.
Begin your hairstyling with damp hair. Using a blow dryer, push your hair up and away from your face. Once your hair is dry, apply gel to your hair and create the mohawk look. Spray with a hold finishing spray.
5. Bold Bangs
A bold fringe can completely transform an average hairstyle into a trendy and edgy one. It looks sassy and accentuates the lips.
A curved fringe also complements a round face and plays up the eyes, making them the focus.
6. The Sleek And Straight Look
You'll just love this deep-parted short hairstyle. It looks quite sleek and edgy. The shoulder length hair helps streamline a circular face and accentuates the roundness of your face rather than hiding it.
To get this sleek and straight look, flat iron your hair until it's totally straight and then apply essential oil for extra shine.
7. Lovely Layers
The layers that fall past the cheeks help to slim round faces and the loose curls enhance the traditional look.
The loose waves balance out the face by making the neck seem longer. If your hair is naturally wavy, touch up some of the waves below the cheekbones to create a volume at the lower ends.
8. Blonde Bob
There is definitely something utterly romantic about soft curls that makes them classic and timeless. They instantly draw the attention away from the widest part of your face and make it appear thinner.
This is a perfect look to carry at work. The highlighted color adds the right amount of spice for evening outings.
[ Read: 10 Stunning Long Hairstyles For Round Faces ]
9. Long And Luscious Bangs
Long and luscious bangs with a tousled side braid are great to make your face appear longer and leaner. This is one of the best hairstyles for fat faces if you have long and slightly wavy hair. The short and curly bangs add some length to the round face.
All you need to do is gather all of your hair to one side so that it hangs on your shoulder and braid it loosely.
The hairstyle works well for fine, medium, or even thick hair.
10. The Side Part
Parting your hair above the middle of either eyebrow helps in creating an asymmetry in your face, resulting in face-flattering angles. Drawing all your hair to one side is a lovely way to grab attention. It also helps to enhance your features.
11. A-Line Hairstyle
An a-line hairstyle is another perfect way to make your face appear narrow and symmetrical. The long and straight pieces around the cheekbones help in creating an elegant and elongated look.
12. The High Bun
No matter what, a high bun will always remain in vogue. It is counted as one of the easiest updo hairstyles for round fat faces that looks very professional.
All you have to do is grab your hair, twist it in the form of a bun, and secure the bun with an elastic band.
13. The High Ponytail
A high ponytail creates an impeccable definition for round face shapes. It draws the attention to the top of your head, and adds to its height and volume, underplaying the roundness of your face.
The look is doable in less than five minutes – just brush your hair into a high pony and let your hair fall on your shoulders. The hairstyle is both cute and classy.
14. The Waterfall Twist
The charming waterfall braid with neat bangs is one of the most perfect hairstyles for fat faces. The waterfall-like hairstyle is blow-dried and draped over the shoulders. This is one of the most romantic and eye-catching hairstyles ever.
15. The Half Updo
The half updo looks chic and flirty. It is perfect for a casual night out. Whether your hair is straight or slightly textured, this hairstyle will match your round face. You just need to grab the top section of your hair that falls between the parts and lift it vertically. Push the portion slightly forward for height and pin it using bobby pins.
You're ready to step out!
16. Braided Bun
Braided bun is one of the best hairstyles for round chubby faces that encourages creativity. The hairstyle can be a bit messed up for a relaxed daytime look, or even for a formal evening event. Messing up your hair can sometimes be better than smoothing it out every time. The beautiful braids instantly grab the attention of people.
17. Twisted Ponytail
If you're tired of the routine low ponytail hairstyles, then it's time to try this sexy twist. Before trying this hairstyle, you must add some grip to your hair so that the twists stay in place. After applying a thickening product, twist your hair on either side of your part until you reach the nape of your neck. Create a low ponytail at the nape of your neck to secure the twist.
18. Tight Curls With Fringes
This hairstyle flatters the round faces with high cheekbones and a prominent forehead. Use a round brush and a blow dryer or a flat iron to style your straight bangs on the forehead. Apply a light mousse that will help you texturize your beautiful waves.
19. The Side-Twisted Curly Hair
Get this modern mermaid hairstyle by creating a deep side part and twisting your hair away from the face. Secure the twists using bobby pins. Make sure you curl the sections away from your face. This will help you open up your hair and make it look elongated.
20. Side Bangs
Long and side swept bangs are the perfect option for fringes. However, avoid fringes that hit above your eyebrows as they can make your face look rounder.
21. Loose Ponytail
This wavy and relaxed hairstyle looks excellent on round faces. A center partition allows the bangs to shape the face.
22. The Center Part
A center partition with long layers and soft curls is the perfect option for a round face. Long hair helps elongate the face and curls give fullness near your neck. The hairdo looks gorgeous on round faces.
23. The Broken Up Curls
Wavy bangs and a side part make this awesome curly hairstyle more attractive. The shoulder length curls not only make you look sexy but also make your face seem thinner and elongated.
[ Read: 13 Perfect Hairstyles for Round Faces ]
24. Perfectly Pulled Back
A round face can look extra perfect when the hair is pulled back nicely, showcasing all your beauty. Curls look best on round faces as they add bounce and volume to your hairstyle. The side parted bangs help in creating a youthful look.
25. The Vintage Glam Look
A vintage glam look with a side parting and soft curls is the perfect choice to complement your round face. The length of the hair falls past the chin, but due to the loose curls, the hairstyle appears slightly shorter. The deep side partitioning helps to soften up the round shape of your face.
This is a wrap of 25 chubby face hairstyles that will help you slim down your face.
I hope you liked this article. Please share your views in the comments box below.
Recommended Articles:
The following two tabs change content below.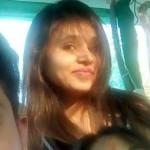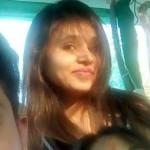 Latest posts by Jyotsana rao (see all)