Healthy beautiful hair is something that we all strive for. While we try various methods that promise to treat our damaged hair, not many work. There are different factors that cause hair problems – hormonal imbalance, prolonged illness, imbalanced diet, pollution, stress and hereditary reasons being a few.
There are various methods that one can use to improve the health and texture of hair. One such ingredient is henna, more popularly known as Mehendi in India, which is commonly used by women here.
Benefits Of Henna For Hair Growth
A regular application of henna helps in making the hair stronger. Henna being a good nourishing conditioner makes hair look smooth and beautiful. A regular and direct application of henna helps keep dandruff and itchiness at bay.
Henna is a natural herbal powder which is mostly used for coloring hair. But it also helps prevent dandruff and nourishes your scalp and hair by making it smooth and healthy. Henna acts as a good conditioner for your hair and helps it grow faster.
There are many more benefits of using Henna for hair growth.
[ Read: Vitamin B Foods For Hair Growth ]
The Pros And Cons Of Using Henna
Since henna is a natural ingredient, it has no side effects. It is a great conditioner which helps to maintain the quality of your hair. Henna contains properties that help fight against the bacteria and germs. It gives volume to the hair shaft and also carries essential pigments, making your hair beautiful, silky and strong.
The application of henna provides a double coating to the hair, which prevents thinning and hair loss. It also helps in mending hair cuticles, making the strands thick and strong. Henna is good for those who want to get rid of gray hair or want to prevent further graying. It is also good for those who are allergic to chemical hair colors.
Things You Will Need Before Application:
Henna (you can choose the color and type of your choice)
Lukewarm water
A mixing bowl
A spoon
Some petroleum jelly
Some olive oil
An old towel
A brush to apply henna
Gloves (you can use either plastic or rubber gloves for this)
A shower cap
Things You Need To Do Before Applying Henna:
Once you decide to apply henna on the hair, make sure you do not wash your hair for a minimum of 12 hours before the application.
Once you are ready to color your hair, simply moisten your hair a bit
Remove any excess water that may remain in the hair
Now take some olive oil and massage a few drops of this oil on to your hair
In the mixing bowl, mix the henna with the lukewarm water
You can also add various additives such as Indian Gooseberry, popularly known as Amla that makes hair lustrous.
To add some fragrance you can also add different oils such as cinnamon, ginger, lavender or any that you prefer.
For moisturizing your hair, you can also add yogurt, eggs or olive oil.
Use a spoon to stir the powder and make a paste
Make sure no lumps are formed, keep constantly stirring as you mix the henna powder and the lukewarm water
Alternatively, you can also choose to mix the henna as per the instructions provided on the pack
Process:
To prevent the color from transferring to your forehead, rub a thin layer of petroleum jelly in between.
Apply henna taking a small portion of your hair. The Wind it in one direction (say clockwise)
Take another portion of hair and then wind it anti-clockwise and apply the henna.
Remember to wind the portions alternately – firstly one portion in one direction and then the other portion in the other. Do not miss the roots of the hair.
Keep doing this and pile it up on the top of your head. This will help your hair stay in place without any clips or pins
Wear your shower cap to prevent the henna from falling off
Keep the Henna for 1 hour if you want a lighter shade and for a darker shade keep henna on your hair for up to 3 hours.
This will nicely condition and color your hair.
After the required time, wash off the Henna using warm water.
Do NOT use shampoo for at least 24 hours after washing off the Henna
[ Read: Curry Leaves For Hair Growth ]
When left aside, henna tends to thicken and causes great difficulty during application. Since henna emits a strange pungent odor, it can be difficult for those who suffer from breathing ailments.
Now that you know about the many benefits of using henna for your hair, we're sure you'll be trying some of it yourself. Let us know about the results and also share some of your hair mask recipes using henna, if any.
Recommended Articles:
The following two tabs change content below.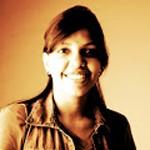 Latest posts by Shruti Goenka (see all)