The holiday cheer is in the air and what better way to celebrate the holiday spirit than with some nail art designs that are borderline genius? Check out these easy DIY tutorials, and we promise you, your nail art will be the toast of the town this season!
Christmas Nail Art Tutorials
Below are the two perfect Christmas holidays nail art designs that you can try out.
1. Santa And His Waistcoat Nail Art Tutorial
How can any nail art on Christmas miss good ol' Santa Claus? Just seeing his jolly countenance is sure to make onlookers smile. Why not portray a modern-day Santa on your nails and become joyful like him? Ho ho ho!
Step 1
Start the Santa nail art by painting your fingernails with a nude nail polish. Then apply a base coat of red nail color. Let the red nail polish dry for some time.
Step 2
Gently wipe off the top half of the polish from the middle finger. Leave this half portion nude so you can draw the Santa face on it later.
Step 3
Next, pick a white nail color and swipe a thick coat vertically over the ring finger. You can use a nail art brush to draw the line or else if you have a steady hand you can actually freehand the stripe using the nail polish brush.
However, if you are using the nail polish brush, make sure you do not end up making a very thick line, covering half your nail.
Let the white coat dry for some time and then apply a horizontal stripe of black nail color, that is not as thick as the white stripe.
Step 4
Finish the coat by applying golden glitter in the intersecting area. Our favorite detail has to be this golden strip that perfectly divides the black from white.
Step 5
Coming to the nude space (created in Step 2) on the middle finger, take a thin nail art brush and gently start painting the hair and beard of Santa using white nail color. Follow the shape as indicated in the picture above.
Let the color dry for some time.
Do not worry if you go wrong with the shape of the beard or hair, you can always remove it with an ear bud dipped in nail polish remover.
Step 6
Now using the sharp edge of a toothpick dipped in black color, draw the eyes of Santa in the remaining space. Take another toothpick, dip it in white nail polish and just add a dot, to denote Santa's nose.
Apply a top coat over the middle finger and ring finger to seal your art.
Your Christmas Santa nail art is finally ready!
You might have seen a number of Santa tutorials online, but I'm sure you will totally fall in love with this design.
2. Candy Cane Nail Art Tutorial
Update your classy manicure to a glam and festive look by adding shimmery red colored stripes to your nails. The glitzy red and white combination, reminiscent of Candy, is winning and looks really apt for Christmas.
Step 1
Start by applying a coat of white nail polish on all the fingers.
Double coat the white nail polish for more color density. Let the nail polish dry for some time.
Step 2
Now, once the base coat is ready, take a red glitter nail polish and start drawing symmetrical diagonal lines over the coat. Make sure that you maintain an equal gap between the stripes on all five fingernails.
If the glitter spreads over the white nail coat, quickly take a dry nail art brush, and remove the glitter.
Step 3
Apply a transparent top coat over your nails to seal the nail art and voila, you're done! The resulting look is very stunning and playful.
[Try – Easy Nail Designs for Beginners]
We hope you liked the Christmas nail art tutorials. Do try them out and share the images and your comments with us!
Recommended Articles
The following two tabs change content below.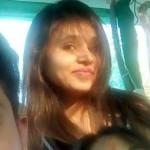 Latest posts by Jyotsana Rao (see all)