Who doesn't love dramatic eyes? But to get that perfect look, we have to go through the painstaking task of applying eye makeup – and no eye makeup is complete without the eyeshadow. Although applying eyeshadow can be tricky, worry not, since we have for you a step-by-step tutorial on how to apply the eyeshadow perfectly to achieve those mesmerizing eyes!
You Will Need
Moisturiser
Eye cream
Eye primer
Eyeshadows
 Eye makeup brushes
A kohl pencil
An eyeliner
A mascara
How To Apply Eyeshadow
Step 1
It's crucial to prep the area around the eyes properly before applying any makeup. Start by cleaning the area around the eyes. Follow it up with a moisturizer or an eye cream and massage it well. Next, prep the eye area with an eye primer so that the makeup stays put for a longer time and gives a seamless finish. You can also use a concealer that matches the skin tone around your eyes. Apply the concealer with a brush and seal it with a translucent or a transparent powder. This will make the eye area look even, make the skin crease-proof, and also conceal any discoloration of the skin.
Step 2
Let's move on to the eye makeup. You should always analyze the shape of your eyes and accordingly decide on a makeup technique that will enhance them. The eye area consists of the eyelid, the crease, and the brow bone. It's also important that you know which shade or texture to use on each of these areas. Use textures like frost/shimmer/shine on the eyelid and brow bone, and matte finish textures on the crease.
Pro tip – Use darker shades of eyeshadows to contour the eyes and use lighter shades to make the eyes pop.
Start by applying the color on the eyelid with a flat eyeshadow applicator brush using a sweeping or patting motion. Here, I've used a dull gold shade in frost texture, since I have very less lid space. This lighter shade will make my eyelid more prominent. Start the application from the center and then sweep it towards both inner and outer corners. Apply the color evenly on the lid and deposit more for intensity.
Step 3
Now, we concentrate on the crease area. Use a darker shade of eyeshadow to define the eye shape. To achieve this, go for shades like deep browns, black, deep gray, dark purple, etc. Start applying from the outer corner of the eye, making a 'V', and blend it halfway through the eyelid with a fluffy eyeshadow blending brush. Do this using the windshield wiper motion. Keep blending until the color starts to look softer. In order to highlight the brow bone, go for lighter shades in either frost or shiny textures.
Step 4
To make the eye makeup more dramatic, use a kohl pencil on the lower lash line. Smudge it with a smudger/pencil brush if you want a smokey effect.
Pro tip – Using a white/beige colored eye pencil on the lower rims of the eyes is the best way to make them look bigger and fresher.
Step 5
Apply eyeliner to define the eyes. Start from the outer corner and gradually pull it inwards using small strokes. Wear the eyeliner as you like – you can keep it simple, or make it dramatic. And, when in doubt, just wing it out!
Step 6
Apply eyeliner to define the eyes. Start from the outer corner and gradually pull it inwards using small strokes. Wear the eyeliner as you like – you can keep it simple, or make it dramatic. And, when in doubt, just wing it out!
And here's the final look.
 Some quick tips:
Invest in a good base or primer as it will instantly boost your eye makeup and will make the eyeshadow stay put for a long time.
It's always good to finish your eye makeup first and then move on to your base makeup. That way, if there's an eyeshadow fallout under or around the eyes, you can quickly clean it up without spoiling your base makeup.
To define the crease area, use a pencil brush and then blend it with a fluffy brush.
Choose an eyeshadow formula that works best for you. They're available in either cream, powder, or pressed form. Cream eyeshadows can be used as a base for powder eyeshadows.
In case you have hooded or deep set eyes, try applying the eye makeup with your eyes open instead of closed, so that the crease color is actually visible.
If you have trouble drawing the 'V' on the outer corner of the eyes, then draw a '#' with an eye pencil and blend it immediately to avoid stark edges.
To avoid eyeshadow fall out, powder the area under your eyes with a transparent or translucent powder before beginning the eye makeup. Once you are done, just sweep the powder off.
How To Brighten Your Eyes With Eyeshadow
Follow the steps to brighten the eyes:
Step 1:
We always tend to concentrate on the end makeup result rather than doing right things from the beginning. But, we are definitely not at fault because not all of us understand the ins and outs of makeup like a trained makeup pro or experts. That's why here at StyleCraze we share the easiest and toughest tricks to keep you all updated.
So, before starting any eye makeup, we have to apply a layer of eye primers. Eye primers help in increasing the wear time of your eyeshadows as well as add brightness to the eyeshadows. It also helps your eyeshadow pop up on your eyelids. Irrespective of your eyelid pigmentation, eye primers help to make the color appear brighter. Apply a tiny amount of eye primer to the entire eyelid area and the lower lash line to increase the wear time of your kajal. Blend the product well to avoid any patches.
Then, apply a creamy white kajal pencil to the entire moving lid area. White eye pencils can be used for lighter colored eyeshadows and black eye pencil for darker colored eyeshadows. Applying white eye pencil increases the color vibrancy of the eyeshadows. They provide a nice coverage and cancels out even the deep eyelid pigmentation. So, your eyeshadow appears as bright on your lids as it does in the palette. Start by covering your moving eyelid area and restrict application above the socket area of your eyes.
Step 2:
Then pick a pencil or a smudge brush. You can also use your clean finger to blend the kajal applied in the earlier step. You would have to be really quick in spreading the white eyeliner as it might set and not move once its formula dries. Like all eye makeup, we want an even base, so blend the sharp edges of the white eye pencil uniformly all over the eyelid.
Step 3: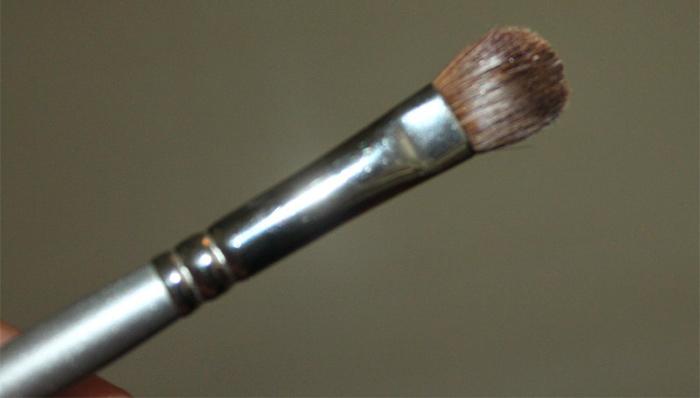 This step is my personal favorite tip, which never fails. To make your eyeshadows look super bright and intense, all you would have to do in this step is to wet your eyeshadow brush. You can either wet your brush with makeup setting spray like Colorbar Finishing Makeup Spray or Mac Studio Fix Spray. If you are a budget freak and do not wish to spend on expensive setting sprays, you can even use plain water to dampen your brush and get similar results!
Step 4:
After dampening your eyeshadow brush with finishing spray or water, gently pat your brush over a tissue paper to absorb the excess water. You should remember not to use a very wet brush as it might make your eyeshadow formulas run and lose the staying power. Then, pick your favorite eyeshadow and gently pat it all over your eyelid by imitating a dabbing motion for a good color pay off.
Four easy steps and your eyeshadow will appear brighter than ever before! So, are you still plagued by the question of how to apply eye shadow perfectly? I should hope not! Give this technique a try right away and let us know your experience in the comments section below.
Expert's Answers for Readers Questions
What color eyeshadow is to be used for blue eyes?
It is better to use neutral soft tones like coral and champagne for blue eyes. Avoid anything too dark like a black smokey.
What color eyeshadow is to be used for brown eyes?
Neutral shades like copper and bronze accentuate the brown color in your eyes. Try adding a bit of a dark shade in the crease to deepen the look and add intensity.
What color eyeshadow is to be used for hazel eyes?
Opt for the metallics, pastels, and dusty pinks.
What color eyeshadow is to be used for blue eyes?
A light purple for a night out is perfect for blue eyes. For the day, a shimmery brown is a good option.
What are the best eyeshadows for mature eyes?
When dealing with mature eyes, it is best to use shades that make your eyes look brighter. Using too many dark colors will make you look tired. Opt for light shimmer shades.
Recommended Articles