Eye shadow application is one of the most dreaded tasks for any beginner. But there are some simple tricks which can make it a way lot easier. Here is the step by step tutorial for applying Eye shadow for the perfect look.
How To Apply Eyeshadow
Step 1
Clean your face before putting on any makeup. Prepare the eye area with primer and concealer. Conceal any dark circles and prime the eyelids. Priming the lids help to keep the shadow on the lids for a long time.
Step 2
Apply the lightest shade all over the lid. If you are not sure about which shades to choose then use shades like peach, browns, nude shades or beige, skin color etc. Use the lightest color from the ones you'll use.
Step 3
Now take a darker shade of the eyeshadow with a crease brush or any makeup brush and use it on the crease of your eyes. Start from the inner corner and apply the shade until the outer corner. Using darker shades on the crease defines the eye shape. Use bolder colors for a vibrant look. Blend the crease well using a fluffy blending brush.
Step 4
Now take your eye pencil and line the eyes. Line the upper and lower lash line. Also line the waterline with kohl. A great trick to make eyes look awake and bigger is to line the inner rim with a white/ nude eye pencil.
Step 5
Apply a bit of white eye shadow in the inner corner of the eyes. This will make the eyes pop and the eye makeup attractive
Step 6
Apply mascara and you are done. Also add some fake lashes if you want.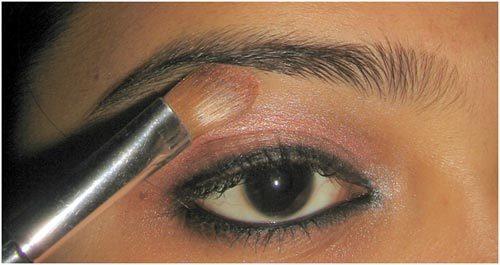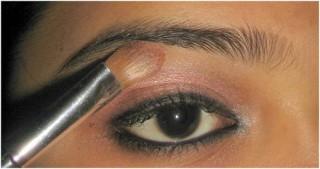 Also to highlight the brow bone, you may apply a highlighter shade under the brow bone. And here is the complete look
Clean any fall outs with a wet q tip for a clean crisp look.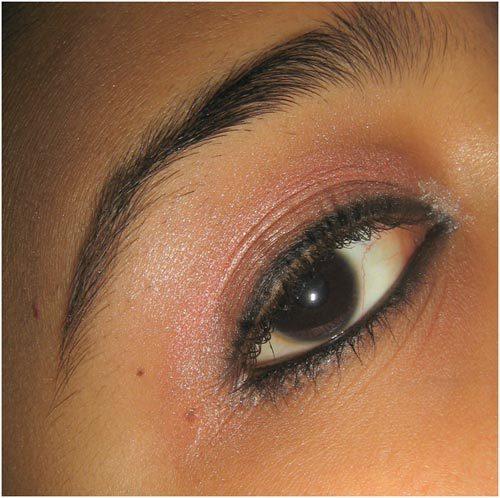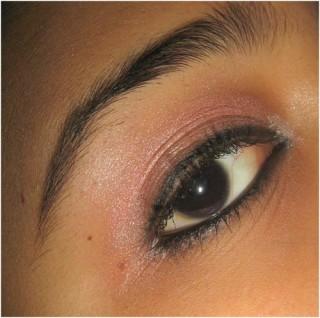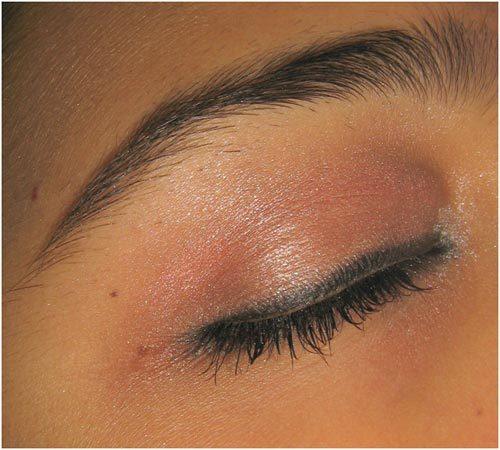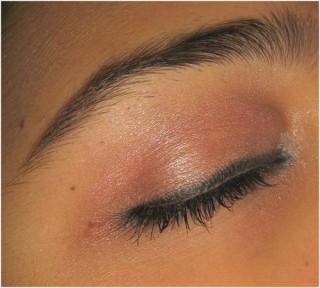 Some tips for eye shadow application:
Always use shades which suit you.
Invest in a good base or primer as it will instantly boost your eye makeup and help keep shadow on for long
Brushes are really important for a gorgeous eye makeup. So invest in some basic brushes. They should be of good quality. Remember investing in a good set of brushes will go a long way.
Also if you are not really confident with blending then take a bit of the lighter shade and apply it over the dark shadow. Use a one way wiping motion from the light shadow to the dark shadow. This way you will easily be able to do some great blending.
Keep your brushes clean and use a good brush cleaner to clean them once each week if you use them very often
[ Read: How To Clean Makeup Brushes ]
For applying shades to the crease, use a pencil brush for precise application
Clean any fall outs with an ear bud dipped in makeup remover.
So are you still plagued by the question of how to apply eye shadow? What are you waiting for? Give it a try right away!
Recommended Articles
The following two tabs change content below.