Lashes – long and intense, they add beauty to your eyes, and make them appear magical! Sadly, not all of us are gifted with naturally long and dramatic lashes. Worry not, for, as they say, there's nothing a bit of makeup can't conjure! But sometimes no matter how many coats of mascara you apply on your lashes, they don't appear full enough. When you've waited too long to get your hands on the perfect mascara wand, you turn to the next magical thing – false eyelashes, a.k.a. falsies.
For all the women out there who dream of long luscious eyelashes, there is no need to spend an hour on applying false lashes. Here are some simple tips and tricks that will make this process much easier and no one will guess that they are not real! (wink! wink!)
Important Points To Keep In Mind While Buying Falsies
Beginners should opt for the full strip lash instead of the individual lashes as they are easier to fix.
For today's tutorial, I have used a full strip lash by UROPARIS that offers different sizes and shapes of eyelashes. It is completely safe to wear, even on daily basis.
Choose the lashes depending on the shape of your eyes.
Some of the other brands you can consider are ARDELL LASHES and HUDA BEAUTY LASHES.
How To Apply False Eyelashes?
Before going to discuss on applying false eyelashes, let's once check the list of things required to apply False eyelashes.
Things You Need To Apply False Eyelashes
Pair Of False Lashes
Scissors
Glue
Tweezer/Lash Applicator
Eye Lash Curler
Eyeliner And Mascara
How To Put On False Eyelashes?
Following is the step by step process included in applying false eyelashes.
Step 1: Safely Pull Out The False Lashes From The Case
The most important step is to safely pull out the false lashes from the case. Not knowing the proper technique to pull out the lashes may spoil their shape. Place two fingers onto the lashes and gently pull it off by pulling it down from the center first and then from the sides. This way you won't have to worry about the shape getting distorted.
[ Read: 7 Best Lash Growth Serums And Mascaras Available In India ]
Step 2: Get That Curve
Once you are done pulling out the lashes, twirl/curve both the ends of the lash length to form a curve, as shown in the picture. Doing this would shape the lashes to fit on the eyes perfectly.
Step 3: Measure And Trim Your Eyelashes
It's always a good idea to measure and trim your lashes before putting them on. Take the lashes, and place them on your lashline and measure it. This will help you determine whether its fits the shape of your eyes or whether it is slightly longer or bigger for you. Once you know your exact measurement, take a pair of scissors and trim the lashes from the outer corner.
Step 4: Apply The Glue
Gently run the false eyelash outer strip rim along the glue to adhere the glue perfectly with the lashes. The glue has to get perfectly coated along the entire false eyelash strip; you can put a little excess at the beginning and end of the strip as this place needs to hold the eyelashes intact. Then, hold the eyelash strip and blow gently to dry the glue a bit before applying it to your eyelids. I recommend you to hold the eyelashes at least for 20 seconds for the glue to activate. Thereafter, they will adhere well to the eyelids.
Step 5: Fix The Lashes on Your Eyelid
Now, gently place the eyelash strip on your eyelid. Position it as close to your natural eyelashes as possible. Place the false eyelash at the center of your natural eyelash first, then use a tweezer to position and fix it perfectly.
Step 6: Secure The Lashes With Tweezers
It's essential to make sure that you secure the lashes with the help of tweezers before moving on. Use the other side of the tweezers as shown in the picture and press onto the lashline, this would help to keep the lash in place and ensure that it is secured.
Step 7: Pinch And Curl The Lashes
Once you are done fixing the lashes, pinch your own lashes and the false lashes together with your fingers. This is to make sure that the false lashes get merged with your own lashes. Curl the lashes using a lash curler to give them a lift and to add some volume.
To complete the look, apply an eyeliner onto the lashline as this would make the lashes appear more natural and cover the artificial strip line. And lastly, load the lashes with tons of mascara for a more impactful look.
Final Look After Applying False Eyelashes
Voilà! Your eyelashes now look dramatic! And now that you know how to wear false eyelashes, get your glam on and step out! Do let us know if you will be trying out the fake lashes in the comment box below.
Quick Tips on Applying False Lashes
Cut your lashes into three halves if you are finding it difficult to put on the entire strip at once.
You can use your false lashes for about 5-6 times, but ensure that you clean it thoroughly with an oil/water-based makeup remover and keep it back properly in the lash case.
Avoid using too much glue – start with applying less glue, build it on if required.
How to Remove Fake Eyelashes?
Removing the fake eyelash extensions is actually quite easy. Make sure you have a steady and clean hand. Don't rush it. Follow the steps mentioned below and keep a steady hand.
Apply some baby oil on your fingertips and massage it on the eyelashes till the adhesive softens up on the extensions.
Dip a cotton pad into eye makeup remover and pat it on your lashes.
Now, wait for a while and gently pull them slowly and gently till it comes free. They should come off easily!
If you thought that wearing and removing eyelash extensions was difficult, now you know that it is so easy to apply and remove eyelash extensions! Go ahead and have some fun to create that flirty, glamorous, and edgy look! Try it and let us know!
Recommended Articles
The following two tabs change content below.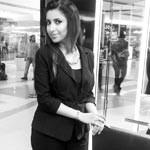 Latest posts by Afsha Rangila (see all)