Some girls simply love shiny and glossy lips – and lip gloss is their best friend! But overdoing the lip gloss can give a tacky effect. So, today we will show you how to perfectly use a lip gloss to get pretty, pouty, kissable lips.
How To Apply Lip Gloss?
Things You Need
1. Lip Scrub
2. Lip Balm/Lip Conditioner
3. Lip Liner
4. Lipstick
5. Lip gloss
Step By Step Tutorial
Follow these 6 simple steps to apply lip gloss perfectly.
Step 1: Prepping Your Lips
Start by prepping your lips. If you have dead skin cells or chapped/cracked lips, then scrub your lips before you start prepping. Massage the lip scrub all over your lips for about two to three minutes. Rinse it off.
Step 2: Make Your Lips Soft
The next step is to use a lip balm or lip conditioner to get rid of the dryness. It will make your lips more soft and supple. Let the lip balm rest on the lips for about one to two minutes.
Step 3: Blot The Excess Lip Balm
Once you are done with applying the lip balm, take a tissue and blot the excess. This prevents the lipstick from bleeding and makes the application of the other products easier.
Step 4: Draw Line With Lip Pencil
Start by analyzing your lip shape. Using a lip pencil in the color of your choice, start the application from the center of the upper lip and follow the natural lip line till the corners of the lip. Follow the same procedure with the lower lip. You can also fill the entire lip with the same lip pencil as that works as a great base and helps the lip color to stay put for longer. Refer to the picture above.
Quick Tip
You can also apply a little bit of foundation/concealer in the shade that matches your natural lip color. This would even out the lips in one go and provide an even base to work on.
Step 5: Apply Lipstick
Now it's time for the lipstick. Apply the lipstick with a lip brush using short strokes and fill the entire lips. Using a brush while applying lipstick adds precision to the application. Here, I have used a bright red lipstick.
Step 6: Apply Lip Gloss
Start applying the lip gloss from the center of the lips and drag the sponge applicator along the length of the lips. Avoid applying the gloss above the natural lip line. You can blot the excess lip gloss on a tissue paper. This will prevent the color from bleeding.
Final Look Of Lips After Applying Lip Gloss
Doesn't it look amazing? Glosses are a must at parties – they really boost your hotness quotient. Give it a try and let us know about the compliments you received! We would love to hear from you.
Recommended Articles

The following two tabs change content below.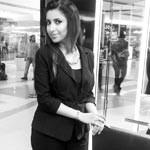 Latest posts by Afsha Rangila (see all)