Liquid foundations are among the most common foundations available in the market today, which most of us have used at some point in time. While, this is the most basic type of foundation there is, it takes a lot of practice to get it right. Too much, and you look like a clown. Too little, and you look unpolished.
To help you out, I have created this step-by-step tutorial for liquid foundation application.
What You Will Need
Makeup sponge/brush
Liquid foundation matching your skin tone
Loose powder to set the foundation
Concealer/ primer (optional)
How To Apply Liquid Foundation On Face
Step 1
Clean your face thoroughly, and apply moisturizer and primer depending on your skin type. Massage it well into the skin. This post will demonstrate how to apply liquid foundation using the fingertips, which I feel works best for liquid foundation, as we have better control.
[ Read: How To Apply Cream Foundation? ]
Step 2
Take a pea-sized amount of the liquid foundation on the back of your hand. Use your fingertips to dab the foundation over your face. Dab two to three times on the forehead, twice on each cheek, one time on the nose, and once on your chin. This helps to reduce the chances of applying more foundation than necessary.
Step 3
Now use your fingers to blend the foundation into the skin. Use upward strokes and dabbing motion while applying it for a better coverage. Keep a check by looking into the mirror after applying to see whether the foundation has blended evenly everywhere. Remember, less is always more! So start by using less of the product in one go and you could build it up, if required.
Step 4
Take a bit of the foundation on a makeup sponge and apply it close to the hairline, and also on the neck and ears. It is best to apply foundation on these areas with a makeup sponge as it gives a great opportunity to pull and spread the foundation evenly.
After this application, what remains on the makeup sponge can be applied on the upper lips and the smile line. This will ensure minimum caking effect.
Step 5
Next, take a concealer and apply it strategically on the areas where you need coverage. Start by dabbing it in small dots on the under eye dark circles and on other blemishes. Matching the concealer with the skin tone often makes the look unnatural or cakey. So to get the best concealer effect, try contrasting the dominant hues with the under eye area to make it look better. For cool tones like blue/purple under eye, use a red/ pink based concealer and for warm /reddish tones, use a green based concealer.
The best way to apply a concealer is to lightly dab and pat rather than using a wiping motion as the former gives you fuller coverage.
*This step is optional. If you do not need concealing, you can skip this.
Step 6
You can use either loose powder or compact powder to set your makeup. Take some powder on a powder puff/ a powder brush and apply the powder on the areas where it is needed, specifically on the T-zone, and under the eye for a matte effect. In case you're looking for a dewy finish, then powder only on the desired areas, and leave the rest for that natural glow.
[ Read: How To Apply Compact Powder ]
And Here's The Final Look
Some Quick Tips
Use a moisturizer along with the foundation if you want a dewy finish. Take the foundation on the back of the hand and add a bit of moisturizer to it. Blend the two together and apply to get a glowing, dewy finish. Do not apply loose powder.
Use a sunscreen underneath if you do not have SPF in your foundation, and if you have plans to stay outdoors for long.
Using a primer makes your makeup last long and helps in oil control.
Always choose a foundation shade close to your natural skin color.
You can use a concealer before or after the foundation, depending on the coverage level.
[ Read: How To Choose Foundation For Your Skin Tone ]
Now you know how to apply liquid foundation flawlessly. Do you have any other tips? Do share with us by leaving a comment.
Recommended Articles:
Expert's Answers for Readers Questions
What is the best liquid foundation for oily skin?
In the high-end range, you may want to try the double wear foundation by Estee Lauder. If you're looking for something cheaper yet efficient, the Pro-matte Foundation by L'Oreal is the way to go.
What is the best liquid foundation for dry skin?
When it comes to dry skin, you can try the Face and Body Foundation by MAC or Revlon's Colorstay Whipped Foundation. These foundations are said to have a high moisture content which creates a smooth, dewy base with no dry patches.
What is the best liquid foundation for combination skin?
The Even Better Makeup SPF 15 by Clinique and Bourjois 123 Perfect Foundation is a good option for those with combination skin. These foundations add just the right amount of moisture without drying out the skin.
What is the best liquid foundation for acne prone skin?
The temptation to go for thick and creamy foundations is understandable, as you may think that this will hide your acne. It may do so, but it will also aggrevate the acne. It is preferable that you go for a lightweight foundation so that your skin can breathe. You can opt for the Laura Mercier Smooth Flawless Fluide foundation or the Stay-Matte Oil Free Makeup by Clinique. Both are great choices for preventing any further breakouts.
What is the best liquid foundation for sensitive skin?
The Bourjois Healthy Mix foundation and Nars Sheer Glow foundation are suitable for sensitive skin. They are light and easy on the skin and provide decent coverage at the same time.
The following two tabs change content below.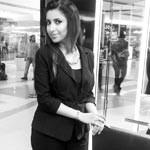 Latest posts by Afsha Rangila (see all)