There is a reason why mascara is a desert island must-have for so many women. It opens up your eyes, making them look bigger, brighter, and more alive – all in an instant! No matter what you do with the rest of the eye makeup, the mascara is simply indispensable. At the same time, an improper application can ruin your look. If your mascara is clumpy, uneven, or smudged – it may end up looking appalling rather than appealing. To avoid this, read on.
You Will Need
Your favorite mascara
Primer for eyes
Eyeshadow (Of your choice)
Eye liner
Clean mascara wand
Lash curler
How To Apply Mascara Perfectly?
Here comes the step by step procedure on how to put on mascara perfectly:
Step 1
It is necessary to prep your eyes before you begin your makeup application. Always start off with cleansed eyes. Oil or grime can ruin your look, even before you have begun. So make sure to remove all traces of old makeup, and follow up with a toner and a moisturizer.
An eyeshadow primer is really important, for it creates a base for your makeup and ensures that your eyeshadow lasts long and stays crease-free. So after moisturizing, apply a primer to your eyelids.
Step 2
Proceed to apply an eyeshadow of your choice. To make your lashes the focus, make sure that you stick to a neutral color palette.
Step 3
Now that you've applied the eyeshadow, use an eyeliner to line your eyes the way you like. You may decide to draw a thick or a thin line. This totally depends on your preference as well as the kind of look that you are going for.
Step 4
Now comes the mascara part. It is necessary to choose the right kind of mascara for the kind of look you are going for. Daytime to evening – there is a mascara that goes with just about any occasion.
Start by curling your lashes with a lash curler. Place the curler at the base of your upper lashes, close the curler and hold it in place for a few seconds.
Taking the tube of mascara, swirl the wand around to coat the bristles with the mascara properly. Make sure that you're not pumping your wand into the tube repeatedly. This pushes air into the tube and makes the mascara clumpy, and it dries out faster.
Starting at the roots, apply the mascara with a wriggling motion. This ensures that there is more volume at the roots, and your lashes don't feel weighed down.
Do the same for the lower lashes. Since they tend to be sparser and smaller, you might even opt for an altogether different mascara, or switch over to a wand that has smaller bristles.
If you have lashes that are sticking together or have clumps of mascara on them, you can comb them out with the help of a clean wand.
Repeat the mascara application by applying another coat. This depends on the volume you wish to add to your lashes.
Let the mascara dry for a few minutes. Now use the lash curler again, for added curling. This step is optional. You can go for it if you are not satisfied with the volume the mascara gives you.
Mascara Application Tips:
The best way to get those curly lashes is to curl your lashes once before applying mascara and once after the mascara has dried. It is hands-down, the most impactful way to make them legit long and fluttery fringe. To make lashes look extra thick, it's best to dab and puff the lashes with translucent powder before applying the mascara.
It's best not to coat the mascara brush in a pumping action since it allows the air to flow into the tube and along with it air borne bacteria into the tube. Coat the wand in one go and apply, first in a downward motion the top lashes by keeping your eyes closed and then open them and coat in one direction from left to right and then from right to left. For the lower lashes do a zig zag motion from right to left and then left to right. This is exactly how I do and I love it!
Tip: To prevent further clumps, wipe off that excess mascara on a tissue paper.
Best Mascara: Charlotte Tilbury Full Fat Lashes
Price: $29
Available at:  http://www.net-a-porter.com/
For most of us applying a single coat of mascara is our only move. But you can  add that extra "oomph" by wiggling it. Yes, open your eyes wide and wiggle your top lashes' tip with a mascara. Remember, only the top and not to the whole of lashes. Let it dry completely. Once done, wiggle your mascara through the entire body of the lashes—that is from the roots to the tip of your lashes. The extra mascara at the tips lifts your lashes outward and lengthens them, which adds on to the glamor of your eyes. A well-defined base, what else do we need?
Another way to apply mascara is by closing your eyes and holding it tight at one corner, (just like when you are applying an eyeliner.) Now take the mascara and pull it outward from the down lashes. Thereafter open your eyes and carefully apply mascara from bottom to the top lashes. Now go for another round (for that fluttering look, always coat your lashes thrice ) and apply it in a zig-zag motion. Once done, keep eyes closed for at least 15 to 30 seconds and let your mascara dry up. For those sexy, super-defined look, comb your lashes to get rid of clumps.
If, on the other hand, you're going for trendy eye look, our favorite too, then opt for the colored mascaras — we're talking greens, purples, orange and wine reds — a bit tricky to pull off but once done, it looks gorgeous. In case you have decided to rock this look, just swipe on your blue mascara and then apply a strip of dark falsies on top — you can skip your smokey eyes effect too.
Now that you know how to apply mascara perfectly, what are you waiting for? Hope you enjoyed this tutorial. Do leave your valuable feedback by commenting us below!
Recommended Articles
The following two tabs change content below.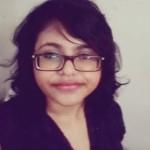 Latest posts by Bhavna Panda (see all)