When you have dark hair, it sets a lot of limitations on the hair colors that you can try, and if you are someone who loves experimenting, this isn't good news. You often find yourself envious of those with light hair because of the vibrant results they get when they decide to color it. The only solution to your problem is to lighten your hair by bleaching it.
Bleaching your hair opens up a whole lot of doors into the world of hair coloring. You could decide to go for some simple highlights that add dimension to your hair, get to a lighter shade of brunette, or opt for one of the many different shades of blonde. You could even go all the way and bleach your hair a platinum blonde, which will also give you the opportunity to try out bolder colors like blue, silver, purple, and the trending pastels.
While getting your hair bleached at the salon would be ideal, it also costs a bomb. To help you out, we have put together a complete step-by-step guide to everything you need to know on how to bleach hair at home. However, we recommend that you get some professional advice before you pick up the coloring brush. What works well for one person may not work very well for another.
Get The Supplies Needed To Bleach Hair
Bleach Powder
Developer
Toner
Mixing Bowl
Mixing Spatula
Hair Color Applicator
Shampoo
Deep Conditioner
Gloves For Your Hands
Old Towel And Clothes
Coconut Oil
Shower Cap
Steps To Bleach Your Hair At Home
Step 1: Coconut Oil
Step 2: Mix The Bleach Powder & Developer
Step 3: Section Your Hair And Apply Hair Color
Step 4: Sit Back And Wait For The Magic
Step 5: Shower With Shampoo And Deep Conditioner
Step 6: Apply Toner For Your Hair
Step 7: Rinse The Toner From Your Hair And Condition
Tools Needed For Bleaching Hair At Home
Get bleach powder from a good brand like Wella, Blondor, Matrix, or Salon Care. Compromising on this and using a skin bleach is most likely going to lead to disastrous hair.
This is the peroxide liquid that activates your bleach so that it can get to lightening your hair. It comes in different volumes like 20, 30, and 40. If you have hair that is light brown, a 20 volume developer should do the trick. However, if you have dark hair, or want to go platinum blonde, get a 30 volume developer. Using 40 volume can be really damaging to your hair, and we do not recommend it. If you do use it, make sure that it does not stay on your hair for longer than 10-15 minutes to minimize damage.
When you bleach your hair, it doesn't go from brown to blonde. Dark hair tends to have a lot of red and orange tones, which will remain in your hair when you bleach it. Using a toner helps neutralize the brassiness from these colors. If you are going for an ashy color, you will most likely require a toner.
When it comes to dealing with hair color and bleaching products, always use a plastic mixing bowl as the chemicals in them can start up a reaction when they come in contact with metal ones.
Use a plastic spatula to mix your bleach and developer.
While going all in with your hands might seem like something you can easily do, we would strictly advise against it. Get an applicator brush to help you apply the bleach evenly to your hair.
You cannot just rinse the bleach out of your hair. You will need to wash it out with a good shampoo to get it all out.
We are brutally honest with you when we say that bleach means damage. However, you don't need to worry about that too much. With the right amount of conditioning and a few weeks of intense hair care, your hair will start feeling like itself again.
Do not, we repeat, DO NOT attempt to bleach your hair without gloves on. When the bleach is in constant contact with your hands, it can leave them feeling tingly, sensitive, and weird.
Anything you wear while bleaching your hair is most likely going to lose its color and is probably also going to tear; this may be a good opportunity to get rid of some old clothes. You will need a towel to keep your neck protected.
Coconut oil will minimize the damage done to your hair while bleaching, while giving the same results.
To cover your hair while you wait.
How To Bleach Hair At Home: Step By Step Instructions
So, get set go! Wear an old t-shirt, wrap an old towel around your neck, spread out all your tools on a clean table, wear your gloves and get ready to get some awesome hair color! Here is a step by step bleaching hair method:
Step 1: Coconut Oil
Coat your hair with cold-pressed coconut oil the night before you are going to bleach your hair. This will moisturize it, and the coconut oil will keep the bleach from doing excessive damage to your hair while not hindering the results from bleaching.
Step 2: Mix The Bleach Powder And Developer
Mix the bleach and developer. You will have to add 2 parts of developer for every one part of bleach. Ensure that there are no lumps and that the mixture is consistent.
Step 3: Section Your Hair And Apply The Bleach
Section your hair and apply the color with the hair color applicator/ hair brush. Make sure that the sections are very thin to ensure even coverage. Get a friend to help you out with this to make sure that your hair is evenly covered.
TIP: Apply the color first to the tips, as those take the longest time to bleach. If you want to color your entire head, put the bleach first on the tips for at least 20 minutes and then apply the color to the roots. That way you will get an even application, rather than lighter roots and dark tips!
If your hair is already bleached and you are just doing a root touch up, avoid getting too much bleach on the sections that are already colored, else the previously colored hair will get damaged and look fried.
Step 4: Sit Back And Wait For The Magic
Now, it is time to sit back and wait for the magic to happen! Do not keep the bleach on for more than 30 minutes. Keep checking on the hair periodically to see if the color is lifting to the levels you want. Don't worry if your hair is turning orange. It is normal for dark hair to turn orange when lightened. This is where the toner comes in!
If it doesn't lift enough after 30 minutes or so, DON'T wait any longer. Go to a salon and tell them the procedure you followed. OR you can cover your head with a hat or bandana for a few days, deep condition like crazy, and repeat the process. Ideally, you should maintain at least two weeks gap between hair color sessions.
Step 5: Shower With Shampoo And Deep Conditioner
Jump into the shower, rinse out the bleach thoroughly, then wash your hair with a mild shampoo and follow up with a hydrating conditioner. Air dry hair.
Step 6: Apply Toner On Your Hair
Do not bleach your hair more than twice a month. Once your hair has lifted enough color, it is time to tone your hair. Like the bleach, for every one part of toner that you use, add two parts of the developer. Keep it on for 30-45 minutes for the orange tones to lift from your hair. You could apply heat with a blow dryer to speed up the process.
Step 7: Rinse The Toner From Your Hair And Condition
After keeping the toner on for about 40 minutes, rinse out the product thoroughly, and wash your hair with shampoo and conditioner.
Now that you have blonde hair, it would be a good idea to switch up your conditioner and shampoo to toning ones that will help maintain your color. There you have it! Bleached hair, right at home! If you follow this hair bleach tutorial directions correctly, you'll never need to shell out money for amazing hair color.
DISCLAIMER: If your hair is extremely dark, long, heavily processed, fine, very thick, curly/kinky, colored, permed, or damaged, we would recommend that you hold off bleaching your hair at home and get it done professionally instead as you might not get the results that you're expecting.
Are you planning on bleaching your hair at home? Tell us what you have in store for your hair in the comments section below.
Recommended Articles

The following two tabs change content below.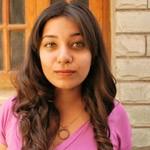 Latest posts by Meenal Rajapet (see all)