How To Choose The Right Bra That Fits You Perfectly
Does it seem like there is not a single bra out there that fits you perfectly? Do you often stumble upon a mirror/glass door and suddenly see something protruding near your chest and are silently embarrassed? Trust me when I say this, I know exactly how you feel. I've been there, done that! But, to be honest, I did not have my basics right. Hey, better late than never! After my last bra shopping disaster, I did some research and had a revelation. So, everything I (thought) knew about bras was wrong! But worry not, I have it all sorted out now! Let's take it from the top, unlearn, and relearn how to choose the right bra. Together!
How To Choose The Right Bra?
Choosing the right bra is nothing but knowing your exact bra size for every type. However, we can't just magically arrive at this number. We need to work backward and connect a few dots to get there. So, before we deep dive into learning how to measure and understand other aspects, let's go over a few pointers.
As a rule of thumb, your bra should fit snugly around your body. It should neither be too tight nor too loose.
Always hook your bra at the closest (first) eye and run your two fingers along the breadth. Your fingers should slide comfortably. The bra will loosen up with time, and you can hook it on the next eye then.
If your bra is riding up your back and you're always pulling it down, you need a smaller size (band).
Bend forward and wear your bra so that everything goes into the cup and nothing hangs under the wire.
Make sure the cup is taut, and there is no extra room.
Move your arms around like a windmill to see if your breasts are falling out or hanging from the bottom, your bra is riding up, etc. In that case, try adjusting the straps first. Otherwise, you will need to go with a smaller cup size.
If your bra straps are pinching or digging into your shoulders, or there is spillage of breasts, making the two of them look like four, you need a bigger size.
When you go up or down your bra size, the cup size also differs. For example, if your size is 34B, a bigger size for you would be 36A. Or, if you want a smaller size then you choose 32C and vice versa.
It is easier to determine your band size first, and then map it with your cup size.
Remember that your breasts should be approximately midway between your elbows and shoulders.
The cups will do the heavy lifting and the straps will support them, so do not forget to adjust them the first time around.
How To Measure Bra Size?
Honestly, there is not one hard and fast rule that says one size fits all, not all bra types, I mean. It is worth mentioning that you must try a bra of every type before you are sure of the size. There would not be a radical difference in the sizes for every type/brand, but there would, most definitely, be some. Research shows that 80% women are oblivious of their true bra size. And for all you know, you might be wearing an incorrect one as we speak. The most obvious aspect we all go wrong with is with the band size, amongst several others. So, here's what determines your size.
The numerical part of the size is your band size, and the alphabetical part is the cup size. So, for example, if your size is a 34D – '34' is your band size, and 'D' is the cup size.
You need to first measure the band and cup sizes separately (explained below) to arrive at the accurate final number.
Preferably, go braless or wear a non-padded bra while you get your measurements done. Or, wear something light like a T-shirt and avoid sweaters, hoodies, jackets or anything that is heavy.
Be vigilant while getting your measurements, especially if you having sagging or larger breasts. I would say, go one step further and get a second opinion if you want to be extra cautious. There have been instances where the difference of the sizes was rather alarming the second time around. But, it's only an option.
Get a one-time professional fitting done, and they will help you go through everything we just discussed. Plus, the experts say that the measurements are generally more accurate when you let someone else do your fitting.
How Do You Measure Band And Cup Size?
Follow these simple steps to measure your bra size at home.
1. Band Size
It is advisable to stand in front of a mirror while you do it. This is because you know the tape is taut throughout the process and not slipping down to your waist, changing the angle – thereby changing the size, etc.
Wrap the tape around your chest, where your band sits, and ensure that it is snug but not too tight or loose.
Round it off to the next even number if it's an odd measure or in fractions. For example, if the measure is 33 or 33.5 inches, the size will be 34. Or, for 35, try both 34 and 36, again depending on your cup size.
Make a note of this final number.
2. Cup Size
Wrap the tape loosely around the fullest part of your breast.
A simple option is to measure it at the nipple level – this invariably gives an accurate number.
Round it off to the nearest or next whole number.
Make a note of this final number.
Now, subtract the cup size from the band size. The difference in the inches will correspond to your cup size.
No matter what size the girls are, there will always be at least one type that will make you feel that the boobs found their soulmate. Now that you have determined your perfect bra size, let's take a look at the variants you can choose from.
Bra Hygiene – How Often Should You Wash Your Bra?
When I first read some (interesting and fun) facts about this, I was taken aback. I am borderline obsessed with washing my clothes, especially my intimates, but now I know I was just paranoid. Apparently, a lot of it depends on your personal preference and the climatic conditions. According to a study, most women own at least 9 to 10 bras, out of which 6 of are used, and the others are used as a backup. But, let's be honest. They are uncomfortable, the wrong size or you're too lazy to exchange them, plus they cost you an arm and a leg. Anyway, here's my two cents after thorough research and personal experience.
Regular bras need to be washed once every two wears, at least three max, but that's how far you should stretch. So, no, these are not like your jeans where you're allowed to go for an entire semester and a quarter without washing them.
In fact, you need to wash them after every use for tropical climates because the oil deposits will be twice as much, plus you might be nurturing some dangerous microorganisms.
Your sports bras should be washed after every use if your fitness regimen involves HIIT workout or anything that makes you over-the-top sweaty and gross. Otherwise, let it air dry overnight and wash it once in 3 or 4 days.
Soak your bra in cold water for a while and drain out the excess water. Then, let it air dry. This is an ideal way of washing it without tampering with its elasticity or shape. Detergents that have harsh chemicals will also bring down the longevity of the fabric.
Or, just hand wash it with a soft detergent and put it on a clothesline.
Avoid washing it in the washer and leaving it in the dryer along with the other garments because the heat is no good. If you must, use the "gentle" or "delicates" cycle, and maybe switch to cold water if possible, and put them in a lingerie mesh bag. Keep the laundry load light.
Never use bleach for your lingerie.
Experts advise against using a bra for more than six months or a year. It might be our most comfortable one or a (over) priced possession, but you have to let it go.
[ Read: 30 Types of Bra Every Woman Should Know – A Complete Guide ]
Now that you know how to choose the right bra that fits you perfectly, what are you waiting for? With the number of options out there, bra shopping should not be that bad. There is one for everyone. Here's hoping this article helps you. Save the link and skim through it again before you actually go on a shopping (bra) spree. If you have any questions, please post them in the comments section below.
Recommended Articles

The following two tabs change content below.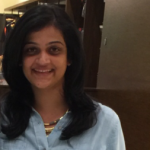 Latest posts by Pratima Ati (see all)