How To Choose The Right Concealer – Tips on Shades and Formulas
A good concealer can prove very useful just in time when you are looking to cover up that pimple, spots, pigmentation marks and dark circles for any special occasion. A perfect concealer hides away the imperfections and blends into your skin tone without making the imperfections too obvious.
Sometimes using only foundation is not enough – This is because foundation offers to even out your skin tone and create that perfect canvas for the makeup application. It does cover up imperfections to some extent but not completely. Concealer is more of a pigment hence it serves to hide the imperfections better.
How to Choose Concealer?
There are a three basic of types on concealers available in the market: These mainly come in either solid, liquid or powder form. The solid form looks similar to a lipstick/ pencil stick. These are best to hide away spots, pimples and blemishes. These are bit difficult to blend and hence are best for covering small tiny areas on the face. Here is how to choose concealer, liquid or powder based on your choice.
Liquid concealers:
Liquid concealers are good for evenly spreading onto the skin and covers large areas of the face. They can be used alone without any foundation application. They offer medium coverage and easy application.
Powder Concealers:
Powder Concealers are used to cover light blemishes and scars. They are the easiest to blend in but they offer the lightest coverage.
Other types of concealers include tube concealers and highlighting pens. The tube concealers are also makeup fanatics favourite because they are creamier and cover large problem areas particularly dark circles. Highlighting pens are formulated with light reflecting particles – they make your imperfections appear lighter.
Choosing The Perfect Concealer:
The perfect application of the concealer lies in the art of choosing the right shade and formula of the concealer. Although choosing the right concealer can be daunting, here are few tips and tricks that will definitely help you. Just remember a few things when you are buying a concealer:
1.  Always choose a concealer shade that is one shade lighter than your foundation shade.
2.  Pink toned concealer is always used on blue to purple under eye areas.
3.  Yellow toned concealer is always used on red blemishes.
4.  If in case you have a dark skin tone, use a concealer which has orange tones to it.
Concealers and foundation together makes it very easy to cover up any areas which need coverage. A combination of good foundation and concealer will help you achieve flawless look.
[ Read: How to Use Concealer and Foundation ]
Choosing the right shade:
Always test the concealer by applying a strip of the product on the skin of the neck below your ear rather than the cheeks. The shade should blend into your skin tone and remember it should be a tone lighter than your foundation shade color – Also bear in mind that dark circles will require a shade that will help cover up the problem area. If you take a concealer that is too light for your dark circles, you may end up looking like a raccoon or panda eyed female.
Hope you have got a clear idea by now on how to choose the right concealer for your skin tone. Try them for sure and please leave your valuable comments below!

The following two tabs change content below.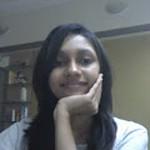 Latest posts by Riddhi Jholapara (see all)