Want to master the art of smokey eyes but are afraid of looking like a racy raccoon? Do not worry!
We show you exactly how to create the classic and versatile effect that can be so perfect that you will plan a party around it. So, glam up the effect with plenty of mascara layers, more eyeliner and darkest of the dark eye shadow!
Read on to know more!
Know Your Eye Colour:
Know your eye colour (and shape) before placing the shadow. For ladies with brown eyes, warmest shades like that of bronze, teal, peach, navy, green and purple complement the best. For those with blue eyes, opt for shades like copper, champagne, gold, bronze, yellow-beige and peach. Purple, pink and rust would complement green coloured eyes, and for ladies with hazel eyes, apply dusty pink, gray, burgundy, yellow-brown and deep purple. And for your eye shape, curl your lashes, which will reveal your true shape. Wondering how to do smokey eye makeup for brown eyes? Don't worry here is all you need to know.
[ Read: How To Wear Eyeliner Perfectly ]
How To Apply Smokey Eye Makeup For Brown Eyes:
1. Prep Your Eyes With A Concealer:
Try ModelCo Fluid Splash 3 in 1 Foundation with inbuilt concealer – and tap it along around your outer and inner corners, lash lines and over your eyelid. Make sure you flick a pressed powder, like FACES Sheer Radiance Pressed Powder,over your entire eyelid to avoid creases in eye shadow.
2. Create Almond-shaped Cat Eye:
With an aim to create almond-shaped cat-eye, use classic black or deep purple eyeliner, like the Nyx Mechanical Pencil Deep Purple, and rim your lower and upper lashes. Be careful not to extend past your brows.
3. Tightlining:
Then, use the same pencil to trace your brush in between the lashes (closest to the lash line) rather on the water line. This technique is called tightlining, which helps your eyes stand out and gives the illusion of bigger and lustrous eyes.
[ Read: Makeup Tips For Brown Eyes ]
4. Trace Over:
Once done, with the help of paddle brush (like our favourite M.A.C 239 Eye Shader Brush) apply a grey eye shadow from the lash line to the crease and from the inner corner to the outer corner of your eye. Then take darker shade or a different hue shadow to trace over. Make sure a little bit of grey is visible so that the intensity of your upper lid is balanced.
Tip: Ensure you place a folded tissue at the outer corner.
5. Art Of Blending:
Once done comes the most crucial element to this effect – The art of blending. To create that undone look, smudge the liner and buff out harsh lines using a fluffy blending brush evenly. I love the Hourglass Crease Brush,which helps my eyeliner line appear smudgier and less detailed.
Just in case, if you don't have a brush, you can use your index finger. But make sure the product is fully blended until the edges are softer – creating the perfect dark and dreamy diffusion of colour. Remove the tissue once done.
Tip: Sweep the brush upward and backward inside your brow bone first and then dust along the lower lashes.
[ Read: Soft Brown Eye Makeup ]
6. Finish Off The Look:
Finish off the look with multiple coats of mascara or with jet black falsies like the ModelCo Fibre Lash Brush on False Lashes.
A point to remember – when it comes to smokey eyes and applying mascara, more is definitely more here! Start with the bottom of the lash; roll it upward to capture each lash and then coat mascara towards the tip.
Repeat, again by pulling the wand through the lashes in different directions, which is an important technique for preventing clumps. If you want to go for a natural look, get yourself a fan brush as they allow you to get closer to the roots than the usual brushes.
Tip: In order to prevent the mascara on the eyeshadow you just applied, hold the mirror near your chin and apply while looking down.
Perfect for day-to-night look, the smoky look is a must-have in every beauty repertoire. Now that you know how to apply smokey eye makeup for brown eyes, let us know if you'll give this a try. Share your feedback in the comment box below!
The following two tabs change content below.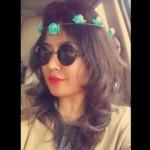 Latest posts by Anisha Pradhan (see all)